Going against the majority opinion of investors and analysts - who give Nvidia (NASDAQ:NVDA) an edge in the technological competition with Advanced Micro Devices (NYSE:AMD) - the shares of this company have been rising steadily since Friday 11. In fact, in twelve trading sessions AMD's share price has climbed from $6.30 to $8.93. With strong volume the company has traded in the mentioned period around 626 million shares. The chart below is illustrative.
(click to enlarge)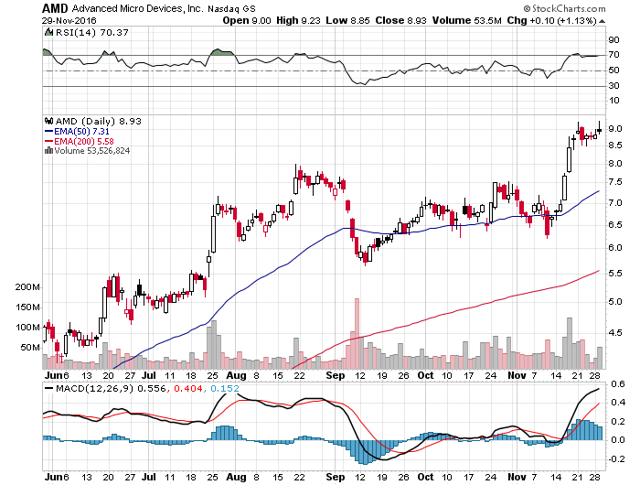 Click to enlarge
Charts courtesy of StockCharts.com
Note: All charts are in semi-logarithmic scale
Fundamentals seem solid and promising as AMD reported a strong Q3. While AMD has now a stronger balance sheet with reduced debt, the company is turning profitable again and a new set of products may enhance substantially AMD's economic situation.
But the reason for the sudden increase in its share price was due to the annoucement that it is addressing artificial intelligence with Google (GOOG). Moreover, Zen based desktop products will be launched in the first half of 2017 allowing the company to have a strong and diversified product portfolio. In the words of AMD's CEO Lisa Su:
Customer and partner excitement for our Zen based desktop product Summit Ridge is growing as we successfully passed several key engineering and design win milestones in the quarter. We provided our first competitive performance preview of Summit Ridge in the quarter and believe we will have a very competitive offering for the $4 billion high performance desktop processor market. We are working closely with our infrastructure partners and customers in preparation for the launch in early 2017.(...) With Zen and Vega we are focused on delivering our strongest product portfolio in over a decade, capable of unlocking multiple growth pillars for our business across the data center, gaming, and high performance graphics and PC markets.
Seeking Alpha Transcript
Therefore, company's share price has risen throughout this year which reveals great confidence of investors. In fact, AMD has shown a steep uptrend in 2016 as we can see in the chart below. Meanwhile, in the last 7 trading days it seems that the stock is taking a breath and staying within a range between $8.50 and $9.25. It's probable that this level may hold this incredible advance for some time.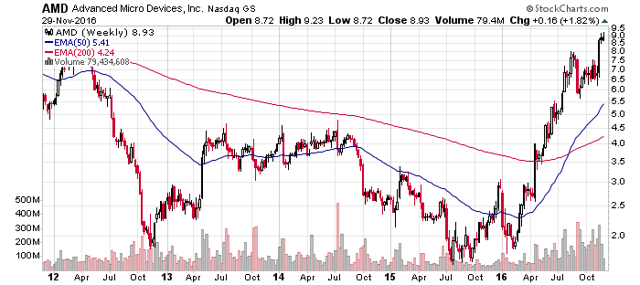 Click to enlarge
Conclusion
Fundamentals are improving and the company is working to get a product portfolio of great quality. I think we may have to give time for AMD to deliver sound results, but we'll likely be rewarded for waiting. For these reasons I think that the uptrend will resume with a more moderate pace.
Disclosure: I/we have no positions in any stocks mentioned, and no plans to initiate any positions within the next 72 hours.
I wrote this article myself, and it expresses my own opinions. I am not receiving compensation for it (other than from Seeking Alpha). I have no business relationship with any company whose stock is mentioned in this article.
Additional disclosure: The author of this article is not an investment adviser and gives only his personal view and opinion, never making any investment advice or recommendation to buy or sell specific securities. Investors in financial assets must do so at their own responsibility and with due caution as they involve a significant degree of risk. Before investing in financial assets, investors should do their own research and consult a professional investment adviser.