To receive timely trade ideas from us, take a free trial of our newsletter - click here to get started.
Buying low takes courage. There are usually good reasons when a stock is way down in price. Even die-hard contrarians have to wonder whether the market is warning you to stay away.
Deciding whether the crowd is right involves analyzing the news, a company's historical performance and its future prospects.
Medical waste disposal firm Stericycle (NASDAQ:SRCL) has been gutted since hitting an all-time high near $152 last year. As of November 25, 2016, the shares fetched only $76.77. The firm has an adequate balance sheet and a pretty good operating history.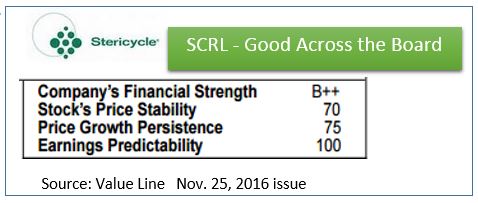 The past decade saw major improvements on most major metrics. The shares more than doubled over those 10 years. Their advance over the period, blunted by the past year's decline, was far shy of what might have been expected.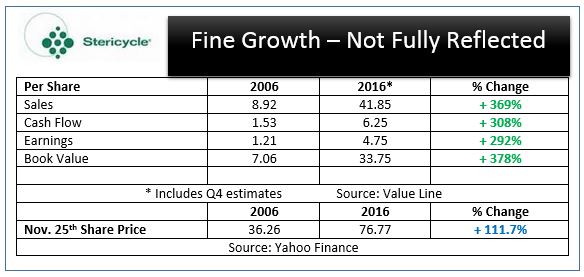 What has hurt the stock lately? After a long period of solid growth, 2017 earnings are expected to be slightly down from this year's record level ($4.75 estimate, excluding a $1.60 per share non-recurring loss).
An almost 50% sell-off appears to more than discount an expected 1-2% drop in EPS. Stericycle closed last week at just 16.3x its 2017 estimate versus a typical multiple of 28.2x. At SRCL's dead low in February 2009, it sold for 21.1x forward earnings. Buyers at the start of 2010 paid 20x projected profits.
Conversely, the four most obvious "should have sold" moments (red-starred below) each came only when P/Es ranged from 27x to 34x.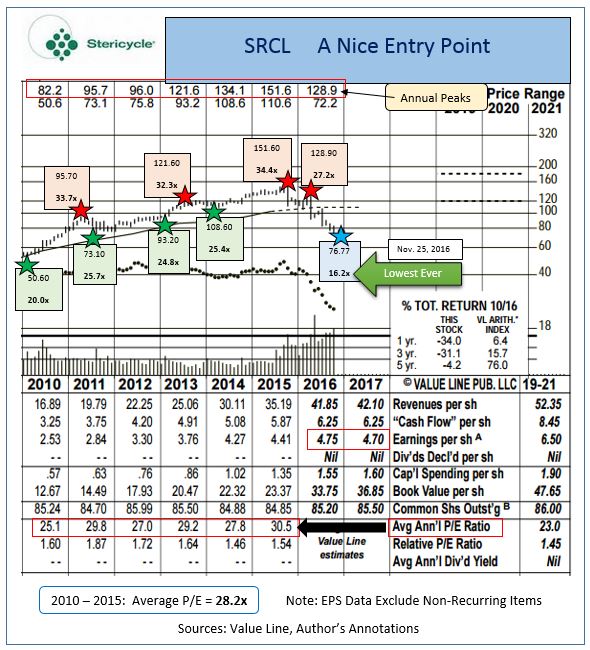 Value Line analysts use a 23x multiple in computing the long-term target price range for SRCL. Assuming an even more conservative 20x P/E on next year's estimate supports a 1-15 month goal of $90-100.
That is far from crazy. A glance at Stericycle's chart shows peak prices running from $95 to $151 during each of the calendar years 2011 through 2016 YTD.
Independent research provider Morningstar is in agreement. It assigns SRCL a 4-star (out of 5) BUY rating. Its present day fair value estimate logs in at $105.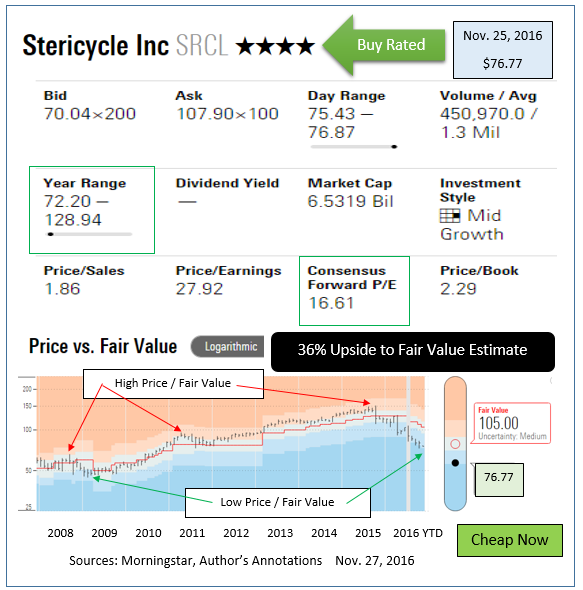 Option-savvy traders with long time horizons can sell in-the-money Jan. 18, 2019 expiration date puts at $90 or $100 to capture substantial premium income. Either one was bringing in well over $2,000 per contract post-Thanksgiving Day, lowering potential forced purchase prices to well under Stericycle's already depressed trade inception quote.

Maximum profit on these or any other option sales is always capped at 100% of all premium collected up-front. Here are those figures for the options listed above.

Should you be fearful of owning stock in a market-leading, good-quality company at a multi-year low?
Future share price performance can never be guaranteed. I can tell you for certain, however, that SRCL hasn't changed hands for under $72 since the early part of 2010, when the company's EPS were on track to hit $2.53 rather than $4.70-4.80.
Buyers at 2010's nadir of $50.60 were true contrarians. Stericycle had topped out at $62.60 back in 2007. Brave souls willing to fight the crowd had the chance to sell for $95.70 at the following year's peak.
Fight the urge to chase winners. You'll usually make more by buying cheap and showing patience. Pick up some SRCL shares, sell some long-term puts or consider doing both.
Disclosure: Long SRCL shares, short SRCL puts.
Disclosure: I am/we are long SRCL.
I wrote this article myself, and it expresses my own opinions. I am not receiving compensation for it (other than from Seeking Alpha). I have no business relationship with any company whose stock is mentioned in this article.