Assessing the effectiveness of Southwest Airlines' leadership
The leadership of Southwest Airlines (NYSE:LUV) is based on servant leadership, personality and a less serious mindset. Herb Kelleher, the CEO at the time, was known as a flamboyant leader. People spoke of his love for dressing up as Elvis Presley and his love for cigars and Wild Turkey Whiskey. Kelleher found that at most board meetings, the board members "wore a mask" which led to boring, more serious meetings. Kelleher didn't believe this was the best thing for business. Southwest displays this in the fact that they do not have a human resource division, they have people department.
One of the best things Kelleher did was create a great program for hiring. His motto was, "hire for attitude and train for skills". This mindset is such an important one when looking for potential employees. Kelleher believed this was the most important aspect of his business. In a quote, "..the most important thing is to get the right people, and if you get the wrong ones they start poisoning everyone else". Attitude can go a long way in a company's staff, most people leave or stay at their current jobs because of the attitudes of the employees around them. Kelleher felt that the happiness of his employees was the most important aspect. He would hold weekly deck parties as well as letting employees dress casually.
Colleen Barrett, one of the key leaders of the airlines, worked closely with Kelleher and would actually succeed him as CEO in 2001. Barrett spent a lot of time actually getting and personally signing birthday cards for each of the 3000 employees. Southwest Airlines, being known for its adverse recognition of human capital, ensures that the management and the workers work together on a horizontal relationship, such that all the employees of the company see each other as colleagues at the same level, whether management or regular staff. The management of Southwest has offered effective leadership to steer the organization to success in both returns and appreciation of human capital. As time moved on, the number of employees reached over 35,000 which made it almost impossible to keep up with personal birthday cards. It wasn't just the birthday cards that witnessed a decline with Southwest and their employees. That warm, personal employee relationship had seemed to dissipate over the years. Many employees felt they are underpaid and not treated fairly, whereas before the employees felt well treated.
Various components of Southwest's strategic control systems
The leadership of Southwest as discussed also helps show their strategic control as an organization. They view themselves as a horizontal control system rather than a top-down or vertical system. Southwest believes that using a vertical system creates a gap between the board, the managers and the employees. Having a horizontal control helps everyone feel as if their voice is heard and also keeps everyone happy. This type of control is an important part of the organization. When everyone is treated as an equal, their attitudes are better and their work performance which pays off for the company as a whole.
One major aspect of Southwest and its strategy to continue to grow and compete, was how they did it. Originally, Southwest had no intentions of buying out another airline to expand, they wanted to grow internally to build their fleet. In September of 2010 Southwest had announced its' purchase of AirTran Airlines. While it went against what their original goal for growth was, they needed to expand quickly to compete with the larger airlines.
Southwest had placed a low cost control when compared to other airlines. One major problem with this strategy of control is that they were losing millions of dollars on fees that the larger airlines were charging. Southwest in reaction to this loss in potential profits added the option for customers to pay $40 to be boarded in the first 15 people. While this was able to bring in some needed revenue, it also upset many veteran customers. One thing Southwest has continued to do well to keep their low-cost strategy is to keep checked bags free of fees.
Overall, Southwest has continued to try to keep its low-cost strategy implemented as they continue to grow. In 2013 Southwest was recorded as being the cheaper alternative only 40% of the time, which for a company striving to keep a low-cost aspect is not such a great number. Despite not always being the lowest in price, Southwest has an exceptional strategy in leadership and quality of service.
Southwest's competitive advantage and the potential challenges to its strategy.
Southwest Airline's competitive strategy is enlargement and gratitude of human investment as well as low-cost model for its customers. Human capital has shown to be costly to not only maintain, but also to develop. This is why Southwest feels so strongly about hiring based on attitude. While Southwest may hire the right people, it takes remarkable management to develop and imply a strategy that will help guarantee the lowering of cost while also increasing productivity. It is still important to sustain the loyalty of customers and to make sure the workers are motivated, and that there is room for creativity and growth in their line of work. "The problems faced in the recent past, by the Southwest Airlines are because of the imbalance between human capital valuation, cost-cutting, and general productivity. If the management is able to balance the above factors, this will foresee success in the airline's strategy of human valuation and appreciation."
After looking deeper into Southwest airlines online, they have also worked with the low-cost service delivery strategy since their inception. This strategy has worked effectively for the organization and has ensured constant profitability for the airlines. However, the effectiveness of this strategy began facing strict competition from other airline organizations that adopted the low-cost strategy. Companies such as JetBlue and AirTran reduced Southwest's monopoly in low-cost service delivery and consequently infringing on the Airlines profit maximization. The airline either needs to redefine its low-cost strategy to accommodate increased competition in the market, or adjust their prices such that they remain fair, but do not pose a threat to the company's profitability.
What growth strategies might Southwest pursue?
Southwest is able to help maintain its growth by adapting to a new strategy. One potential opportunity would be to switch from being just a low-cost airline, to a mix of a more luxury, diverse style as well as a low-cost strategy. It seems that Southwest may actually be hurting itself due to the division of trying to be low-cost, trying to diversify, investing in human capital and increasing productivity. If they were to convert even a third of their fleet into higher priced, more comfortable planes while offering extra services while keeping their low cost flights, they would be able to tackle all types of customers. Another possible way for Southwest to continue to grow, yet maintain its' classic strategy of a more personal and positive work environment is to appoint more managers to create smaller, more intimate relationships between the employees. Doing this will create a happier environment for employees and more productive employees.
Analyzing Southwest's Stock
After having a look into Southwest from a management standpoint as well as its' competitive advantage as a company, we can now look into Southwest from an investment perspective. Since Southwest's first flight in 1971 their stock price has increased significantly. Below is a max year chart of Southwest's historical stock prices and their competitor Jet Blue's historical stock prices.
Southwest Historical Stock Price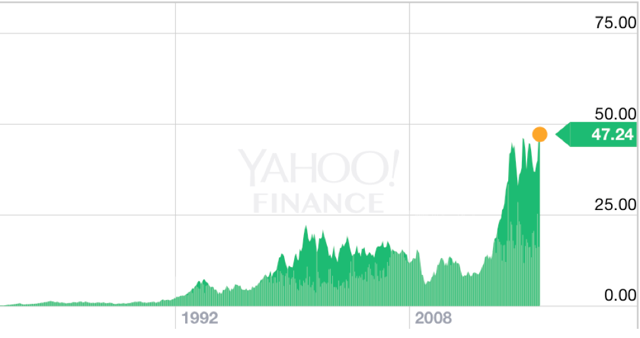 Click to enlarge
Jet Blue Historical Stock Price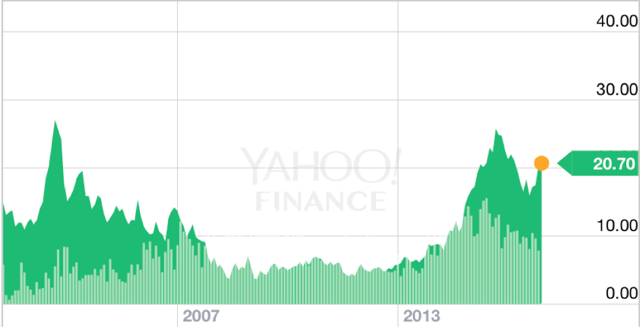 Click to enlarge
From a competitive standpoint, Southwest looks to be the stock to invest in with a steadier growth pattern. With having discussed Southwest's current problem with its low-cost strategy, there may be a dip in share price. Southwest seems to be one of the stronger airlines in existence with quality of service and cost of service. If Southwest is able to identify a specific competitive strategy and build, one could expect to see continued returns from this stock. Compared to JetBlue (NASDAQ:JBLU), Southwest more than doubles their share price and also shows a significantly steadier growth pattern. Southwest's stock isn't a get rich quick sort of stock, their stock is one to sit on.
Disclosure: I/we have no positions in any stocks mentioned, and no plans to initiate any positions within the next 72 hours.
I wrote this article myself, and it expresses my own opinions. I am not receiving compensation for it (other than from Seeking Alpha). I have no business relationship with any company whose stock is mentioned in this article.