Fifth Street Finance (NYSE:FSC) reported between my 'base' and 'worst'-case projections and its net asset value ("NAV") per share declined by another 2.2% (same as last quarter) due to continued credit issues as predicted in my previous "FSC Articles."
Continued Credit Issues & Realized Losses:
During the quarter, an additional $135 million of investments were placed on cash non-accrual. Total non-accruals now account for 10.2% of debt investments at cost and 6.1% at fair value (see table below). Two new investments were added to non-accrual status: AdVenture Interactive, Corp. and ERS Acquisition Corp. These investments will likely be discussed on the earnings call as they account for $132 million of the portfolio at cost.
During the quarter, three investments that were on non-accrual were exited or written off including Phoenix Brands resulting in a realized loss of $28.7 million, JTC Education, Inc. that resulted in a realized loss of $22.3 million and QuorumLabs, Inc. that resulted in a realized loss of $4.2 million. Together these investments accounted for $55.2 million in realized losses or $0.39 per share.

Click to enlarge
Share Repurchases:
FSC recently repurchased 2 million shares of common stock in the open market at an aggregate cost of $12.5 million. The Board approved a new stock repurchase program up to $12.5 million through November 28, 2017. This is much smaller than the previous $100 million plan that expired, of which only $37.6 million was repurchased.
Upcoming Changes to NAV & Dividend Coverage:
My primary concerns are mostly related to continued credit issues driving lower NAV and reduced dividend coverage in the coming quarters especially given the lack of incentive fee alignment with capital losses (discussed later). There is almost $103 million of portfolio FV considered 'Investment Ranking 4' performing substantially below expectations of which "some loss of principal is expected."

Click to enlarge
The company is currently above its targeted leverage due to declining NAV and will likely continue to decrease the size of the portfolio to reduce leverage in the coming quarters. This will likely result in portfolio investment declines driving lower fee and interest income. It should also be noted that lower leverage would imply less share repurchases in the coming quarters.

More importantly is a similar trend to the previous dividend cut as the company is again classifying distributions as partial return of capital ("ROC") due to lack of coverage from "taxable/distributable" income. For previous articles on credit quality, dividend coverage expectations, risk rankings, pricing charts, suggested BDC portfolios, my upcoming/historical purchases and current positions, please see "Index to Free BDC Research."

Click to enlarge
Continued NAV Declines:
As discussed yesterday in "TPVG: 12% Yield and Recent Rebound," I prefer BDCs with shareholder-friendly fee agreements that take into account realized/unrealized losses when calculating incentive fees for management, with a look-back feature to keep management on the hook for the performance of investments over the long term. FSC currently does not have this feature and its NAV per share has declined by 44% while management continues to earn a healthy amount of incentive fees each quarter.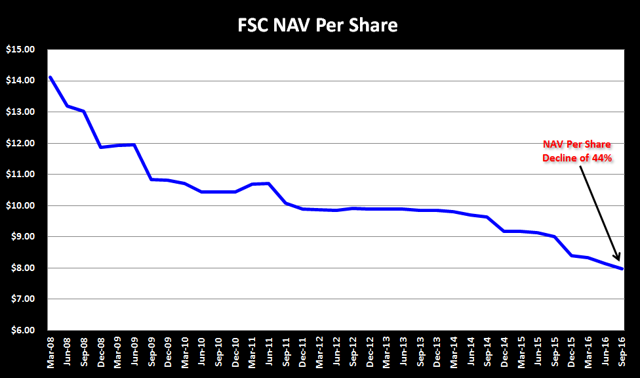 Click to enlarge
As mentioned in the article linked above, TriplePoint Venture Growth (NYSE:TPVG) has this "high water mark" shareholder-friendly feature as a part of its incentive fee calculation and management is not paid incentive fees until investors earn an 8% annual return on equity since its IPO.
From previous quarter: "There was no incentive fee due to our best-in-class fee structure, which provides that no incentive fees payable except to the extent that 20% of the cumulative increase in net assets resulting from operations since our IPO exceeded the cumulative incentive fees accrued and our paid since our IPO."
FSC will likely discuss an adjusted fee agreement during the upcoming call as indicated by management:
From previous quarter: "We have decided to take a fresh look at ways to enhance the alignment of interest between our external advisor and our shareholders including potential changes to our fee structure. We have more to say about this topic on our next earnings call."
The changes will likely be similar to Medley Capital (NYSE:MCC) and not take into account previous losses as discussed in my previous "MCC Article."
Personal note: I have updated my positions to reflect changes in my holdings, but please keep in mind that some of the positions are very small and mostly for research purposes. There are over 50 publicly traded BDCs and I try to cover as many as possible but I do not have the bandwidth to include each company for each article.
Disclosure: I am/we are long BDC, AINV, ARCC, BKCC, FDUS, FSC, FSFR, FSIC, GAIN, GARS, GBDC, GLAD, GSBD, HCAP, HTGC, MAIN, MCC, MRCC, NMFC, PFLT, PNNT, PSEC, SLRC, SUNS, TCAP, TCPC, TPVG, TSLX.
I wrote this article myself, and it expresses my own opinions. I am not receiving compensation for it (other than from Seeking Alpha). I have no business relationship with any company whose stock is mentioned in this article.