In relative global terms, the Bank of Canada has not been very successful in its implementation of quantitative easing policies. Though the bank has been inching closer to near-zero interest rates, the global economy remains caught in the web of slow growth, and this has meant that the possibility of interest rate cuts has become a more significant issue in defining Canadian monetary policy.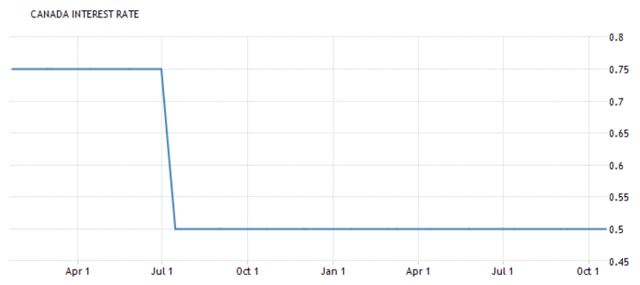 Click to enlarge
Forex Chart Source: Gold Traders
At its October 2016 meeting, the Bank of Canada left its interest rates unchanged at 0.5 percent, as the country is still absorbing the changes seen in energy markets. As a significant oil-exporter, Canada has seen some significant volatility in many of its quarterly figures and this has made it more difficult to define a solid policy stance over the last few months. So monetary policy is still a matter of in Canada and it may be time to rethink monetary policy in terms of the way the Canadian will be able to adjust for the potential of lower growth rates over the next few quarters. GDP figures will continue to be the best overall indicators here as markets are still looking to assess whether or not the current policy stance is actually capable of generating growth momentum within the country.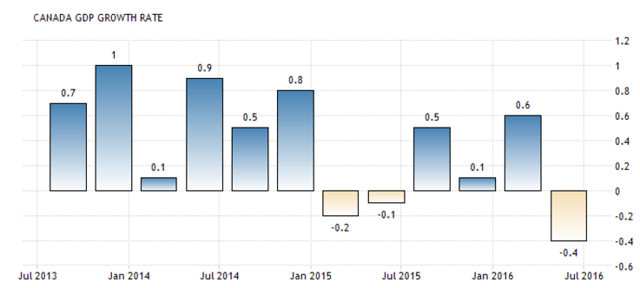 Click to enlarge
Forex Chart Source: Gold Traders
Within Canada's domestic economy, the GDP growth rate has fallen to -0.4 percent in the quarter extending from April to June 2016. Ultimately, this shows that the Bank of Canada started too late in its actions to make monetary policy more aggressive. The practice of measuring money supply too has been largely abandoned by the Bank of Canada during this period, as policymakers began to focus on interest rates as a greater matter of concern. This has led many forex analysts to suggest that the time has come for the Canadian central bank to start paying more attention to changes in the money supply like (the way this use to happen in the 1990s when banks did more to track the effects of money supply on interest rates). Overall, the idea is that this would make policy signals more credible and help in preparing for additional forms of quantitative easing in the broader economy.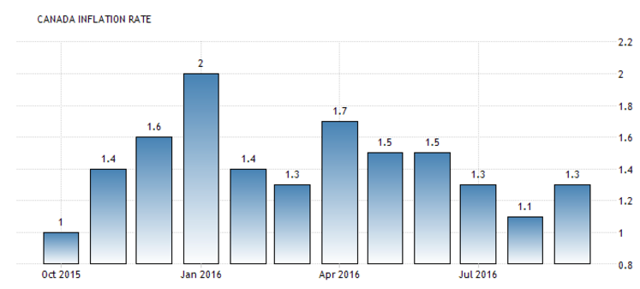 Click to enlarge
Forex Chart Source: Gold Traders
Going forward, the outlook for the Canadian Dollar remains murky at best and this could translate to higher prices in commonly traded currency pairs like the USD/CAD. Conversely, this would more then likely translate to lower prices in the Guggenheim CurrencyShares Canadian Dollar Trust ETF (NYSEARCA:FXC), which has already given back some of its prior gains this year. Some have argued that direct purchases of securities could be one strategy to pursue that might give the necessary stimulus to improve GDP rates within the domestic economy but this is not something that would change the outlook for any of these regional assets.
Of course, the global economy is expected to get back into the swing of things and improve in momentum by the end of 2017 and into 2018. For Canada, this would have to mean that we see changes in oil markets in order to legitimately improve prospects for the CAD and FXC. But it must be remembered that, even with these potentially positive impulses, the Bank of Canada has stated its intentions to maintain the target for its overnight cash rate of 0.5 percent, its bank rate at 0.75 percent and its deposit rate a 0.25 per cent.
This does not lend itself well to carry trading positions and the strengthening of the US economy, and this is a scenario that is taking place when uncertainties have led to lowered business investments in the US. Overall, this has the potential to lead to a lowered growth profile for Canada's export markets in 2017 and 2018.
Further aggravating the economic condition will be the ongoing competitive challenges for certain sectors in Canada. Risks to this outlook could be seen if the economy shows a higher growth rate relative to expectations based on the fact that production is supported by better monetary and fiscal conditions. Currently, markets are showing an expectation that GDP will continue to grow by 2 percent in 2017 and 2018, so we would need to see something higher than that in order to expect increases in CAD and FXC. Consumer prices were 1.1% higher in August and these increased by 1.3% year-on-year in September 2016, so in order for any disruptions to occur we would need to see some more significant changes in these areas.
Disclosure: I/we have no positions in any stocks mentioned, and no plans to initiate any positions within the next 72 hours.
I wrote this article myself, and it expresses my own opinions. I am not receiving compensation for it (other than from Seeking Alpha). I have no business relationship with any company whose stock is mentioned in this article.