You may know Turbo Travel Holdings B.V. (NASDAQ:TRVG) better as Trivago. Founded in 2005, the German company is known for their Internet-related services in the field of hotels and leisure. Now the company is taking it to Wall Street for an IPO seeking to raise $400 million.
Growth Is Big
TRVG is on track to reach revenue of €896 million for 2016, which would represent a 3-year CAGR of 62.3%. However, this topline growth is likely attributed to their costly sales and marketing operations. Sales and marketing costs have consistently remained above 90% of their total revenue, and most recently accounted for 92% of revenue for the first 9 months of 2016. Due to this high expense, TRVG has yet to turn a positive operating margin.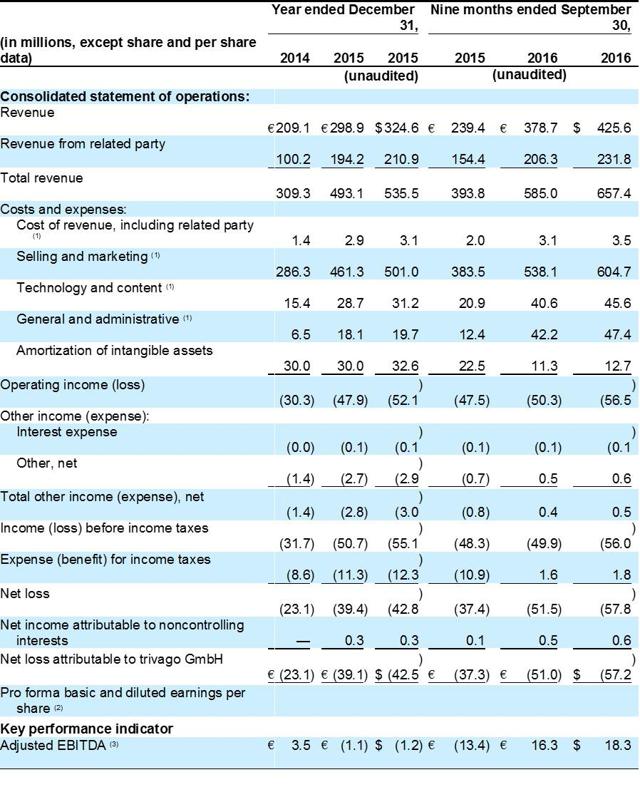 Click to enlarge
Source: TRVG's F-1
Cash Is Running Low
The company's high operating expenses have finally caught up to their balance sheet. Liquidity is becoming a problem as TRVG as a cash ratio of only 0.05. Their current ratio is still reasonable; however, they don't carry much value on their books. As you can below, although TRVG has total assets of €808 million, only €139 million is tangible.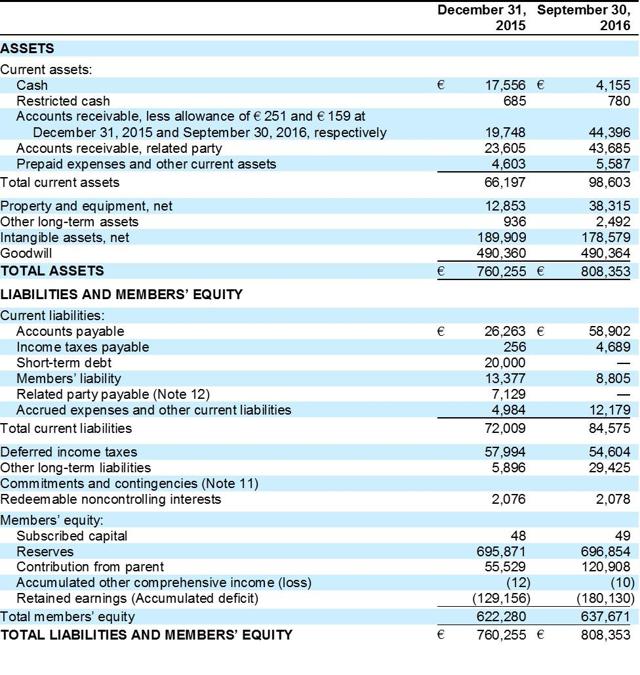 Click to enlarge
Source: TRVG's F-1
The Risk Is In The Competition
Priceline (NASDAQ:PCLN) has long been the top dog among online travel agencies and hasn't faced significant competition from many of their competitors, such as Expedia (NASDAQ:EXPE) to where it has had an impact on them. However, Priceline is facing a changing environment which can also affect TRVG. First, niche online travel agency services from companies like Airbnb have gained significant traction in a short period. Airbnb has exceeded a valuation of $25 billion. The other competition comes from consolidation of hotels. More and more hotels are trying to drive traffic to their websites for booking, and the massive M&A activity, such as Marriot's (NYSE:MAR) acquisition of Starwood Hotels and Resorts, poses a threat to online travel agencies. This can lead to either stronger negotiating power for the hotel chains and/or possibly ending the run of many online travel agencies.
Expedia Is The Controlling Shareholder
It might surprise some to find out that Expedia owns 63.5% of TRVG, however they operate as an independent member of the group of Expedia companies. Nevertheless, for the years of 2014, 2015, and the first nine months of 2016, Expedia accounted for 32%, 39%, and 35% of TRVG's revenue. TRVG is a controlled company and their relationship with Expedia is clearly an important one.
Conclusion
TRVG is a solid company. Although they have made two acquisitions in the past; Rheinfabrik and Base7booking, they have mostly grown organically without ringing up massive amounts of debt. Although their revenues weren't necessarily cheap, they have posted impressive numbers with healthy financials given the company is still in a strong growth phase. Nevertheless, there are always challenges on the horizon. If TRVG can turn cash flow like competitor Priceline does in the upcoming years, then it can be worth the investment, and they seem to run efficiently at this point so it is promising. Trivago can tell us if there is a deal on a hotel and soon the market will tell us if there is a deal on Trivago.
Disclosure: I/we have no positions in any stocks mentioned, and no plans to initiate any positions within the next 72 hours.
I wrote this article myself, and it expresses my own opinions. I am not receiving compensation for it (other than from Seeking Alpha). I have no business relationship with any company whose stock is mentioned in this article.