There was a big opportunity in shares of On Assignment (NASDAQ:ASGN) after its third-quarter earnings release late last month: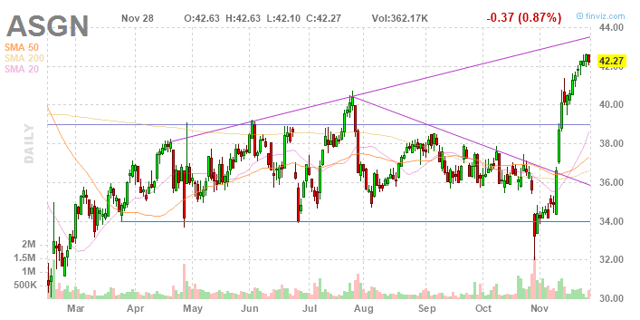 Click to enlarge
Source: finviz.com
Investors sold ASGN shares coming out of the report after an earnings miss - but it wasn't really an earnings miss. On Assignment - in response to new guidance from the SEC on non-GAAP earnings, per the Q3 conference call - stopped including a $0.12 per share cash tax benefit in its non-GAAP EPS numbers. As such, the reported $0.74 figure - which was $0.10 below consensus - actually would have been a $0.02 beat without that change. As such, a quarter that looked like a bottom-line miss - and Q4 guidance that similarly was $0.12 below the Street - drove a nearly 7% decline, even though the report actually came in modestly ahead of expectations.
Earnings-related movements aside, it certainly seems like heading into the report, ASGN hadn't received quite enough respect from the market: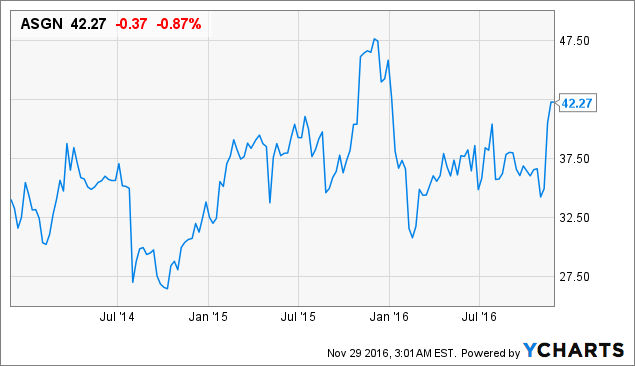 This is a company that has posted three straight years of double-digit revenue growth - including on a pro forma basis in 2015 - and is well-positioned to hit five-year targets laid out in 2014. Those targets imply EPS over $3, double 2014 levels, even excluding cash tax benefits. EBITDA margins are among the best in the space - a notch below Robert Half (NYSE:RHI) - and diversified end markets should mitigate some of the cyclical risk here.
At $33, that made ASGN rather attractive - but the gap to fair value has closed rather quickly over the past month. To be sure, the staffing sector as a whole has benefited from the recent presidential election: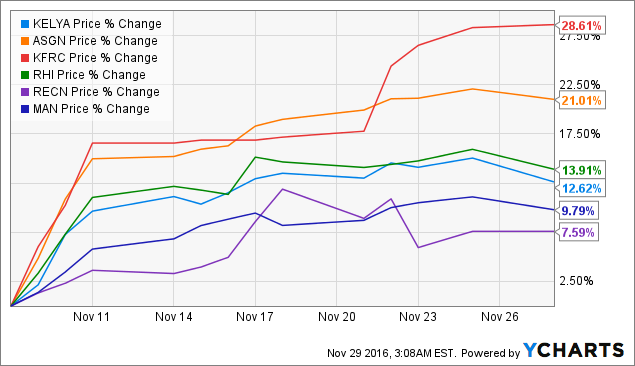 That helps from a peer valuation standpoint. But I'm not quite as bullish on the economy as some investors appear to be at the moment and in theory, anyway, ASGN's multiple should be compressing going forward given relatively substantial cyclical exposure.
I do like ASGN best in the space - particularly against Kforce (NASDAQ:KFRC), whose margins are lower and whose performance has been much weaker - and I do think current fair value is in the $45-48 range. At $33, that implies a compelling opportunity. At $42+, given macro risk, it's not quite the same.
The Five-Year Plan
On Assignment has made substantial changes to its business over the past few years. The company acquired Apex Systems in 2012 to create a premier IT staffing firm; the Apex unit, to which ASGN has added its legacy Lab Support business (for scientific staffing) and Creative Circle (creative and marketing, acquired last year), now drives nearly three-quarters of revenue. The balance of the business comes from Oxford, which focuses on higher-end IT and engineering candidates, and includes permanent placement firm CyberCoders (acquired last year) and European clinical and scientific firms LabSupport (a legacy business) and Valesta (acquired in 2011). Amidst all the acquisition play, On Assignment also exited the medical space, selling physician and nurse staffing businesses in 2015 and 2013, respectively.
The changes limit the usefulness of historical financials somewhat, but recent performance has been solid. 2014 revenue increased 10.9%, and pro forma revenue rose 11.1% in 2015 (19.7% on a reported basis). Q4 guidance implies a nearly 12% growth rate for 2016. Adjusted EBITDA margins have ticked up as well, from 11.1% in 2014 to 11.6% in 2015, with another ~15 bps expansion implied at the midpoint of Q4 2016 guidance.
The 11%+ figure is one of the highest in the space, with RHI at 12%, Resources Connection (NASDAQ:RECN) near 10% and KFRC at 6%+, per figures from Duff & Phelps [pdf]. ASGN's top-line growth, meanwhile, dwarfs peers: Kforce will see sales decline in 2016 and RHI's guidance implies ~4% growth for the full year.
In March 2014, On Assignment laid out its five-year targets, which included $3 billion in revenue, gross margin of 31-32 percent, and Adjusted EBITDA margin of 11.5-12.5 percent. And the company looks right on track. The $3 billion top-line target requires ~11% growth in each of the next two years - growth right in line with recent organic performance. Full-year gross margin for 2016 should come in around 32.8%; the faster-growing but lower-margin Apex segment implies some compression going forward, as does a bit of a disappointing 2016 for CyberCoders, but there's still room to hit the high end of the range. 2016 Adjusted EBITDA margin will be 11.7-11.8%; modest SG&A leverage from double-digit revenue growth should be enough to offset gross margin pressure and get the figure to 12%+.
There's a real story here and one that hasn't seemed to receive quite enough credit from the market. Part of the reason may be a general skepticism toward the space as a whole: over trailing 1- and 3-year periods, only one of seven professional staffing stocks with a market cap over $500 million has beaten the S&P 500, even with the recent post-election gains. (Kelly Services (NASDAQ:KELYA) has outperformed over the past year; ASGN itself has beaten over a 3-year period but on a total return basis has lagged.)
To hear ASGN management tell it, that skepticism is totally unwarranted. The "gig economy," as CEO Peter Dameris has termed it, creates more flexible workers and increases potential adoption of contract workers by employers. In IT, data security requires large firms - where On Assignment gets about 80% of new business, per the Q2 conference call - to use trusted providers, instead of self-employed candidates or smaller firms. And the political climate makes offshoring - in IT and elsewhere - perhaps less palatable, a potential tailwind that likely will increase in a Trump presidency and explains some of the recent optimism toward the staffing industry as a whole.
Even with ASGN at 2016 highs - the stock tanked amid broad market concerns in the early part of the year and never really recovered - there's a case that the 'story' here is vastly underappreciated. To be sure, there is cyclical exposure, but On Assignment has done a nice job diversifying end markets to mitigate that concern, at least somewhat: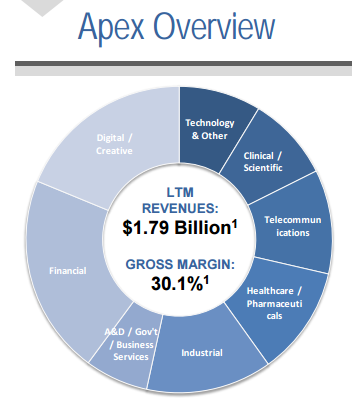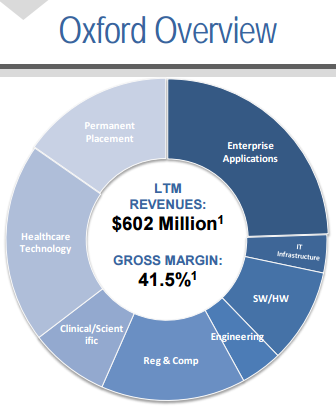 Source: ASGN presentation, J.P. Morgan conference, November 2016
At the unit level, there's reason for optimism as well. Apex's growth has been phenomenal, driven mostly by the IT business. That business generated about 55% of YTD revenue - and has grown 17% year-to-date, per the 10-Q. Large accounts are driving the gains, which could pressure gross margin - and Apex has a lower margin than Oxford - but acquisition costs within large accounts obviously are lower and management has remained confident about contribution margins from the business. Looking forward, overall IT market growth is a question mark, but Dameris has cited "Big Data" as a driver going forward, particularly at non-tech companies.
Creative Circle - about 13% of total revenue in Q3 - grew nearly 16% in the quarter. There remain 'greenfield' opportunities to open new offices - which take 6-9 months to reach profitability, per management commentary - and competition in the space comes mostly from DIY customers, who raise compliance issues. And Lab Support appears to be performing well, though commentary has been limited of late.
Growth at Oxford has lagged somewhat, with an apparent compression in early-stage companies a key culprit at the moment, particularly in permanent placement revenues (which are flat in the segment). The permanent placement performance is driven by CyberCoders, the lone disappointment in the business this year. That business drives ~60% of permanent placement revenues, and CyberCoders declined in Q3, per the Q3 call, and faces a challenging comparison in Q4 which seems to imply another YOY decline next quarter. But Dameris pointed out on the Q3 call that the business generates just over 3% of total revenue, and argued that the challenges there were "manageable." But overall Oxford revenue is up 7.2%; international revenue (still less than 5% of total sales) is up 20% year-to-date, due to strength in Oxford's Life Sciences business.
And the longer-term tailwinds seem legitimate. Most observers see professional staffing as increasing in terms of employer share. There are pockets of tightness in certain IT specialties already - which allows On Assignment to take pricing - and any reductions in H-1B visas, which appear threatened by a Trump Administration, could make On Assignment's talent base even more valuable.
All told, there's an extremely strong case for ASGN simply as a company. Trailing performance has been solid: Q3 represented the 11th consecutive quarter of above-market growth for On Assignment, with the delta often 400-500 bps during that period. The 2018 targets appear in play; $3 billion may be a stretch for 2018 without an acquisition, and ASGN has been unwilling to pay up on that front. (Dameris has argued of late that private valuations are higher than public valuations, and thus ASGN simply has chosen to acquire itself: the company has repurchased over 1% of shares outstanding year-to-date, and still has nearly $130 million outstanding on the authorization, enough to buy nearly 6% at current prices.) The industry may be somewhat unloved, but there are some tailwinds particularly in On Assignment's specialized areas; and the value of that specialization is proven by top-two margins in the industry as a whole. Yet ASGN shares have increased only ~10% over the last two and a half years, during which time the company has made tremendous progress toward out-year goals that imply further upside. And while the stock has outperformed its industry, the delta in share price appreciation is lower than in revenue and profit growth: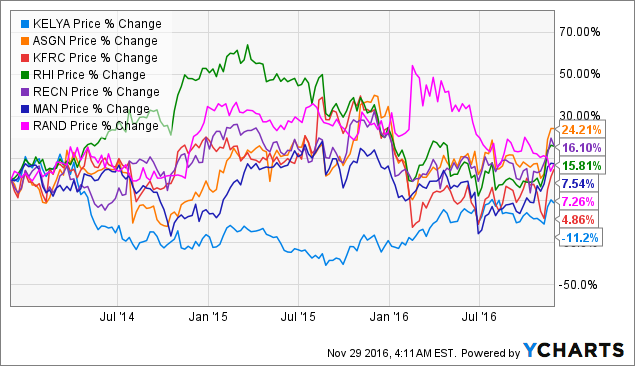 Even with the recent rally - which seems to have some grounding in the political climate - there seems to be a case that ASGN simply hasn't been properly rewarded for its performance. And that case would imply further upside from current levels.
Risks And Valuation
I do think there is some upside left. 2018 targets imply ~$360 million in Adjusted EBITDA and ~$3.20 in adjusted EPS ($3.68 including cash tax savings, which won't end for another decade on). Current EBITDA multiples in the space are in the 9-10x range: using full-year 2016 guidance, RHI is in the low 9s, KFRC is at 10.1x, and ASGN is at 10.2x. A 10x multiple to the 2018 Adjusted EBITDA would imply an enterprise value of $3.6 billion and assuming modest deleveraging and a 5% reduction in share count would value ASGN at $61; an aggressive model might add ~$3 for the net present value of cash tax benefits. $64 discounted back supports current fair value of $55 - another 30% upside. And an acceleration in IT end markets and/or a margin-enhancing shortage could drive outperformance from those levels. P/E multiples for the two main peers are in the 16-17x range; using a cash tax-excluded estimate of $3.68 values the stock around $61 in 2018, and puts fair value at $52, still ~20% above current levels.
Even considering current performance, that strikes me as an upside case. I'm not entirely sold on the ability to drive ~11% revenue growth for two more years, simply as comparisons become more difficult. And this is a cyclical business, which brings cyclical risk: while I understand some of the market's post-election bullishness toward ASGN, I'm a bit less sanguine about the U.S. and world economies as a whole. (More bullish investors interested in taking cyclical risk might be more intrigued at this point, to be sure.) Risk of a downturn aside, looking out to 2018 also seems like it should imply some measure of multiple compression. ASGN almost certainly needs a solid U.S. economy to hit its targets, and if that plays out, the economic expansion will be nearing a decade by that point, which historically should require at least a near-peak multiple. At ~9x EBITDA and ~15x EPS, the case - even if targets are hit - is strong, but not quite compelling, with current fair value looking closer to $48 or so.
That's about where I see fair value, personally - and admittedly that target does imply ~13% upside from current levels. Fundamentally and operationally, there's a solid "wonderful company at a fair price" argument for ASGN. Management here is solid, the strategy is logical and is working, targets are in play, and ASGN is outgrowing its industry.
But I'm not sure a solid case is quite enough, given potential macro risk and the unpredictable nature of the political and regulatory climate in 2017. In theory, a pairs trade with KFRC - where investors look to be pricing in a turnaround that's barely even started - makes some sense, but sector correlation has been so tight that driving any real, unlevered, returns seems unlikely. But as a standalone long, I'm simply not quite convinced at $42 - and that's why I'm kicking myself for not simply buying the story this summer, or paying closer (and quicker) attention to the post-Q3 decline. I don't necessarily think the opportunity to buy ASGN is gone - but the opportunity offered a month ago may be. At current levels, I find ASGN intriguing - but not quite compelling.
Disclosure: I/we have no positions in any stocks mentioned, and no plans to initiate any positions within the next 72 hours.
I wrote this article myself, and it expresses my own opinions. I am not receiving compensation for it (other than from Seeking Alpha). I have no business relationship with any company whose stock is mentioned in this article.