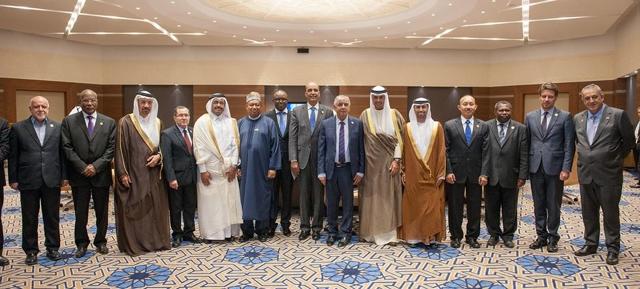 Click to enlarge
Saudi Energy Minister Khalid al-Falih is reported as stating this morning that Saudi Arabia is prepared to take "a big cut" to its own production volumes in order to bring the production control initiative to fruition.
A careful review of the minister's comments, as well as comments by other OPEC officials as they arrived in Vienna, suggests that the statements reiterate what has been already known to the market and the key players still hold their cards close to their chests.
In his comments, Minister al-Falih confirmed that the output ceiling being discussed by OPEC is 32.5 million barrels per day. The minister also made public OPEC's "ask" with regard to Russia and other non-OPEC producers, which are apparently being asked to cut an additional 0.6 million barrels per day. However, it did not sound from the reported comments that OPEC's agreement is necessarily conditional on non-OPEC exporters agreeing to support the production cut. (I have written previously that the "ask" was for non-OPEC group to contribute at least 0.5 million barrels per day but that a "freeze" by Russia would probably be all that Saudi Arabia could get, and that would likely be accepted.)
With regard to the critical element of the OPEC agreement, the production ceiling for Iran, Minister al-Falih's comment reconfirmed what has already been made clear to the market, i.e. Saudi Arabia would agree to Iran freezing output at pre-sanctions levels. The devil here is obviously in the detail: Iran and Saudi Arabia have attributed different quantitative measures to the same term and the "bid-ask" here could be as wide as several hundred thousand barrels per day.
Minister Falih is quoted as saying:
It will mean that we take a big cut and a big hit from our current production and from our forecast for 2017. So we will not do it unless we make sure that there is consensus and an agreement to meet all of the principles.

We believe that non-OPEC growth has reversed and also most of the OPEC growth we've seen is already behind us.

If we can't come to an agreement, then the other scenario of rolling over and waiting for the market to recover on its own is not a bad outcome.
In another positive news that came out yesterday, Iranian Minister of Petroleum Zanganeh commented that "Moscow has agreed to reduce their production and cut after our decision." Even if there is little in terms of real contribution to the production cut coming from Moscow, Russia's formal participation in the cut would be important to OPEC from a media relations perspective.
Going into the meeting and based on the additional data points, the market's expectation is likely to be for a higher probability that the deal is announced and will be based on the following contributions by each key exporter:
Saudi Arabia: effectively the sponsor of the initiative and a backstop provider, with a cut possibly as high as 0.5 MMb/d.
Iran: a ceiling of ~3.8 MMb/d.
Russia: formal participation in the form of a stated production cut.
It is important to note, however, that if the agreement is achieved, the actual change in the volumes supplied by key exporters, as compared to the "no deal" scenario, would likely to be less significant than the media headlines at the announcement. The positive outcome of the meeting, if achieved, should be viewed in the context of the natural progression of the oil cycle, the real (as opposed to claimed) capacity by each exporter to produce and grow production, and exporters' compliance with the agreement.
That said, the global oil market has noticeably tightened since last summer and even a small "administrative" reduction in supply can make a big difference for global overstocks. Even if the effective reduction in supply is equal to one-half of the "face amount," i.e. 0.5 million barrels, and holds for a year, the entire overstock would be gone within a year, assuming a market where supply and demand are approximately balanced otherwise.
For in-depth analysis of the oil and natural gas industry and commodity fundamentals, please consider subscribing to Zeits OIL ANALYTICS.
Disclaimer: Opinions expressed herein by the author are not an investment recommendation and are not meant to be relied upon in investment decisions. The author is not acting in an investment, tax, legal or any other advisory capacity. This is not an investment research report. The author's opinions expressed herein cannot be a substitute for comprehensive investment analysis. Any analysis presented herein is illustrative in nature, limited in scope, based on an incomplete set of information and has limitations to its accuracy. The author recommends that potential and existing investors conduct thorough investment research of their own and consult a qualified investment adviser. The information upon which this material is based was obtained from sources believed to be reliable, but has not been independently verified. Therefore, the author cannot guarantee its accuracy. Any opinions or estimates constitute the author's best judgment as of the date of publication, and are subject to change without notice. The author explicitly disclaims any liability that may arise from the use of this material.
Disclosure: I/we have no positions in any stocks mentioned, and no plans to initiate any positions within the next 72 hours.
I wrote this article myself, and it expresses my own opinions. I am not receiving compensation for it (other than from Seeking Alpha). I have no business relationship with any company whose stock is mentioned in this article.