With General Electric General Electric (NYSE:GE) now trading at just over $31 a share, many analysts believe the conglomerate is fairly priced but I would beg to differ. Commentary has been divided about the recent Baker Hughes deal with some analysts stating that the $32 billion deal being overvalued. This may have some merit considering the poor return on invested capital numbers (ROIC) Baker Hughes (Baker Hughes (NYSE:BHI)) has reported over the last decade. However General Electric's mission for the merger is simple. It will probably sell off the businesses it does not want and cut costs to the bone in the businesses which it wants to grow.
The new "entity" will now probably become the second biggest company in this sector behind the market leader Schlumberger (NYSE:SLB) and will put General Electric back on center stage as a prime competitor in energy. As long as the deal gets regulatory approval and GE manages to eek as much cost out of operations as possible, I see this merger as a sound move which should pay dividends in years to come. The company hasn't been slow to scale up its investment efforts after the culling of its financial wing. Investors need to look at the long term fundamentals here and back GE. I am for a number of reasons.
Imaging & Digital Technology Will Add Real Value In The Sector
With crude oil now trading at $46.27 a barrel, this deal obviously does not make sense if crude oil prices stays at these levels. However realistically I cannot see this happening long term especially when you take note of the amount of energy companies going broke at present. In fact from a long term perspective, the timing of this deal is excellent as GE was never going to pick up these assets as cheap. Remember that Baker Hughes is a big player in US shale plays but it hasn't had the digital and imaging equipment to sell a turnkey solutions to its clients.
GE/Baker Hughes Can Now Offer A Complete Solution
It will now and if shale players continue to return to their plays (as an OPEC production cut is expected), then this will be bullish for the new merger as the $32 billion price has already been agreed in 2016. Providing a turnkey solution is what makes this merger stand out in this sector. In energy Baker Hughes has been mainly concentrated on upstream clients with General Electric dominant in midstream and downstream. With the creation of the new entity, the new merger can now offer customers a turn-key solution that can meaningfully help customers take cost out of their processes (lowering cost per barrel) and in the process improve recovery rates.
Inflation has Risen Sharply in the US over the Past Few Months. Crude Oil Remains Priced In Dollars
The price of crude is still way below its long term historic mean. Furthermore rising inflation (plus an OPEC cut) should drive crude prices back up over $60 a barrel once again.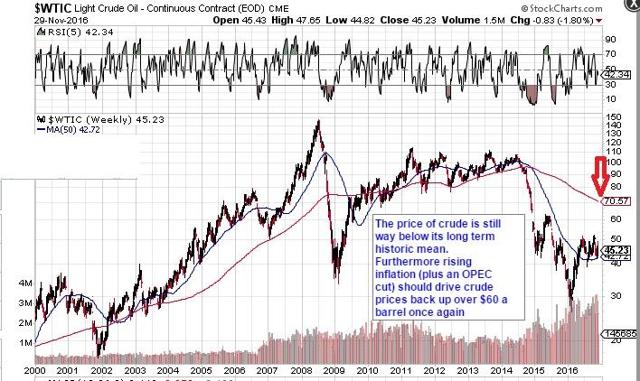 Click to enlarge
Short Term - GE's Price Is Too Lofty
In terms of sentiment, GE has rallied pretty aggressively since the 4th of November along with the market (NYSE:SPX). As the chart illustrates below, every time sentiment has reached these levels in the past, the share price has retraced meaningfully (10%). I believe the same will happen again pretty soon. Scaling into GE at sub $30 prices can make a huge difference to the long term performance of a given portfolio.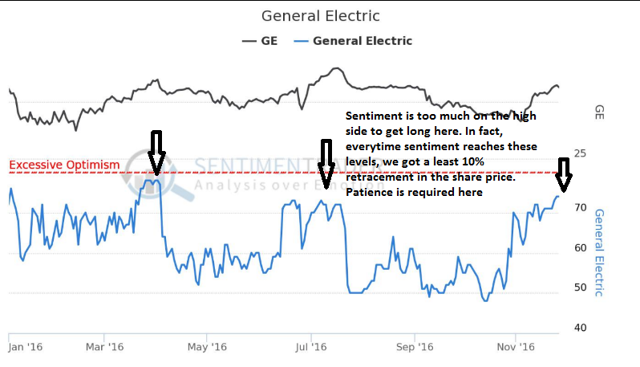 Click to enlarge
Source : Sentimentrader.com
With crude oil prices and GE rallying this morning due to a perceived imminent OPEC deal, now may not be the right time to chase. If we look at the chart below, we can see that crude definitely printed a daily cycle low on the 14th of November. However we are 18 weeks into this intermediate cycle at present which means an intermediate cycle top could be on hand at any point now. Personally I believe oil will retrace over the next month or so (which will probably be aided by a much needed drop in the stock market). Therefore when we combine the cycle count with sentiment, it is better to be on the sidelines at present.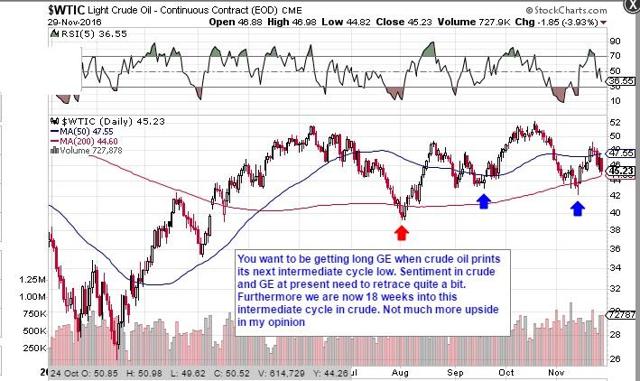 Click to enlarge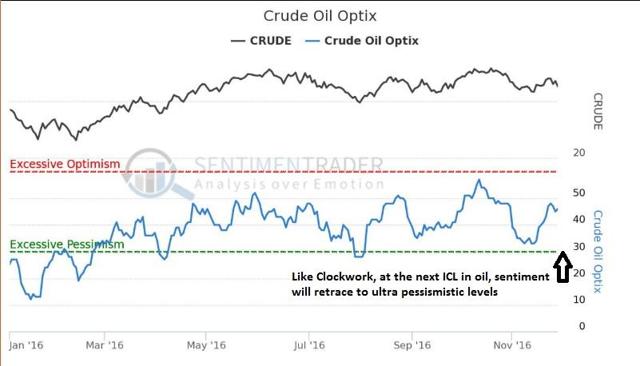 Click to enlarge
Sentimentrader.com
Therefore to sum up, I like the look of the new GE/Baker Hughes entity which should flourish once crude oil prices get in gear once again. However the possibility of picking up GE 10% cheaper is too big to ignore. Don't chase this stock as a pullback is on the cards in both equity markets and in energy
Disclosure: I/we have no positions in any stocks mentioned, and no plans to initiate any positions within the next 72 hours.
I wrote this article myself, and it expresses my own opinions. I am not receiving compensation for it (other than from Seeking Alpha). I have no business relationship with any company whose stock is mentioned in this article.