Progenics (NASDAQ:PGNX) is up almost 80% in less than three weeks and the stock has reached new 52-week highs in the process. And not much has happened apart from the $50 million financing arrangement which removes any potential financial strains over the next two years. And while not much has happened recently, a lot is about to happen in the following months. The Azedra phase 2b topline data should be out in Q1 2017 and represents the most important near-term catalyst for Progenics and there are other catalysts as well. In this article, I take another look at the potential value drivers in the following quarters and the upside potential for Progenics.
Azedra phase 2b trial data to unlock significant shareholder value
Azedra is already a significantly de-risked asset considering the availability of the (incomplete) phase 2b trial data conducted by MIP, which went bankrupt. Azedra was made available to Progenics following MIP's bankruptcy. 41 patients received a therapeutic dose or doses in that trial (58 patients was the target) and 13 (or 32%) responded to the primary endpoint (at least 50% reduction in the use of anti-hypertensive medication). Additionally, 41% of patients achieved the secondary objective (partial response) and 85% of patients had a measurable decrease in tumor size.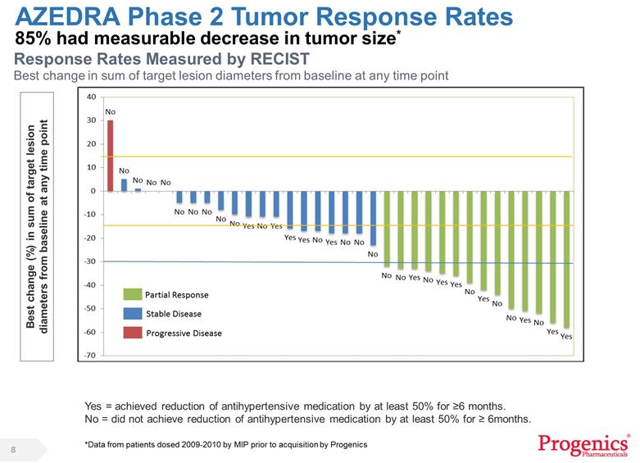 Click to enlarge
Source: Progenics investor presentation
The survival data for patients receiving two doses of Azedra compared to those who received just one looks really good as well and provides additional confirmation that the drug works.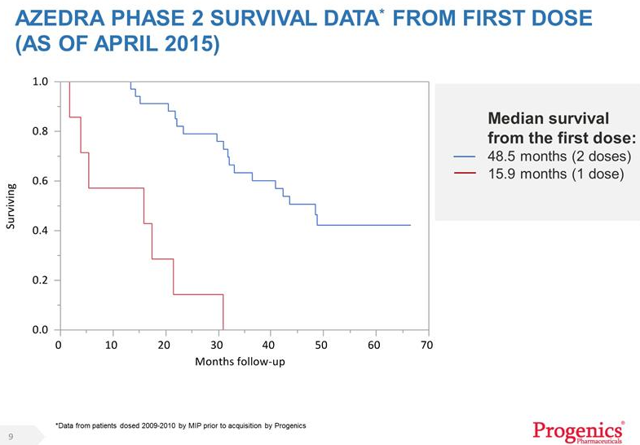 Click to enlarge
Source: Progenics investor presentation
A total of 68 patients were enrolled in the restarted trial and Progenics needs just four additional patients to respond to treatment to successfully complete the trial. This translates to a 15% response rate compared to the 32% achieved by MIP, which looks quite achievable considering the earlier and really promising data. And although this is a phase 2b trial, the candidate is targeting an ultra-orphan disease and the FDA has indicated that it will grant full approval based on positive data from this trial.
I based my conservative peak sales estimate of $100 million for Azedra on a $100,000 a year price tag and 30% U.S. market share but believe there is upside potential to these estimates. The annual incidence of pheochromocytoma and paraganglioma is between 3 and 8 patients per million a year, which translates to almost 1,000 patients per year based on the low end of the range. The total patient population is estimated to be between 3,000 and 6,000 in the U.S. My estimate was based on 30% market share of around 3,000 patients and the company could eventually capture a much higher share of the market, given the annual incidence and the efficacy shown in the phase 2b trial.
Management was asked about Azedra's pricing on the latest investor conference and CEO Baker said it will depend on a lot of things (political and drug pricing landscape in 2017) and gave a pretty broad pricing range - $100,000-150,000 on the low end and $300,000-400,000 on the high end. Given how much other companies charge for ultra-orphan diseases, I think a higher price tag than the $100,000 I assumed is probable and that $200-300 million in peak sales in 5-6 years is realistic. I will revisit this part of the valuation when Progenics provides the actual annual price (assuming the product is approved, of course).
The cost of the launch should be rather low since the company plans to hire fewer than 10 sales reps which will target the 10-15 treatment sites in the U.S. This means that margins could end up being much higher than I assumed in my previous model and I am increasing my net margin range from the 40-50% range to a 50-60% range. The real net profit could end up being higher because Progenics has almost $500 million in accumulated losses to take advantage of in the following years. I am updating my model on Azedra to incorporate higher margins which translates to a net present value range of $2.6-9.3, up from a $1.9-6.5 range (model available to Growth Stock Forum subscribers).
If Azedra is approved, the NPV goes to $4.3 at the low end of the range and up to $15.6 based on the high end of the estimate range. This is the most important near-term catalyst for Progenics and stands to unlock significant shareholder value if the topline data are positive in Q1 2017.
1404 interim phase 3 results to further de-risk this asset
Interim phase 3 results of 1404 are another potential catalyst for Progenics in December. 1404 has the potential to detect clinically significant prostate cancer in a more accurate and non-invasive way - which the company believes is very important in determining the right treatment approach. In addition to improved detection, the company believes 1404 will enable active surveillance too, which is gaining momentum in recent medical literature and in the media. 1404 could eliminate the need for recurring biopsies, which are associated with a range of side effects and which can often underreport the disease.
1404's phase 2 results were very encouraging. 1404 had a higher detection rate than MRI (94% sensitivity in detecting and imaging cancer versus 86% for MRI) and the results were compared to the gold standard - the man's actual tissue obtained from radical prostatectomy. Uptake of 1404 in the lobes of the prostate gland also showed a statistically significant correlation with Gleason score (p < 0.0001) and the data showed that the uptake of 1404 was significantly lower in treatment patients (p < 0.0001) corresponding to a decrease in PSA over time.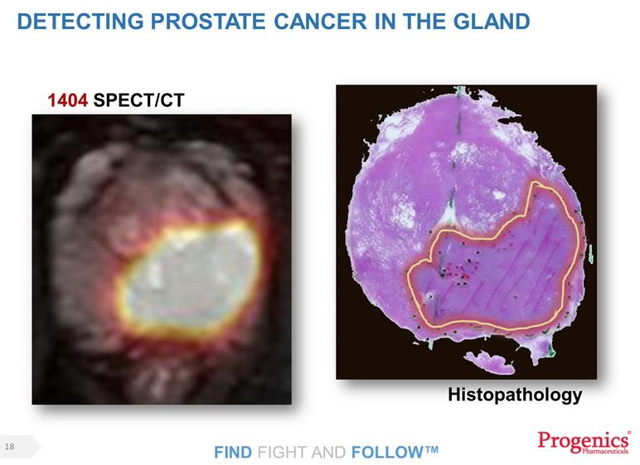 Click to enlarge
Source: Progenics investor presentation
Progenics intends to conduct an interim analysis of the phase 3 trial before the end of 2016 to assess futility, safety and evaluate the need for a sample size re-estimation.
So, how big is the market for 1404? There are approximately 1 million scans per year in the U.S. and a price tag of $500 translates into a $500 million U.S. market opportunity for 1404. A market penetration rate of 20% (which would be pretty conservative assuming the company is able to reproduce the phase 2 results) translates to $100 million a year opportunity for Progenics. However, the clinical usefulness of 1404 could expand this market and I believe that 1404 could eventually reach annual sales in excess of $300 million. For modeling purposes, I assume 30-50% market penetration at peak which results in a net present value range of $2.3-4.5 (model available to Growth Stock Forum subscribers). If approved, the NPV moves to a $3.9-7.6 range.
Valeant rumored to sell its Salix division - positive implications for Relistor and Progenics
Rumors surfaced over the last few weeks that Valeant (NYSE:VRX) is selling its Salix division and Valeant confirmed that it is in negotiations to sell various assets, including Salix. Intereconomia reported that Valeant will sell Salix to Takeda (OTCPK:TKPYY) for $9.3 billion, less than $10.8 billion that was reported earlier. This could be a significant catalyst for Progenics as I believe that Takeda would do a much better job at selling Relistor than Valeant and sales expectations for the Relistor franchise will probably be re-rated higher following the sale of Salix to Takeda (or another big pharma company).
I pegged Relistor's peak sales potential in a wide $300-700 million range and assumed Valeant would be able to get sales to the lower end of the range ($300 million), while Takeda will probably do better and achieve at least $500 million. Revaluing the Relistor franchise would increase the NPV by around $3-3.5 for Progenics, meaning that the stock could rally 30-35% on the news (assuming the market didn't discount the news already, which is possible considering the sharp rise in Progenics' share price).
Valeant has launched oral Relistor in September and saw a 10% increase in scripts by late October and Valeant seemed enthusiastic about oral Relistor's prospects on the Q3 call. Valeant is also seeing a 10% increase in the number of prescribers and has managed to get 50% of commercial lives covered so far. So, there is some progress and prescriptions will probably accelerate further once more lives are covered and once physicians become comfortable with the oral version. Given the annualized run rate of around $80-90 million as of Q3 2016, sales in 2017 will probably exceed $100 million for the first time, and Progenics will be entitled to receive a $10 million milestone. If Takeda takes over, $150 million and $200 million in net sales seem achievable over the next two-three years, which translates into $15 million and $20 million payments, respectively, for Progenics along with an increased royalty rate (15% for the first $100 million and 17% for the next $400 million).
The rest of the pipeline is progressing nicely as well
The rest of Progenics' pipeline continues to progress as well:
- PyL PET/CT imaging agent is also targeting prostate cancer but this product candidate has broader long-term targets. The company believes that PyL has the potential to detect the disease that is not picked up by available imaging modalities and that it could help develop new prostate cancer therapies given its potential to "more accurately assess the location, extent and progression of disease with even very small lesions that often evade traditional imaging modalities." Progenics intends to initiate a phase 2/3 trial of PyL by the end of the year. The goal of the trial is to assess the accuracy of PyL imaging in patients with high risk and/or metastatic prostate cancer. The company also launched a research access program at the Prostate Cancer Foundation Annual Scientific Retreat, intended to make doses of PyL available to researchers "looking to augment their clinical development activities." Successful phase 2/3 trial results should put this product on investors' maps. For the time being, I am not assigning any value to PyL.
- Progenics will also start a phase 1 trial of 1095, the company's PSMA targeted radio therapeutic being developed for the treatment of metastatic prostate cancer. 1095 is "designed to deliver a dose of radiation directly to prostate cancer cells with minimal impact on the surrounding healthy tissues." 1095 has had some success in Germany. Under a compassionate-use protocol, 28 patients with late stage prostate cancer were administered a single therapeutic dose of 1095. The treatment was well-tolerated and preliminary efficacy was demonstrated by "PSA reduction, a general observation of a reduction in bone pain and improved quality of life, and radiographic reductions in disease burden as evidenced by reduction in lesion size, extent and number of lesions as seen on the diagnostic scans." These early data seem promising, but it is still too early to assign any value to this candidate.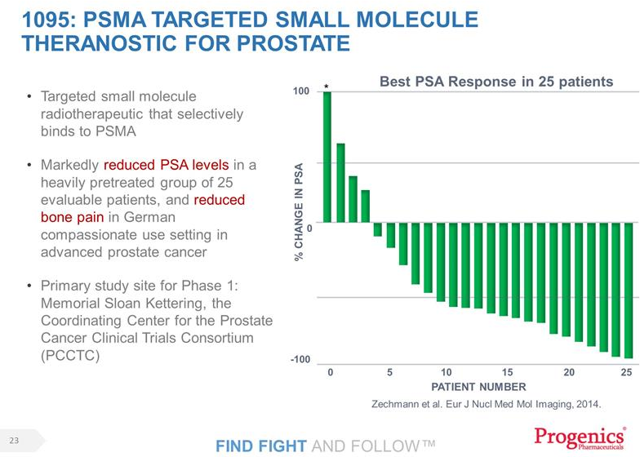 Click to enlarge
Source: Progenics investor presentation
Progenics also has two research collaborations that could result in solid milestone payments and royalties on net sales:
Bayer (OTCPK:BAYZF) licensed Progenics' PSMA antibody technology in May. Progenics received a $4 million upfront payment in Q2 and a $1 million preclinical milestone payment in Q3. The company is also eligible to receive up to $48 million in additional clinical and regulatory milestones and up to $130 million in sales milestones and single-digit royalties on net sales. This collaboration is still in early stages and represents additional upside potential to future expectations.
PRO 140 is partnered with CytoDyn, which began dosing in a phase 3 study for HIV treatment in October 2015. PRO 140 has a fast-track designation by the FDA and has shown to significantly reduce or control HIV viral load. There isn't much information in Progenics' recent quarterly and annual filings, but CytoDyn's filings show that Progenics is entitled to receive $5 million if PRO 140 is approved by the FDA and up to 5% royalties on net sales. I think there is only moderate upside potential for Progenics based on the terms of this collaboration and am not assigning any value to PRO 140.
Updated valuation and price target
My previous price targets on Progenics were $7 (conservative), $13 (mid-range) and $19.50 (bullish), respectively. There are three changes in my valuation:
I included the outstanding option grants, which increase the share count by 5 million. This is the most conservative way to value the stock as some of the options are non-dilutive at this point, and it reduces the price target(s) by 7%.
This decrease is offset by higher value assigned to Azedra.
I have added the value of 1404 to my model, which increases the total NPV by $2.3, $3.4 and $4.5 respectively.
The NPVs for Relistor, Azedra and 1404 are summarized below.
NPV Of All Assets
Low estimate
Mid-range
High estimate
Relistor
$4.9
$8.3
$12.0
Azedra
$2.6
$5.7
$9.3
1404
$2.3
$3.4
$4.5
The rest of the pipeline
/
/
/
Total
$9.8
$17.3
$25.9
Source: author's estimates and calculations
My conservative price target on Progenics is now $10, but I am really looking for longer-term share price appreciation envisioned by the mid- and high estimate ranges. Below is a table with projected changes based on the upcoming catalysts:
NPV Of All Assets
Low estimate
Mid-range
High estimate
Relistor*
$8.1
$9.9
$12.0
Azedra**
$8.6
$11.9
$15.6
1404
$2.3
$3.4
$4.5
The rest of the pipeline
/
/
/
Total
$19.0
$25.2
$32.1
* Takeda buys Salix from Valeant
** Azedra is approved with a $200,000 a year price tag
Source: author's estimates and calculations
Financial overview
Progenics has substantially strengthened its financial position over the last few quarters. The company received a $50 million milestone from Valeant for the approval of oral Relistor and it has entered into a $50 million Relistor royalty-backed non-dilutive debt financing with HealthCare Royalty Partners. This is a non-recourse, term loan agreement secured by and to be repaid from royalties on future Relistor sales. Milestones are not included and will not be used to repay interest or principal. A second $50-million tranche within 12 months of the closing date is also available.
Progenics had $98 million in cash at the end of Q3 and didn't need to raise the additional $50 million, but here is what management said on the Q3 earnings call (emphasis mine):
As we thought about our cash needs, we projected that our cash with the $50 million oral milestone payment would be sufficient to get us to and through the initial AZEDRA commercialization. But it was a little tight and we were worried about the potential for delay, now that we expect that because the teams have delivered, but you know in this business, you can't rule that out.

As we thought about our financing alternatives, we did not want to do a dilutive public offering, having great sympathy for our shareholders, including ourselves. So this alternative, particularly the very attractive interest rate that a healthcare royalty partners offered to us seem to be the best way to ensure that we had enough money, certainly we never want to run out of money. We will hurt our shareholders if we do that. But by giving the minimum amount of dilution to our shareholders. So that was the rationale behind it.
The $50-million debt raise puts the pro-forma cash balance close to $150 million and, going forward, Progenics will have sufficient funds to launch Azedra and to advance the rest of the pipeline.
Conclusion
Progenics could be a substantially different company over the next 12-18 months given the upcoming catalysts:
Interim phase 3 results of 1404 in late 2016.
Initiation of a phase 2/3 trial of PyL before the end of 2016.
Phase 2b trial results of Azedra in Q1 2017 - this is a transformative and most important near-term catalyst for Progenics.
Initiation of a phase 1 trial of 1095 in metastatic prostate cancer by the end of 2016.
Valeant selling its Salix division to Takeda (but no guarantees here).
The company is well funded to get these trials to completion and to launch Azedra (if approved) and there are no dilution risks at this point (and probably no dilution risk at all going forward). The main risks to the thesis at this point are Azedra's failure in phase 3 trial and Valeant's failure to sell Salix or to increase Relistor sales if it retains the franchise, as well as other pipeline failures. I am increasing my conservative case price target to $10, but am really looking for longer-term share price appreciation based on the commercialization of Azedra, growing Relistor royalties (hopefully in Takeda's hands), the eventual approval and launch of 1404 and PyL along with the progress of the early stage pipeline.
Author's note: Growth Stock Forum subscribers had an early look at this article, and have access to regular exclusive updates on every stock I am covering. Readers are invited to take a two-week free trial in the Seeking Alpha Marketplace.
Disclosure: I am/we are long PGNX.
I wrote this article myself, and it expresses my own opinions. I am not receiving compensation for it (other than from Seeking Alpha). I have no business relationship with any company whose stock is mentioned in this article.
Additional disclosure: This article reflects the author's personal opinion and should not be regarded as a buy or sell recommendation or investment advice in any way.