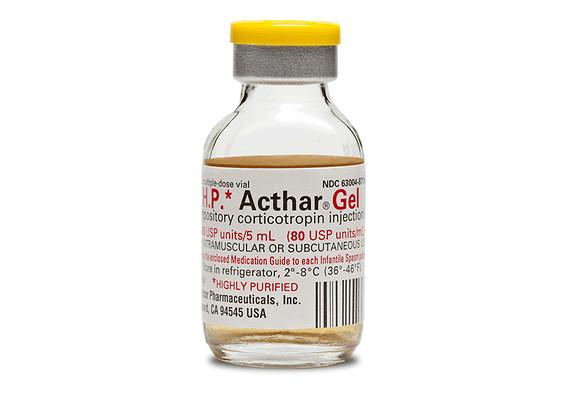 Mallinckrodt (NYSE:MNK) delivered what was initially thought the be strong earnings report. The company reported revenue of $887.2 million and eps of $1.01. The company beat revenue estimates by $7 million, yet the stock fell 9% to around $52. Below is my takeaway on the quarter:
Dismal Organic Growth
MNK bulls have lamented the fact that the stock does not trade on part with biotech companies. To justify a healthy p/e multiple the company must demonstrate robust top line growth.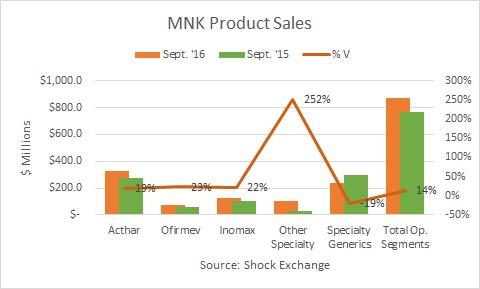 Total revenue grew 14% Y/Y. Specialty Brands led the way again with 35% growth. Acthar was up 19%, which was impressive given its critical mass of $327 million in sales. Other Specialty sales -- Therakos and Hemostasis Products -- rose 252%, while Specialty Generics fell 19%.
If the company is trying to shake its image as a hedge fund hotel then these results will not help. Therakos and Hemostatis were not under the company's umbrella in the year earlier period; their revenue came via acquisition. The company's organic revenue growth was only 5% -- not becoming that of a growth company. Until it can generate organic growth I am not convinced the market should award MNK a robust p/e multiple. Without its acquisition engine, growth would be practically dead for Mallinckrodt. If acquisitions were to come to halt then MNK could sink further.
Dependence On Acthar Is A Risk
Acthar was 31% of revenue in FQ3. It grew to 35% this quarter. If [i] acquisitions slow and [ii] revenue from Specialty Generics continues to decline, Acthar will likely command an even larger share of total revenue going forward. Specialty brands has higher profit margins than the that of Specialty Generics, so Acthar's contribution to operating income and/or EBITDA could be higher than 35%.
It's risky in general to have too much exposure to one product. Secondly, Acthar is under attack by short seller Citron Research. Citron has [i] questioned the effectiveness of Acthar and [ii] contended that over 60% of its revenue came from Medicare/Medicaid. If the drug is proven ineffective then the government could ask for price reductions, reduce the amount of Acthar it buys or both. Either scenario could have an outsized impact on Mallinckrodt's revenue and EBITDA.
In my opinion, the next task is for management to produce studies and real data that Acthar is effective. Otherwise, Citron's argument that Mallinckrodt is "price gouging seniors for an ineffective drug" could gather steam. Congress has attacked Mylan (NASDAQ:MYL), Valeant (NYSE:VRX), and Gilead (NASDAQ:GILD), amongst others, for price-gouging. Congress might have no other choice but to reduce purchases of Acthar or demand a price cut.
Takeaway
MNK trades at 7.2x run-rate EBITDA, but its debt its $6 billion debt load is at 3.8x EBITDA. EBITDA margins also fell to 41% from 44% last quarter. Reduced pricing or sales cut hurt margins and drive the company's debt to junk level in the blink of an eye.
Management might try to change the narrative but the story is about its ability to defend pricing and sales for Acthar. At this point MNK is a one hit wonder. Any pull back in the drug or the company's acquisition model could drive MNK lower. I rate the stock a sell.
Disclosure: I am/we are short VRX.
I wrote this article myself, and it expresses my own opinions. I am not receiving compensation for it. I have no business relationship with any company whose stock is mentioned in this article.