Just one month remains until the quarter and the year end. It is not too early to start thinking of Exxon Mobil (NYSE:XOM) results in Q4 2016. Indeed, one way to form a near-term opinion on the stock is to have a view on earnings in the current quarter and compare it to the consensus estimate of Wall Street analysts. An earnings news release typically includes a headline revenue number in addition to earnings per share (NYSEARCA:EPS). For brevity, I will only consider the earnings factor. Consensus EPS estimates are published and periodically updated by several sources, such as The Wall Street Journal and Morningstar. The purpose of this article is to begin the construction of an EPS estimate for Exxon in the current quarter.
EPS is a direct output of the income statement. Yet the task of creating a forward projection of this statement looks daunting. Revenue could perhaps be forecast, but what about expenses? A part of the difficulty stems from the mix of upstream, downstream and chemical segments which are driven by entirely different growth factors.
Exxon's breakdown of quarterly earnings by segment and locale, US and non-US, is shown in the following exhibit.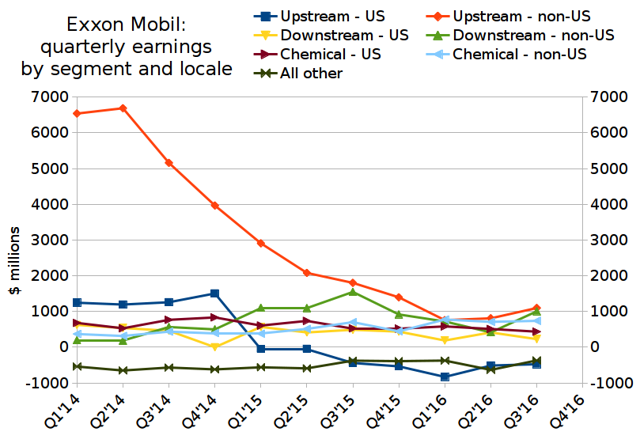 Click to enlarge
(Source: data from Exxon Mobil's filings)
While trends of downstream and chemical segments are hard to spot, one clear take-away is the prominence of the non-US upstream segment. It used to earn the greatest share of the company's net income. Interestingly, the crash in non-US upstream profits began two full quarters earlier than that of its domestic counterpart. The latter now has the unfortunate distinction of being the only segment losing money. Note that "All other" includes general and administrative expenses, interest payments and similar firm-wide overhead costs and is not and cannot be a profit center.
To ease the subsequent analysis, domestic and non-US results of each segment can be combined, yielding the following chart.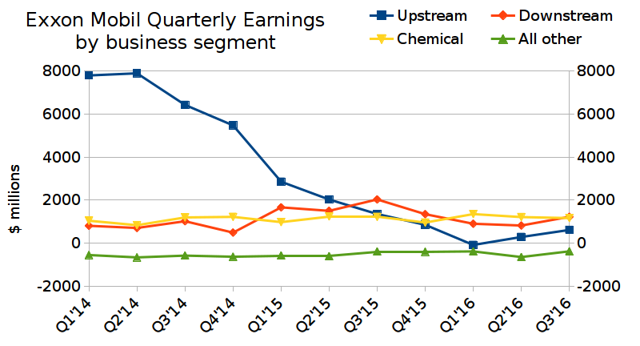 Click to enlarge
(Source: data from Exxon Mobil's filings)
Now the task is to construct a forecast for this quarter's results by segment.
Upstream
In light of the non-US upstream being the segment formerly most influential on earnings, it is unsurprising that Brent oil marker is a good explanatory variable for the whole upstream segment's quarterly earnings contribution. Changes in oil prices explain 96% of variation in earnings, as illustrated by the following chart.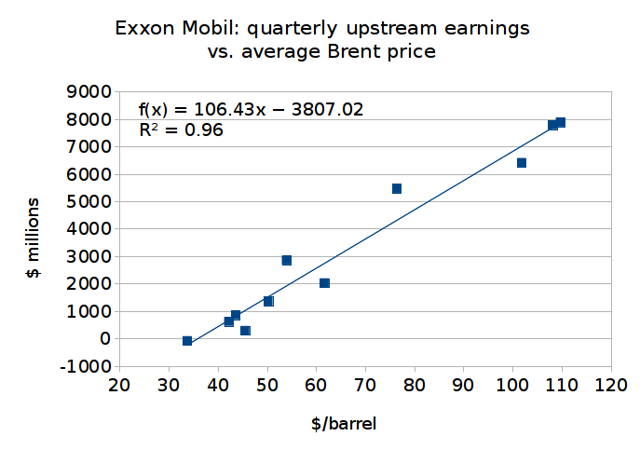 Click to enlarge
(Source: Exxon Mobil's filings, EIA and author's analysis)
In the current quarter, the average Brent prices in October and for all practical purposes, in November are both known. What happens to oil prices in December is the major remaining source of uncertainty. As soon as some view on the oil market in December is assumed, yielding the quarterly average, the straight line on the chart above will provide the forecast of upstream segment's earnings this quarter.
Downstream, Chemicals and "All other"
It would be nice if, similarly to how this was done above for the upstream segment, it were possible to find a simple explanation of what drives downstream earnings. This does not seem possible. For example, New York Harbor crack spread and the Gulf Coast crack spread are both surprisingly uncorrelated with downstream earnings.
Fortuitously, the downstream segment, while volatile, is much less so than the upstream segment. For the purposes of this article, I will take the average of the preceding four quarters to represent the downstream forecast for Q4.
Performance of the chemical segment is even more stable than that of downstream. For chemicals, as well as the "All other" component of earnings, the same approach will be used as for the downstream.
Forecasting EPS
Given the assumptions made above, the average Brent oil price in December is the major factor that will drive Exxon's Q4 EPS. The model and some of the underlying data are shown in the following exhibit.


Click to enlarge
(Source: author's analysis)
In the above, I assumed the scenario of a failing OPEC deal and further, that oil prices will drop in December as compared to November by the same amount as they did last year. This scenario is particularly intriguing because, even as oil traded significantly cheaper in the first half of this year through July than in the prior year, the last three months saw Brent at almost the same levels as in 2015. Brent averaged close to $44.30 per barrel in November of both 2015 and this year.
I believe the scenario of oil following the same trajectory as in 2015 is most likely. If so, Exxon's Q4 EPS is estimated at $0.64, while the full-year 2016 EPS will be $2.11.
Here are a few more scenarios and the resulting EPS estimates:
If Brent in December drops by the same percentage as in 2014, to $34.90: Q4 EPS is $0.62; the full-year amount is $2.09.
If Brent remains flat with November at $44.47: Q4 EPS is $0.70 and the full-year is at $2.17.
Suppose OPEC surprises everyone by announcing not only a deal, but one that will instantly plug the supply-demand gap. Let's say, 1.5 million barrels a day are taken off the market. If Brent were to rise in December by $10 to $54.27, Q4 EPS would increase to $0.78, while the full-year amount will be $2.25.
EPS forecasts compared to consensus estimates
As of November 29, the full-year 2016 EPS analyst estimates according to Morningstar averaged $2.30 with the range of $2.18-2.43. Both the bearish and the bullish scenarios above come below the mid-point of $2.30, with the preferred scenario "follow 2015" actually landing below the lower end of the Morningstar range.
Analyst EPS estimates, collected by The Wall Street Journal average $0.72 in Q4 with a rather wide range from below $0.50 to about $1.00. The preferred scenario's estimate of $0.64 is also below consensus, but not dramatically so.
Conclusion
Exxon Mobil's functionally and geographically diversified business makes EPS estimation notably difficult. A basic sketch of the earnings model suggests that the analyst consensus might be too high. While further model refinement is definitely in order, the preliminary conclusion is that the consensus estimate might drift lower as we approach Q4 earnings release on January 31. Alternatively, if the stock is currently priced in line with the consensus estimate, this article suggests a bearish view on Exxon's shares.
Note from author: Thank you for reading. If you like this article, please follow me by clicking the "Follow" link at the top of this page and choosing "Real-time alerts on this author" to be informed of my latest ideas.
Disclaimer: Opinions expressed herein by the author are not an investment recommendation and are not meant to be relied upon in investment decisions. The author is not acting in an investment, tax, legal or any other advisory capacity. This is not an investment research report. The author's opinions expressed herein address only select aspects of potential investment in securities of the companies mentioned and cannot be a substitute for comprehensive investment analysis. Any analysis presented herein is illustrative in nature, limited in scope, based on an incomplete set of information, and has limitations to its accuracy. The author recommends that potential and existing investors conduct thorough investment research of their own, including detailed review of the companies' SEC filings and consult a qualified investment advisor. The information upon which this material is based was obtained from sources believed to be reliable, but has not been independently verified. Therefore, the author cannot guarantee its accuracy. Any opinions or estimates constitute the author's best judgment as of the date of publication and are subject to change without notice. The author explicitly disclaims any liability that may arise from the use of this material.
Disclosure: I/we have no positions in any stocks mentioned, and no plans to initiate any positions within the next 72 hours.
I wrote this article myself, and it expresses my own opinions. I am not receiving compensation for it (other than from Seeking Alpha). I have no business relationship with any company whose stock is mentioned in this article.