Lowe's Companies, Inc. (NYSE:LOW) is the second largest home improvement retailer in the United States operating over 1,850 stores across all 50 states, Canada and Mexico. While much of traditional retail is suffering due to continued growth of online retail, Lowe's is largely insulated from that since they operate in the hardware/home improvement space.
In July Lowe's share price traded above $83 which was too rich of a valuation. However, since then the share price has declined around 15% to just under $71 per share. That kind of decline got my attention and made me want to analyze Lowe's Companies to determine whether Lowe's makes an attractive investment at this time.
Dividend History
A dividend growth investment must do two things: pay AND grow the dividend payment and one of my favorite quick screens to identify high quality companies is their dividend history. Companies don't find themselves in a decades long streak of growing dividends by accident. Rather it takes a strong company with a solid business model and a willing management. That doesn't mean the future will be as bright; however, sticking with companies that have lengthy dividend growth streaks will lead you towards quality companies.
Lowe's has paid and increased dividends every year since 1961. That's a 55 year streak and gives them the title of Dividend Champion. Lowe's streak is so impressive that there's only 10 companies that can claim a longer streak than they can.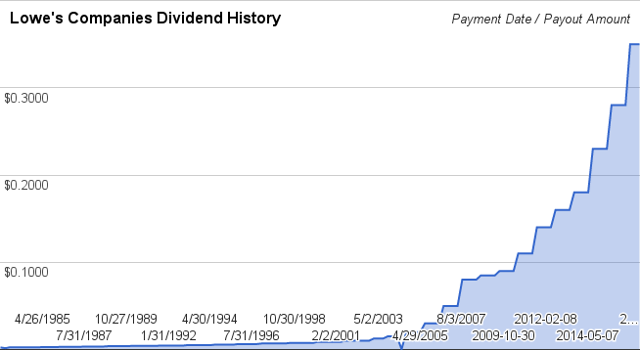 *Image Source: Author / Data Source: Lowe's Companies SEC filings
**An interactive version of this chart can be found here.
***An interactive chart showing the 1-, 3-, 5- and 10-year dividend growth rates can be found here.
Lowe's Companies dividend growth has really taken off since the early 2000's with the "worst" annual growth rate coming in a 6.1% during fiscal year 2009. Considering everything that was going on at the time and their peripheral exposure to the housing market I consider that to be impressive.
It's All In The Numbers
Identifying quality companies is a very subjective although very important step in the investment process. While a lengthy dividend growth streak is one screen to narrow the investment universe it's not the be all end all. My own preference is that the strength of a business model, i.e. the quality of the business, shows up in the numbers.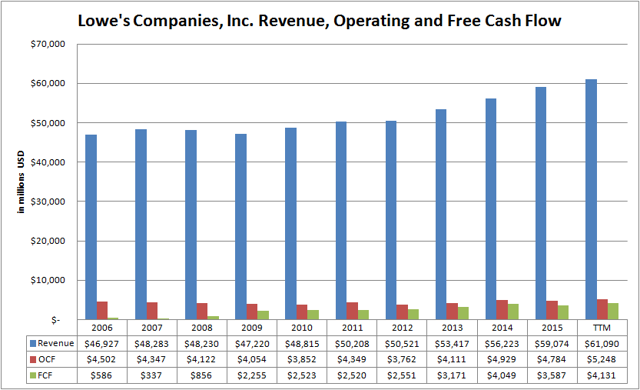 *Image Source: Author / Data Source: Lowe's Companies, Inc. SEC Filings
On the surface it might not look like revenue has grown much; however, it grew over 25% from the end of 2006 through the end of 2015. That's a solid yet unspectacular 2.6% annualized growth rate. I have to admit it's a little disconcerting that cash flow from operations has lagged behind revenue growing at just 0.7% per year over the same time period.
One thing that sticks out from the previous chart is the minimal cash flow generation compared to revenue. That shouldn't come as a surprise since Lowe's operates in the retail space which typically has small margins.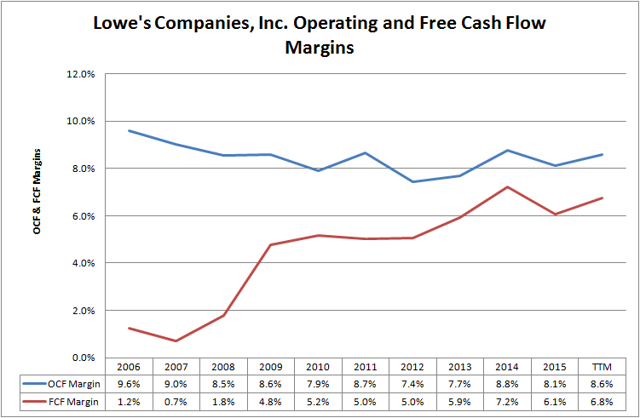 *Image Source: Author / Data Source: Lowe's Companies, Inc. SEC Filings
Lowe's cash flow margins are small; however, they are at least steady or increasing. In the case of operating cash flow margins they've had a slight decline over the last decade although the recent trend is in the right direction.
Free cash flow margins on the other hand have seen significant improvement over the last 10 years and are now consistently at much healthier levels. Although, much of the improvement in free cash flow generation is due to a decrease in the annual capital expenditures as opposed to true cash flow growth.
In the 2015 annual report, Mr. Niblock, CEO, laid out the capital allocation priorities for Lowe's Companies to sustainably grow the business first and then return cash to shareholders via dividends and then share buybacks. In order to understand whether Lowe's is doing so in a prudent manner, I prefer to look at 3 variations of free cash flow to see how much cash Lowe's has at its disposal throughout the capital allocation process.
Free Cash Flow, FCF - The traditional calculation of free cash flow of operating cash flow less capital expenditures.
Free Cash Flow after Dividend, FCFaD - FCF less the total amount of cash dividend payments.
Free Cash Flow after Dividend and Buybacks, FCFaD - FCFaDB less the net cash used for buybacks.
Companies that are free cash flow positive across all 3 variations have plenty of excess cash coming into the business. That excess cash can then fuel further organic expansion of the business, higher dividend payments, more share buybacks, reduce debt or to just stockpile cash while awaiting opportunities.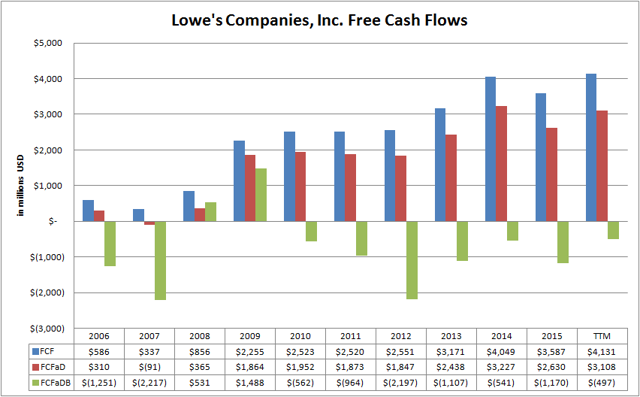 *Image Source: Author / Data Source: Lowe's Companies, Inc. SEC Filings
Lowe's free cash flow generation picked up considerably in 2009 primarily due to a shrink in capital expenditures. Since then capex has remained at the lower levels which has given management a lot more cash to work with.
Free cash flow after paying the dividend has remained strong over that time as well. That's led to the dividend, which has been growing quick, to still be well covered by free cash flow with a payout ratio averaging just 24.7% over the last 5 fiscal years. A positive FCFaD means management can sustainably pay the dividend with excess cash for buybacks or other uses.
From the end of fiscal year 2006 through fiscal year 2015 the share count was reduced by 40%. Unfortunately, management has been rather aggressive with those share buybacks and haven't been able to fully fund the buyback program through internally generated cash flow. Every year since 2010 Lowe's has had a negative FCFaDB with a running total of a $6.5 B deficit. That partially explains why long term debt has increased by $5 B over the same period.
Eventually the share buybacks will need to come back in line with the FCFaD with debt now accounting for 60% of Lowe's capital structure.
Is The Valuation Right?
Lowe's appears to be a high quality company with a long history of rewarding shareholders. However, a quality company is only half the battle since the valuation has to be right to make a successful investment.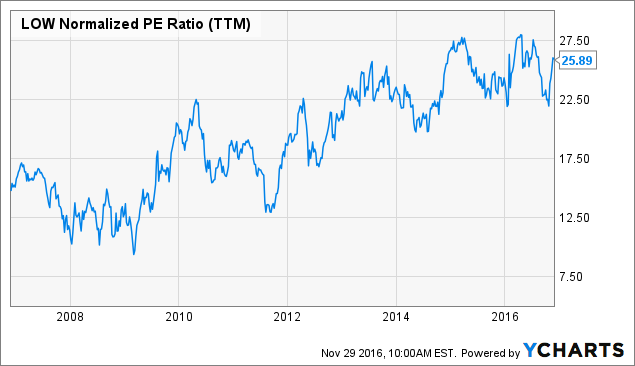 LOW Normalized PE Ratio (NYSE:TTM) data by YCharts
The P/E ratio that investors have been willing to pay per dollar of Lowe's earnings has seen a pretty significant bump from the 15-20 range between 2009 and late 2012 to now consistently being over 20. According to Morningstar the average P/E ratio over the last 5 years has been 21.7. This gives a rough guideline for possible future P/E valuations that investors can expect going forward.
One method that I like to use to determine valuation is to estimate future earnings and dividends and look at varying P/E multiples. I think calculate an internal rate of return and if the expected return is adequate then it would suggest shares are priced to deliver solid returns. Obviously this analysis is no sure thing since we're dealing with the future although if we use reasonable, but conservative, estimates for the growth potential of Lowe's we should arrive at a reasonable expected return range.
On average, analysts expect Lowe's to earn $3.92 for fiscal year 2016, $4.56 for 2017 and to grow at an overall rate of 15.9% per year for the next 5 years. For the subsequent 5 years I've assumed that earnings will grow 4.0% per year.
For fiscal year 2016 Lowe's will pay $1.33 to shareholders in dividends putting the payout ratio at 34%. I've assumed that Lowe's will maintain that payout ratio into the future while paying dividends at the same intervals as they have historically with raises announced for the August payment each year.
The following table shows the price targets assuming a purchase on November 29th with varying future P/E ratios and a 12% minimum acceptable rate of return. Returns include expected dividend payments and growth.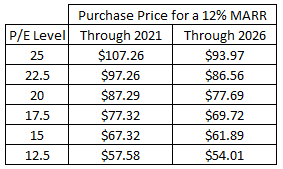 *Image Source: Author
For reference purposes Lowe's share price is currently around $71.
So what does the table say? The price targets are the price levels, assuming the earnings and dividend growth play out as assumed, that you could currently pay to generate at least as 12% internal rate of return. If 5 years from now at the end of 2021 investors are willing to pay 15x earnings you could pay no more than $67 now in order to generate a 12% rate of return, including dividends.
At the current price around $71 investors would be able to still capture a 12% internal rate of return with a P/E ratio 5 years from now in the area of 16x. The returns are largely supported by a hefty earnings growth assumption of nearly 16% per year by the analysts.
Looking out 10 years, which incorporates 5 years of slower earnings growth, a $71 purchase price would require the market to value Lowe's earnings at ~18x. That's not unreasonable considering the historical range that the market has traditionally valued shares suggesting that shares could be a potential buy.
However, for companies that generate more of their returns via growth, such as Lowe's, a high MARR might be more appropriate to make sure that you capture more of the growth of the underlying business.
I've re-run the calculations using the same assumptions as above with a 15% MARR.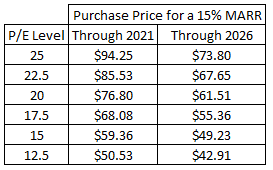 *Image Source: Author
A higher MARR is a built in margin of safety if the earnings and dividend growth play out as forecast. Essentially it forces you to require a lower starting valuation in order to track the earnings growth of the company or possibly even capture valuation expansion over time.
The current share price around $71 would generate a 15% internal rate of return 5 years out if the future P/E is around 18.5 which is reasonable based on the historical range the market has applied to Lowe's earnings. Moving out to 10 years investors could only justify paying $71 per share today if they had a reasonable expectation of a future multiple in the 24x range which is a bit rich for my taste. However, it's important to keep in mind that this does incorporate the slower earnings growth of just 4% for the second half of the time period which add in another layer of safety.
Conclusion
Lowe's is a high quality company that is largely insulated from the decline in "brick and mortar" retail from online shopping. The current share price has investors set up for attractive expected returns over the next 5 and 10 year periods with solid dividend growth expectations as well.
The valuation isn't quite at a level that I would feel comfortable initiating a position since it would require elevated valuations 5 and 10 years down the line to support 12% and 15% internal rates of return. Despite forecasts of nearly 16% annual earnings growth over the next 5 years expected returns don't quite match up with the business performance due to the elevated starting valuation.
For that reason I'm not quite ready to add Lowe's to my portfolio although it remains high on my watch list. If/when the share price declines to the $60-65 area I would be interested in adding Lowe's to my portfolio. At that price level I would have a reasonable expectation to capture most of the growth of Lowe's companies over the ensuing years and have the potential to get a boost of returns via valuation expansion.
Disclosure: I/we have no positions in any stocks mentioned, but may initiate a long position in LOW over the next 72 hours.
I wrote this article myself, and it expresses my own opinions. I am not receiving compensation for it (other than from Seeking Alpha). I have no business relationship with any company whose stock is mentioned in this article.
Additional disclosure: I am not a financial professional. Please consult an investment advisor and do your own due diligence prior to investing. Investing involves risks. All thoughts/ideas presented in this article are the opinions of the author and should not be taken as investment advice.