In the hunt for great investment opportunities I look high and low -- that is, to companies with both high and low total market capitalizations.
Today I came across North American Energy Partners Inc. (NYSE:NOA) while searching for bargains across the public equity universe containing over 20,000 issues. The company popped up in my data feed of companies trading at low prices compared to the free cash flow they've generated during the trailing 12 month period.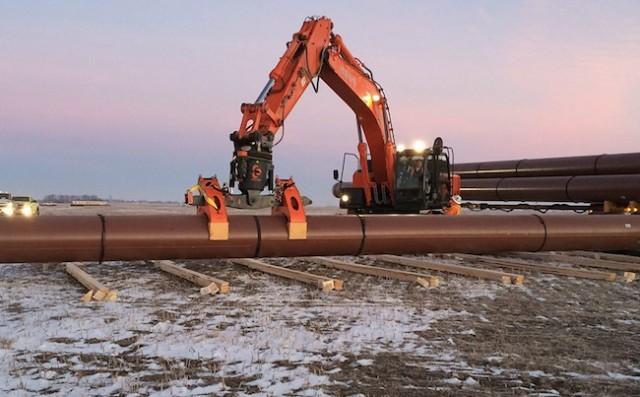 Source: Castanet.net.
In this article we are going by the numbers to analyze the company's investment situation. In the end, we will see exactly why the company has not produced substantial value for its owners.
NOA's Recent Free Cash Flow Looks Great
During most years the company earns more cash than it has to spend in any given year to maintain its operations.
NOA Trailing Twelve Months Free Cash Flow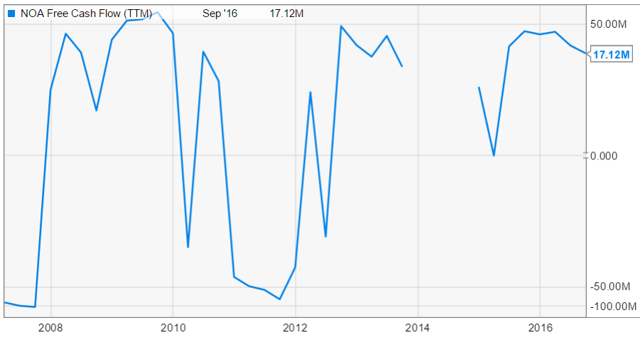 Click to enlargeSource: Faloh Investment.
Observing the graph's output, we can see the company has reported three straight years of positive free cash flow. Most years the company has produced excess cash.
An amateur take on the company would amount to, "Well the company looks like they had some hiccups in the past, but now they're earning real money".
The problem with the amateur take outlined above is that it discounts the long-term track record of a business.
The free cash flow the error is simple: In a capital intensive construction business with sporadic fleet renewals, the yearly free cash flow will look great. Just like it does at NOA with its trailing twelve months free cash flow measuring $17M. But then the company "suddenly" has to upgrade its fleet of machinery. The cash expense is often so massive the company will exhaust its bank accounts and even have to take on debt in their efforts to stay competitive in the marketplace.
These capital expenditures on the necessary purchases of machinery often wipe-out the company's total accumulation of free cash flow.
For example, adding up all of NOA's capital expenditures from 2004-2015 gives the sum $554M. Adding up all of the company's cash generated through operations for the same 2004-2015 period gives us sum $569M. Therefore the company has produced just $15M of cash flow over and above its operating requirements during their public record of operations -- and all of these figures ignore interest payments on debt.
Adding in the interest payments, the company has actually spent more than its ever earned for its ownership.
Wrap-Up
There are over 20,000 publicly traded equities, and more than 7,000 represent ownership in North American companies. Plenty of these stocks are sucker traps and a big part of my job is to help my readers avoid the sucker traps.
With that said, my conclusion on NOA is simple: Not a bargain and not a wonderful company to own (although I'm sure there are plenty of wonderful people among its executive and non-executive employees).
My final take is simple. The company is trading at a price which is, according to most models, "low". In addition the firm is well positioned with reasonable cash flows and credit to continue operations for many years to come. In my opinion, don't invest here for a long-term play, but this may be a two to four bagger during any return to boom times in Canada's oil and mining sectors.
Just don't plan to buy and hold this company forever, or you're likely to end up with sub-par returns.
Disclaimer: This article represents the opinion of the author as of the date of this article. This article is based upon information reasonably available to the author and obtained from public sources that the author believes are reliable. However, the author does not guarantee the accuracy or completeness of this article. It is merely the author's interpretation of the information contained in the article. The author may close his investment position at any point in time without providing notice. The author encourages all readers to do their own due diligence. This is not a recommendation to buy or sell a security.
Please click the + icon next to my user name and follow me, Faloh Investment, as I work to keep you informed on further developments as the market continues to present major value opportunities.
Disclosure: I/we have no positions in any stocks mentioned, and no plans to initiate any positions within the next 72 hours.
I wrote this article myself, and it expresses my own opinions. I am not receiving compensation for it (other than from Seeking Alpha). I have no business relationship with any company whose stock is mentioned in this article.