I have often found that when looking at Dynavax (NASDAQ:DVAX) people tend to completely write-off earlier stage candidates, namely SD-101 and AZD1419, in favor of HEPLISAV-B (approval-ready hepatitis B vaccine).
The aforementioned rationale is actually quite reasonable: as was described in my previous article, the company's current cash reserves will most likely only be enough to fund operations for another year - HEPLISAV-B's success is, now more than ever, critical for Dynavax's survival. The fate of SD-101 [AZD1419 is partnered with AstraZeneca (NYSE:AZN)] is now undeniably tied to the search for a development partner and subsequent approval of HEPLISAV-B.
However, these assets are not worthless. For example, there are around $100 million left in potential milestones from the collaboration agreement with AstraZeneca relating to AZD1419 - with no associated costs, since Astra is funding all research related to this program (which is moving along with alacrity)
SD-101 has not been partnered away, so it certainly constitutes a cost-center. Nonetheless, I view SD-101 as the most promising development program in Dynavax's pipeline, essential to the company's long-term success.
Let me tell you why.
SD-101 is in a series of ongoing clinical trials
Note: SD-101 is a TLR9 agonist. According to Nature, TLRs (toll-like receptors) are "one of the mechanisms by which the innate immune system senses the invasion of pathogenic microorganisms". TLRs can therefore influence action taken by the immune system.
As stated in clinicaltrials.gov, 5 studies are ongoing or about to start (all Phase 1/2). Up until now, only 2 of these have reported initial data. Let's review the results.
SD-101 in combination with low-dose radiation in patients with untreated low-grade B-cell lymphoma (LYM-01 - Phase 1/2)
Note, Dynavax's management has stated that this study is supposed to be a proof-of-concept - low-grade B-cell lymphomas will not be the company's lead indication for SD-101.
LYM-01 is a dose escalation, multi-center Phase 1/2 trial, which, as of December, had enrolled 13 patients. Patients had a single lesion radiated, followed by weekly intratumoral SD-101 (5 weeks).
The most recent update on this study dates back to April. The press release put out read: (emphasis mine)
Clinical Findings Included:

SD-101 was reported to be well tolerated across all dose cohorts with no dose limiting toxicities.
The combination of direct injection of SD-101 into a tumor and low-dose radiation resulted in changes in the tumor microenvironment that potentially induced a systemic anti-tumor response.
Tumors not directly injected with SD-101 also decreased in volume across all dose groups, and in most patients, remained stable for at least 180 to 360 days.
No evidence of a dose response was observed, although limited numbers of patients were examined.
In tandem with this release, abstract CT047 was also published. It's always a good idea to read through the abstract itself, as data is more extensively laid out there - companies often nitpick what they put in press releases, so any thorough investor should double-check the information.
In this specific case, however, the timeline for the abstract and the press release are not the same (90 days vs. 180-360 days). None of the three abstracts (CT047, 2322, 4985) published at AACR featured the more updated data (the last two showcased preclinical studies).
Looking at the data, the decrease in size for tumors not directly injected with SD-101 (looking at day 90 data) definitely stands out. You see, a decrease in the treated tumor's size was expected (mainly due to radiation) - it occurred in 12/13 patients, with a median reduction of -45.3%; however, the decrease in the size of untreated tumors in 11 patients (84.6%), by a median of -9.5%, suggests SD-101 induced a systemic immune response (not associated with radiation treatment). In addition, target engagement of TLR-9 receptor was achieved at all dose levels; and a decrease in T Regs and Tfh cells was verified, suggesting modulation of both effects.
The following graph depicts data relating to non-injected tumor response at days 180-360 (mentioned in the press release):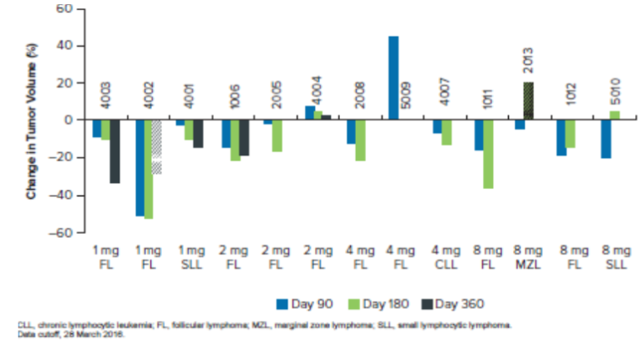 Source: Corporate Presentation (sorry for the blurriness)
The abscopal effects were sustained in 9/13 patients for at least 180-360 days (69.23%) - the responses appear to be profound.
SD-101 also appears to have a favorable safety profile (at day 90): most common adverse events were chills, malaise, myalgia, fatigue headache, pyrexia, and nausea, all resolving within 48 hours, and consistent with management's expectations; there were no dose limiting toxicities.
It's worth noting that there was no evidence of a dose response - which can be important if efficacy reveals unsatisfactory.
Management has not given guidance regarding further updates on LYM-01's progress. This is an early-stage study, so what should we take away from this data-set?
a hint at efficacy: preliminary efficacy analysis indicates SD-101 is associated with sustained, abscopal anti-tumor activity;
SD-101 seems to have an appropriate safety profile.
SD-101 in combination with pembrolizumab in patients with metastatic melanoma (MEL-01 Phase 1b/2)
This is SD-101's lead indication.
With management's realization that the new paradigm in immuno-oncology is combination therapy (anti-tumor response is restrained by multiple regulatory mechanisms), and evidence that SD-101 reverses tumor escape from anti-PD-1 therapy (and promotes response to the therapy itself, abstract), came the following collaboration agreement with Merck (NYSE:MRK):
The collaboration includes multiple studies that will evaluate:

Safety and efficacy of combining SD-101 with KEYTRUDA in patients with advanced melanoma; this Phase 1b/2, multicenter, open-label study is expected to be initiated in the second half of 2015;
Safety and efficacy of combining SD-101 with MK-1966 in patients with solid or hematological malignancies; this Phase 1 study is expected to be initiated in the second half of 2015.

Under the terms of the agreement, Dynavax will sponsor and fund the SD-101 and KEYTRUDA study. Merck will sponsor and fund the SD-101 and MK-1966 study. The agreements include provisions where the parties may agree to extend either collaboration to include a Phase 3 clinical trial.
This deal lends some credibility to the conviction that SD-101 has real potential - the costs are similar for both sides, so Merck definitely saw something promising in SD-101.
Both of the studies mentioned in the agreement are ongoing (the second trial was delayed, and only started in 2016). The trial with the SD-101/KEYTRUDA (pembro's commercial name) combo has recently reported early results (press release, abstract).
MEL-01 is a safety, tolerability and dose escalation Phase 1b/2. It recruited 18 patients with stage IIIc or IV melanoma across 5 cancer centers. Of those, 8 were anti-PD-1 naive and 11 had previously received an anti-PD-1 therapy. Median follow-up was 188 days and 81 days, respectively. There was no dose response in all cohorts (2mg, 4mg, 8mg).
At the time of follow-up, the anti-PD-1 naive group had a CR rate of 20% (n=1), PR rate of 60% (n=3), and one patient with progressive disease (20%). To sum up, an ORR (PR + CR) of 80% (n=4).
For the experienced group, 50% (n=4) had stable disease and 50% had progressive disease (data from 3 patients was not analyzed). It's worth noting that the 4 patients with stable disease had disease progression prior to enrollment.
Overall, the combo was well-tolerated and had a low-toxicity profile, with most treatment-related AEs being grade 1 to 2 - consistent with the engagement of TLR9. The safety profile is mostly similar to KEYTRUDA monotherapy.
The following table depicts all the SAEs in the study (related and unrelated to treatment). Again, there's no evidence of a dose response.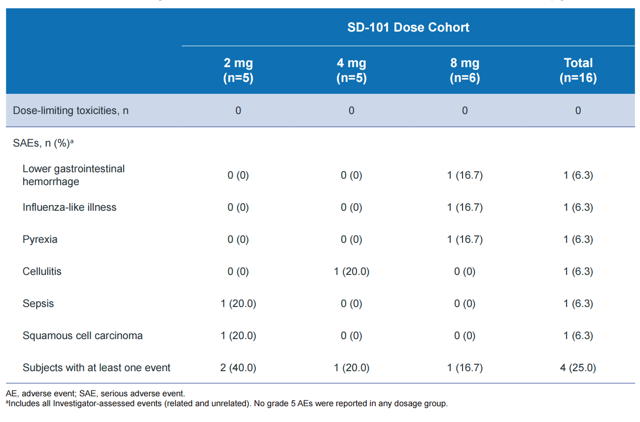 Source: A. Ribas; R. Gonzalez; J. Drabick; S. Kummar; S. Agarwala; J. Nemunaitis; R. Coffman; C.J. Berman; E. Schmidt; E. Chartash; C. Guiducci; A. Candia; A. Leung; R. Janssen: Phase 1b/2, Open-Label, Multicenter, Dose-Escalation and Expansion Trial of Intratumoral SD-101 in Combination With Pembrolizumab in Patients with Metastatic Melanoma
Are these results any good? You bet they are
In a clinical trial where 277 patients with advanced melanoma were dosed with KEYTRUDA every 3 weeks, the results were as follows: a CR rate of 6% (n=17), a PR rate of 27% (n=74), and an ORR of 33%.
Granted, this study's population is much larger than the one analyzed in MEL-01, so we will have to see if the results are reproduced in a larger study, and we still don't have data on important endpoints, such as PFS.
Nonetheless, the SD-101/KEYTRUDA combo beats KEYTRUDA monotherapy in all the mentioned endpoints - hinting the aforementioned scientific hypotheses (in which the combination rationale rests) might actually be verified in humans.
Pembrolizumab is being paired with lots of other investigational therapies
Competition is fierce. Merck, in an attempt to fan out KEYTRUDA use across a wide range of diseases, has initiated more than 100 combo studies - some of these addressing advanced melanoma.
Only a few have reported data (not all are mentioned below, only the ones I found most relevant):
Incyte's (NASDAQ:INCY) Epacadostat Plus Pembrolizumab (most recent press release; abstract): Epacadostat is being studied in a large variety of indications and constitutes a serious competitor to SD-101. For the sake of this article, I will only look at the data reported in advanced melanoma (which has already prompted the start of a Phase 3 trial, which will report initial data in 2018). The Phase 1 study recruited 19 patients with advanced melanoma that were treatment-naive (keep in mind the SD-101 study only excluded patients previously treated with an anti-PD-1 therapy). CR rate, PR rate, and ORR were, respectively, 28%, 30% and 58%. These responses appear to be durable, with a PFS rate at 12 months of 57% (median PFS hasn't been reached). Regarding safety profile, treatment-related SAEs (Grade 3 or superior) only

occurred in 19% of patients.
Note: In the SD-101 study, there was no distinction between serious TRAEs and unrelated SAEs (although it was mentioned most TRAES were grade 1/2) - a fair comparison is not possible.
Amgen's (NASDAQ:AMGN) Talimigene Laherparepvec (T-VEC) Plus Pembrolizumab (most recent press release; abstract): T-VEC is actually already approved for the treatment

of melanoma lesions in the skin and lymph nodes. The Phase 1b study recruited 21 patients with unresectable (unable to be removed with surgery), untreated, advanced melanoma. Median follow-up at data cut was 231 days. CR rate, PR rate and ORR were, respectively, 23.8%, 33.3%, and 57.1%. Regarding safety, 33% of patients experienced treatment-related Grade 3 or above AEs. In view of these results, a Phase 3 study of this combo is about to start.

GlaxoSmithKline's (NYSE:GSK) Trametinib and Dabrafenib Plus Pembrolizumab (abstract): Trametinib (MEK inhibitor) and Dabrafenib (BRAF inhibitor) are already approved (in combination) for the treatment of metastic melanoma in patients with a BRAF V600E or V600K mutation; additionally, Dabrafenib is also approved as a single agent in for treatment of BRAF V600E mutation-positive metastic melanoma. Recently reported data from KEYNOTE-022 (Phase 1/2 study) revealed the following (unconfirmed) response rates (15 patients): no complete responses, a PR rate of 60%, and an ORR of 60%. 67% of patients experienced grade 3 or superior treatment-related AEs.
Other combinations to keep an eye on are: OncoSec's (NASDAQ:ONCS) ImmunoPulse IL-12 Plus Pembrolizumab (most recent press release) - focusing on patients with a low likelihood of response to an anti-PD-1 agent (defined using a research assay based on data from 40 patients, the validity of which I have not looked into). In a total of 15 patients, an ORR of 40% was achieved; Corvus Pharmaceutical's (NASDAQ:CRVS) CPI-444 plus Roche's (OTCQX:RHHBF) Atezolizumab - no data reported yet; Syndax's (NASDAQ:SNDX) Entinostat Plus Pembrolizumab - no data reported yet.
SD-101 is well-positioned in the competitive landscape.
The current picture is incomplete. There are a lot of unknowns associated with SD-101's clinical results: only 2 trials have reported initial data, both of these with a relatively small population being evaluated - larger studies are warranted; the efficacy data we have is not mature or complete enough to accurately assess durability of the responses that were reported (PFS); and treatment-related SAEs remain a mystery. It's important to recognize and carefully consider these shortcomings.
Having said that, I'd also like to emphasize the following points:
SD-101 has the highest ORR (80%) out of all the studies I looked at (in metastic melanoma patients);
Even without the distinction between treatment-related and unrelated SAEs, SD-101 appears to have a superior safety-profile to most competitors mentioned above: grade 3 or above AEs only occurred in 25% of patients; Epacadostat being the exception, with treatment-related SAEs only occurring in 19% of patients. I'm willing to speculate that, with the introduction of the treatment-related or unrelated distinction, SD-101 will come out ahead.
In the patient enrollment process, the aforementioned companies seemed to be more strict with their respective exclusion criteria than Dynavax (a larger number of previous therapies was not allowed). It's plausible the population in the SD-101/KEYTRUDA study is harder to treat.
Sure, the CR rate in the Epacadostat study is marginally higher than the one in MEL-01. However, Incyte's study reported more mature data - and this is relevant because complete responses showed a tendency to improve overtime.
I look forward to future updates on MEL-01's status.
SD-101 in potential sales.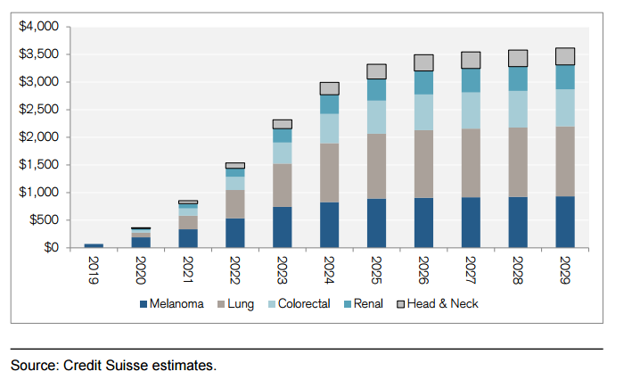 The above graph models sales for Epacadostat in various indications, namely melanoma.
Since SD-101 and Epacadostat are after the same indication in the melanoma space (combo treatment with KEYTRUDA), it's fair to assume these estimates are also applicable to SD-101 (if superior) - although the timeline would certainly have to be pushed back a few years.
As can be seen in the graph, after 5 years of ramping up, sales would plateau at a run rate of close to $1 billion a year - a significant figure for any company (as a reminder, Dynavax has a market-cap of around $175 million).
Furthermore, management has stated they plan to develop SD-101 in other solid tumors; and are actively working on an inhaled version aimed at lung cancer. There's certainly room for market expansion.
If SD-101 proves to be an adequate treatment for a wide range of indications (as management believes it to be), we might be looking at a serious blockbuster (several billions a year in sales).
SD-101 is a glimpse of success for a company scarred with failure.
Yet again, Dynavax has fallen on hard times. Bad luck? Maybe a little. But as the saying goes, "fool me once, shame on you; fool me twice, shame on me". That's how I feel about Dynavax's management.
I don't like (nor am I used to) being blindsided like I was with the recent CRL Dynavax received. In my opinion, the biggest risk for SD-101's development does not reside in potential failings by the candidate itself, but in management's execution of said development process. I hope management gets SD-101 right, for both the company's and the stakeholders' sake.
Up until now (if you don't count delays), everything has been running quite smoothly with SD-101. Let's keep it that way.
Thank you for reading and feel free to contribute with any comments you might have.
Disclosure: I am/we are long DVAX.
I wrote this article myself, and it expresses my own opinions. I am not receiving compensation for it (other than from Seeking Alpha). I have no business relationship with any company whose stock is mentioned in this article.