REV Group (Pending:REVG) designs, manufactures and distributes specialty vehicles primarily in the United States mostly through three segments; Fire & Emergency, Commercial and Recreation. Examples of their customized vehicle solutions which spans specialty needs, industrial and commercial, and consumer leisure includes ambulances, school buses, terminal trucks, street sweepers, recreational vehicles, and luxury buses. The pie charts below break down REV's segments, customers, vehicle types, and distribution.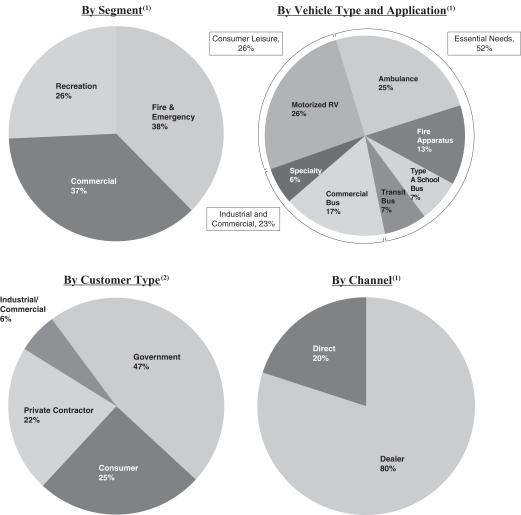 Source: REV Group's S-1
Balance Sheet
REV has fair liquidity. Their cash position is a little weak with a cash ratio of 0.06, however their current ratio is over 2, so I think they can manage their working capital needs effectively. As you can see from their balance sheet below, shareholders' equity is $232, however after deducting intangibles, the tangible book value comes below $21 million. So, overall there isn't a ton of value here for a company doing over $1.75 billion a year in revenue.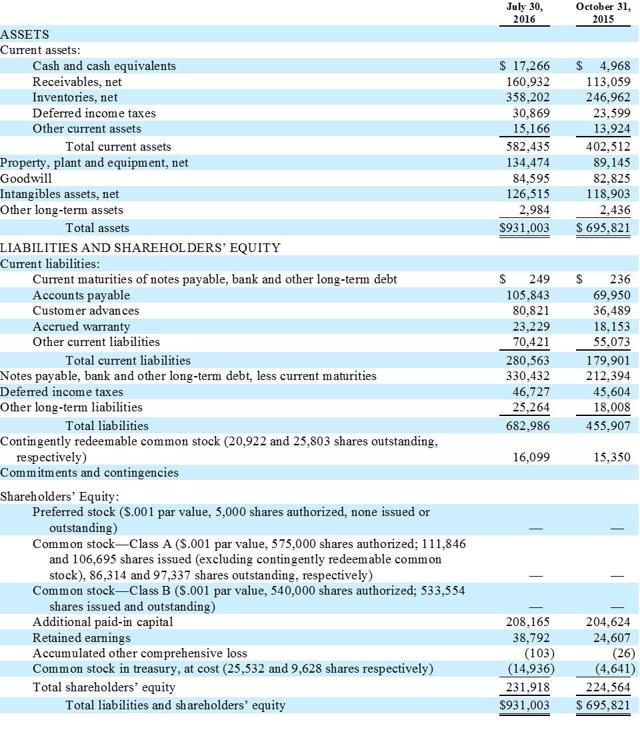 Click to enlarge
Source: REV Group's S-1
They Are Built On Acquisitions
Perhaps it is the acquisitions that have kept their balance sheet from being stellar. One of the problems with REV Group is they have strong acquisitive growth compared to organic growth, which makes it difficult to analyze such a young company. REV Group was founded in 2010 as Allied Specialty Vehicles through the merger of four companies by American Industrial Partners. Since then they have made four more acquisitions. When looking at the M&A makeup of this company it is no wonder their portfolio consists of 26 brands.
Their Biggest Risk Is Their Acquisitions
REV has a big market share and a customer makeup of 47% government, 25% consumer, 22% private contractor, and 6% commercial. They are susceptible to facing risk from economic conditions, government spending budgets, and smaller competitors with stronger operations and margins. However, these risks are far less than their biggest - successfully integrating their acquisitions. Like I said before, REV is built upon mergers and acquisitions, therefore it is important that they can identify and integrate the appropriate targets. Acquisitions can be expensive and when unsuccessfully integrated they can adversely affect operations and the company's bottom line.
Conclusion
REV is a tough IPO to analyze. The company is young and built on acquisitions. Trying to separate the acquisitive growth from the organic growth is difficult to do without a longer track record. There is still some growth to be had from this company, however it is limited. And considering the thin margins in this industry, there is not a whole lot to entice investors here. This one kind of reminds me of another recent IPO, Camping World (NYSE:CWH). That IPO didn't pick up much traction out of the gate and is now starting to climb. I don't see REV getting much traction out of the gate, however we have to see where they try to value this one.
Disclosure: I/we have no positions in any stocks mentioned, and no plans to initiate any positions within the next 72 hours.
I wrote this article myself, and it expresses my own opinions. I am not receiving compensation for it (other than from Seeking Alpha). I have no business relationship with any company whose stock is mentioned in this article.