Eurozone inflation just reported .6%. The rate of inflation has accelerated six of the last seven months. At this pace we are about one year away from the ECB tapering their bond purchases. Until then markets (NYSEARCA:SPY) can rise. When tapering starts markets likely get hit.
Eurozone Inflation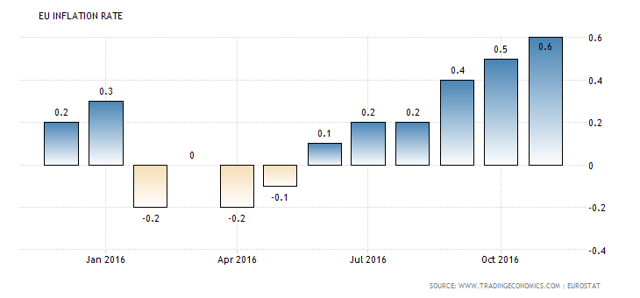 Click to enlarge
Source: Trading Economics
Does anybody notice a trend here? Just about each of the last seven months saw a .1% sequential pick-up. That gives us another 12 months of .1% gains to reach the ECB's target.
Their official target for inflation is, "below, but close to, 2%."
We put that at about 1.8% or another 12 months of .1% sequential monthly gains.
When asked if the ECB would consider a taper, President Mario Draghi said,
"Right now, our latest introductory statement says that we remain committed to preserving the very substantial degree of monetary accommodation which is necessary to secure a sustained convergence of inflation towards levels below, but close to, 2% over the medium term."
We have another 12 months before the ECB slows down their bond buying.
Inflation Is The Bubble Popper
The market has soaked up Brexit, Trump's isolationism, and many other market risks and manages to march higher.
We recently showed that the global effective central bank rate averages -8% when factoring in asset purchases. That is a major equity driver. If we can combine the total amount of central bank purchases then the effective central bank rate is even lower.
That said, when inflation reaches the ECB's target of "below, but close to, 2%" the ECB will have to back off supporting markets.
Then we have to worry about market risks. Until then the water seems just fine.
Conclusion
Eurozone inflation continued its steady monthly march higher. But it only stands at .6%. The ECB will not consider tapering their massive bond purchases which support markets until inflation hits closer to 2%. We have about another 12 months before we get there. Until then the massively accommodative central banks have allowed markets to look passed just about any market risks.
PRO TRADER: Price Rise December 1st. Free Two-week Trial
Click here for a free trial.

Directional calls on stock market, stocks, gold, oil, bonds, currencies, indexes and more.
If you want Elazar's analysis on Seeking Alpha, scroll to the top of the article and hit "Follow." Elazar also writes real-time pieces as news is reported. If you want to be among the first updated, check the box for "Real-time alerts on this author" under "Follow."
Disclaimer: All investments have many risks and can lose principal in the short and long term. This article is for information purposes only. By reading this you agree, understand and accept that you take upon yourself all responsibility for all of your investment decisions and to do your own work and hold Elazar Advisors, LLC and their related parties harmless. Any trading strategy can lose money and any investor should understand the risks.
Disclosure: I/we have no positions in any stocks mentioned, and no plans to initiate any positions within the next 72 hours.
I wrote this article myself, and it expresses my own opinions. I am not receiving compensation for it (other than from Seeking Alpha). I have no business relationship with any company whose stock is mentioned in this article.