As oil investors sit and wait on OPEC to have its annual meeting in Vienna, there are some hopes for a deal to freeze production and slightly trim crude oil production in 2017. Even so, it seems investors' expectations for a price recovery next year aren't very high. Even if OPEC trims its production, US onshore production has already ticked up this month, and producers have added to the rig count as of late.
In my opinion, ConocoPhillips (NYSE:COP) CEO Ryan Lance really set the tone for next year when, at that company's analyst day, he said that companies "can't wait for higher oil prices to bail out their business model."
I couldn't agree more. Cutting capital expenditure is hard for various reasons. It sometimes involves letting valuable employees go. It sometimes involves reducing funding for long-term projects which have significant sunk costs. However, after almost two years of much lower oil prices, I think these companies have had as much time as it's going to take to adjust to this new price paradigm.
If you've read a number of my articles on energy companies, you'll recognize my one 'litmus test' that I apply, within reason, to all of them: Will the company operate from within its respective cash flow in 2017? In this article, I take a look at three of my favorite upstream oil companies which can do just that, more or less. Over the course of next year, I will follow each of these particularly closely, and intend to hold myself accountable to see how they do vis-a-vis their peers.
Have your cake and eat it too
Exxon Mobil (NYSE:XOM) is one of the few big oil companies that have been able to work through its large backlog of big capital projects while continuing to pay its original, generous dividend. Investors in Exxon Mobil have been able to have their cake and eat it too.
Even after recovering to $86 per share, from a 2015 low of $80, Exxon still yields a solid 3.5% and is well off its 2014 high of over $100. Last quarter Exxon didn't quite break even with cash flow, but it came pretty close: The company generated $6.3 billion in operating cash flow, and paid a combined $7.3 billion in dividends and capital expenditure. That's a $1 billion funding gap, which is not much for a huge company like Exxon.
Furthermore, I'm confident that Exxon will bridge that gap next year. So far this year Exxon is set to spend about $17 billion in capital expenditure.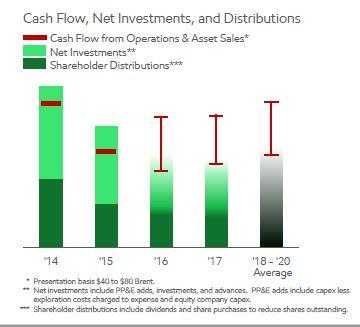 Courtesy of Exxon Mobil Investor Relations.
From the looks of this nine-month old chart, capital expenditure will be roughly the same next year. However, next year Exxon will also finish several projects, including Gorgon LNG train 2, Upper Zakum in the Persian Gulf, and the Hebron Arctic platform. All of these will add some operating cash flow, even at low realized prices, and will provide more financial flexibility. At $50 crude, Exxon should be able to break even with a typical year of asset sales.
A turnaround complete
I've been a fan of ConocoPhillips for a handful of years, but was discouraged by how long the company had held out in paying its generous dividend, with the expectation that crude oil prices would recover soon enough. In February of this year Conoco finally did the hard thing and chopped its dividend by about 70 percent.
Although this was a tough pill to swallow, it was also a signal to me that Conoco understood the reality of the new price paradigm and was reacting appropriately. In addition, Conoco 'high-graded' its capital expenditure projects, largely through selling assets which were no longer a fit in the company, and also substantially lowered operational costs in the shale, especially the Eagle Ford.
As a result of all this house-cleaning, Conoco will be able to operate within its cash flow in 2017, including the much-reduced dividend, so long as Brent Crude averages $50. I believe that's a reasonable assumption, and that investors will still get a solid 2.3% dividend yield. That's not a great yield, but it's good enough of now. Conoco has a terrific shale position in the Eagle Ford shale, arguably the strongest position in all the Eagle Ford, and I am quite sure that position is going to help Conoco distance itself from its peers whether crude recovers or not.
The shale superpower
I'm a big believer in the shale. I like it's rock-bottom operating costs and short-cycle assets, even though deep, horizontal drilling can be costly. The good part is that a lot of these companies have been very good at bringing down those drilling costs, partially from cost deflation, but also from technological developments.
EOG Resources Inc (NYSE:EOG) is probably my favorite of all the pure shale drillers. Like Conoco, EOG also has a big position in the Eagle Ford (in fact, EOG's Eagle Ford position just might be better than Conoco's). EOG also has a big, economical position in both the Bakken and the Permian, the latter of which EOG has done a good job delineating to drill the oily parts in the Delaware Basin.
Without getting into granular data, EOG is focusing on high-grading its drilling portfolio to 'premium' locations which provide 30% returns with $40 WTI, and 60% returns at $50 WTI. At $60, those 'premium' wells provide a 100+% return. EOG has a very large inventory of these wells; about ten years worth of drilling at this rate.
Like Exxon and Conoco, EOG will be able to operate within cash flow at about $50 crude. But unlike the other two, EOG is actually able to grow its production by somewhere in the low-to-high teens, both this year and next. You won't get much of a dividend from EOG, but you will get excellent production growth within the company's operating cash flow, which is really a great thing to have.
Conclusion
I don't think crude oil is going higher anytime soon, and I think investors should act accordingly. One very important criteria here is whether the respective company can operate within its cash flow next year. Of course, there can always be exceptions to the rule
Disclosure: I am/we are long XOM.
I wrote this article myself, and it expresses my own opinions. I am not receiving compensation for it (other than from Seeking Alpha). I have no business relationship with any company whose stock is mentioned in this article.