For three long years, Splunk (NASDAQ:SPLK) has traded virtually sideways. The stock has long fought the over-optimism following the post-IPO rally to above $100. My article about a year ago highlighted why the stock wasn't likely to catch a bid this year.
Now at $60 in after-hours trading following FQ3 results, Splunk has questionable value, highlighting the problem all along. The stock chart though could provide a key signal of the possibility of a near-term breakout.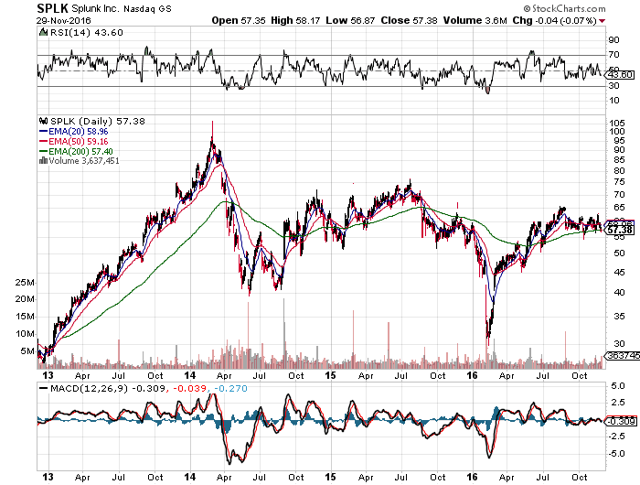 Click to enlarge
The biggest issue facing Splunk is one always faced by fast growing companies. Revenue growth in excess of 40% isn't supportable long term, and the market doesn't like decelerating growth.
The FQ3 results repeated the theme of the last year where quarterly results and guidance beat analyst estimates, but the absolute growth remains on a downward path. Revenue growth recently peaked over 50% last FQ3.

Click to enlarge
Source: Seeking Alpha earnings page
Splunk generated revenue growth of 40% last quarter, but the company guided to only 30% growth for the current quarter. Sure, the big data firm typically beats analyst estimates by somewhere near $15 million. A similar beat for FQ4 would produce revenue of $300 million to generate growth of 36%.
When a huge beat leads to a 400 percentage point reduction in the growth rate, the stock usually has a problem rallying.
So while the story on momentum is a problem, the company has some promising numbers. Free cash flow reached $32.3 million in the quarter, up some 50% from last FQ3. Splunk remains on path to easily surpass the $104.3 million in free cash flows generated last year.
The problem though is the stock value now tops $8 billion in after-hours at $60. Splunk forecasts revenues that will fall short of $1 billion this year. Due to license revenue, earnings aren't necessary beneficial to analyze, but even free cash flows of $150 million for the year leave the stock aggressively priced at over 50x that number.
The stock will tell the story on valuation. Splunk has been trapped in a tight range for years now. A rally above $60 sets up a more bullish view on the stock from a trader's standpoint, but one has to question how far the stock goes as the valuation reaches $10 billion at only $74.
Similar comps such as Tableau Software (NYSE:DATA) and Salesforce (NYSE:CRM) already trade at lower P/S ratios. One has to expect an expansion of the gap in this ratio to justify Splunk heading higher and not owning the other stocks instead.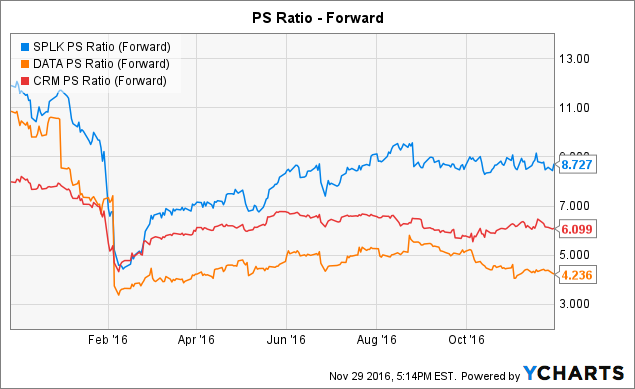 SPLK PS Ratio (Forward) data by YCharts
The key investor takeaway is that Splunk doesn't offer a lot of value. The stock could head higher on these strong quarterly results, but the risks remain that slower growth crimps any stock gains.
Disclosure: I/we have no positions in any stocks mentioned, and no plans to initiate any positions within the next 72 hours.
I wrote this article myself, and it expresses my own opinions. I am not receiving compensation for it (other than from Seeking Alpha). I have no business relationship with any company whose stock is mentioned in this article.
Additional disclosure: The information contained herein is for informational purposes only. Nothing in this article should be taken as a solicitation to purchase or sell securities. Before buying or selling any stock you should do your own research and reach your own conclusion or consult a financial advisor. Investing includes risks, including loss of principal.