ADP reported 216,000 new jobs for November. That is a meaningful pickup. We had said last week that we expected upside in the jobs numbers. This coming Friday's non-farm payrolls ("NFP") is the main event. If it shows the type of gains ADP showed it is a very bullish stock market (NYSEARCA:SPY)(NASDAQ:QQQ) event.
ADP Shows Upside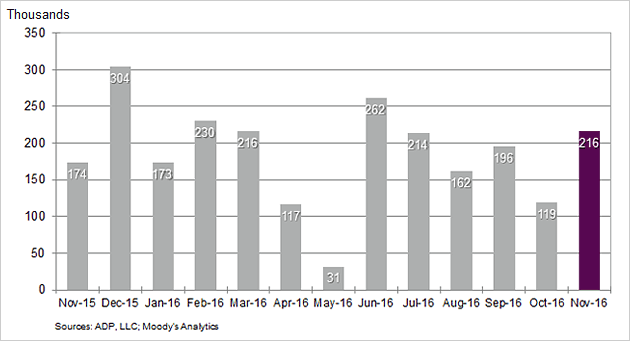 Source: ADP
The 216,000 new jobs number is higher than the expectation for NFP on Friday by a wide margin.
Really that 216,000 is faster than any time since March. June's 262,000 was a benefit from a strike-ridden May so the two months need to be averaged. Averaging the two months gives you 147,000 per month.
A pickup in jobs is a market positive because it gives valuations some substance. If the economy is picking up then the market is not solely smoke-and-mirrors that bears may think.
Should We Be Concerned About An Imminent Rate Hike?
The Fed already is planning to raise rates in December. If Friday's NFP shows a similar result as ADP today it further confirms a rate hike is coming.
If the pace of pickup continues it also may mean the Fed may have to consider more than their current two hikes for next year. For now though they are talking about letting the economy "run hot" which means they would let growth pickup without added hikes.
We don't think we need to be concerned that a rate hike this year will crash markets as it did earlier this year. Last year's rate hike caused long end yields to drop as investors worried about rate hikes causing a recession. This year however, as hints of a rate hike approached yields went up. That speaks to bond investors not being fearful of a recession.
That could mean that equities benefit from a shift in dollars from bonds to stocks.
Conclusion
Friday's NFP number is what counts but today's ADP gives us some confirmation that Friday should be good. If jobs are good the economy is good and so markets should be good. This is a bullish story.
PRO TRADER: Price Rise December 1st. Free Two-week Trial
Click here for a free trial.

Directional calls on stock market, stocks, gold, oil, bonds, currencies, indexes and more.
If you want Elazar's analysis on Seeking Alpha, scroll to the top of the article and hit "Follow." Elazar also writes real-time pieces as news is reported. If you want to be among the first updated check the box for "Real-time alerts on this author" under "Follow."
Disclaimer: All investments have many risks and can lose principal in the short and long term. This article is for information purposes only. By reading this you agree, understand and accept that you take upon yourself all responsibility for all of your investment decisions and to do your own work and hold Elazar Advisors, LLC and their related parties harmless. Any trading strategy can lose money and any investor should understand the risks.
Disclosure: I/we have no positions in any stocks mentioned, and no plans to initiate any positions within the next 72 hours.
I wrote this article myself, and it expresses my own opinions. I am not receiving compensation for it (other than from Seeking Alpha). I have no business relationship with any company whose stock is mentioned in this article.