Update: Poll results are in.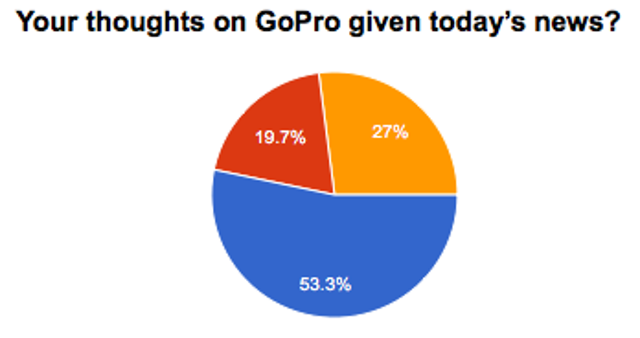 No matter what the naysayers claim, GoPro is a buy - 53.3%
On a fence - this news looks like a mixed bag - 19.7%
Sell GoPro - competition, lacking consumer demand will hit stock - 27%
Thanks to everyone who participated in today's poll. Stay tuned for more Market Challenge!
*****
Big news is out from GoPro (NASDAQ:GPRO) this morning.
The action camera maker said unit sales were up more than 33% during the Thanksgiving to Cyber Monday selling period.
The company also announced a restructuring. GoPro will close its entertainment division, eliminate 200 full-time positions and cancel open positions, amounting to a 15% reduction in work force.
Does the mixed news change your attitude on GoPro? Is the stock a buy or sell?
Offer your opinions below!