Introduction
Speculation was the name of the game. Saudi Arabia has made it clear that it was looking to steer OPEC towards a production freeze to cover some of its financial burdens, but diplomacy is a tricky game by any means. Iran wanted to be given an exemption (similar to the ones anticipated to be given towards battle-torn Nigeria), and a freeze didn't seem like a guaranteed thing by any means. Then on Sunday, Saudi's minister announced that prices would normalize in 2017 with or without an oil production freeze. All in all, a freeze was no sure thing.
And then this morning, an OPEC spokesperson announced that a production freeze has been agreed to. This would cap production at approximately 32.5 million barrels per day, over a 1 million barrel decrease per day from current levels of 33.6 million barrels per day. This is how (NYSEARCA:USO) has responded: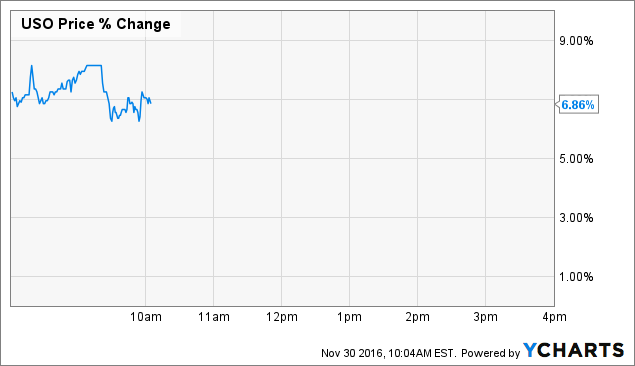 USO Price data by YCharts
That's a stellar jump, and a win for anyone with positive exposure to oil. But it is worth analyzing the details that are coming away from the meeting, and to analyze whether or not oil is still a valuable play at the moment.
What's the Scenario
It is no secret that OPEC has not been able to cooperate well with Russia, especially in recent times. A meeting between the two groups was abruptly cancelled last second, and there was rational fear that Russia would increase production to take advantage of an oil production freeze on OPEC's side. Saudi's hope that Russia and other non-OPEC producing countries will contribute another 600,000 barrels per day cut in a demonstration of unity in the oil market. I'm a bit skeptical on this. I think that Russia will want to increase production to take advantage of the market share cut that Saudi Arabia is exposing themselves to. The deal will likely be difficult than anticipated to enforce. If OPEC succeeds in having members curb production, then the anticipated oversupply can be addressed and help stabilize the market much more quickly than a natural wait-and-see strategy.
Another key factor in the market worth noting is Canada's Prime Minister Justin Trudeau, and his shocking announcement to expand an oil pipeline in Canada earlier this morning. Trudeau is generally hailed as a pioneer for the environment, so this decision came as a surprise to many. It also happens to shape the oil market, even if it isn't as important as a producer like Russia. Production has rapidly increased, as seen in the below chart: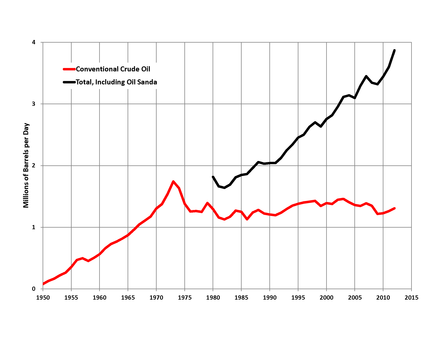 With this approved expansion, Canada's Kinder Morgan Trans Mountain Project will increase pipeline production from 300,000 barrels of oil per day by nearly 200%, with production rising to approximately 890,000 per day. The expansion will link the oil sands in Alberta to a port in British Columbia, causing many environmentalists to condemn the move. Trudeau defended himself, saying:
We've heard clearly from Canadians that they don't want to see someone trying to make a choice between what's good for the environment and what's good for the economy. They need to go together, and the decisions we've made today and leading up to today are entirely consistent with that.
So with an increase of production by nearly 600,000 barrels per day, wouldn't oil's rise today be meteoric? Nope, and it's because of strong opposition to the project. Analysts are predicting protests on the scale of those that faced the Keystone pipeline expansion, and skepticism of the expansion is certainly warranted if that is the case.
Conclusion
OPEC made headway into creating a stabilized oil market today by agreeing on a production freeze. Even if Russia were to maintain current production, prices will shoot up with 1% of global production eliminated. Canada's approval of an oil pipeline expansion could be reason for concern, but active environmentalists will not let this project be completed without litigation and a drawn-out fight. Oil is now a buy into 2017.
Disclosure: I/we have no positions in any stocks mentioned, and no plans to initiate any positions within the next 72 hours.
I wrote this article myself, and it expresses my own opinions. I am not receiving compensation for it (other than from Seeking Alpha). I have no business relationship with any company whose stock is mentioned in this article.