Excessive speculation often creates distortions in commodity and currency markets, which investors can take advantage of; such a recent distortion is the exuberant rally of copper (NYSEARCA:JJC) against a persistently weak behavior of the Aussie dollar (NYSEARCA:FXA). While Australia is among the top copper exporters in the world, supplying the Chinese industrial cycle with this crucial commodity, its currency has responded negatively to the recent market boom. If substantial demand for commodities materializes in China, amidst a re-acceleration of the Asian Pacific and global business cycle, then it should at some point drive the Australian dollar higher. This should come as no surprise, since the Aussie is the most sensitive pro-growth currency in the world. If, on the other hand, copper's price surge is the outcome of speculative trading by Chinese funds, then it will most certainly fade away as Chinese authorities ultimately tighten their grip on domestic bubbles. Should that happen, copper will experience a fierce correction, bridging the gap with the lackluster Australian dollar. The divergence between the bullish copper market and the weakening Aussie opens a window of opportunity for a spread strategy which bets on closing this gap. Irrespective of the actual way through which this gap will be bridged, i.e. either through Chinese intervention to dampen speculation or through a generalized demand for Australian commodities boosting its currency, there seems to be a big distortion in play and an equally compelling investment case to take advantage of.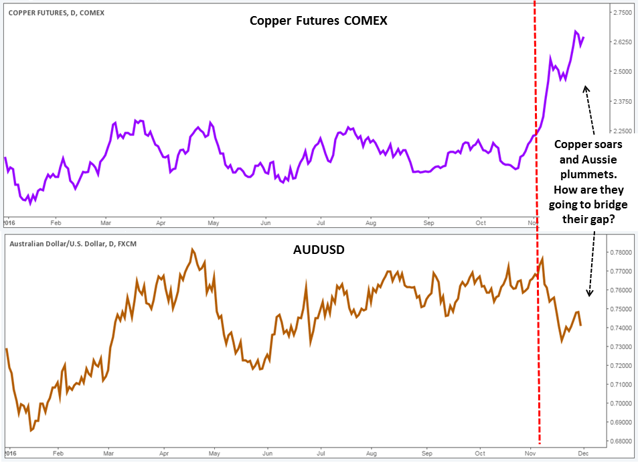 Source: tradingview.com
A Gap That Needs to Be Closed
Since late October, copper future prices have soared by 25% while the Aussie has devalued vis a vis the US dollar by almost 3%. This goes against a well document phenomenon of positive correlation between Copper prices and the AUDUSD exchange rate. Any short-term deviations from this correlation, such as the one taking place in the last two months, always correct themselves. This correction is facilitated either through a currency adjustment to the new macro fundamentals or through a correction of the copper market's excessive speculative activity.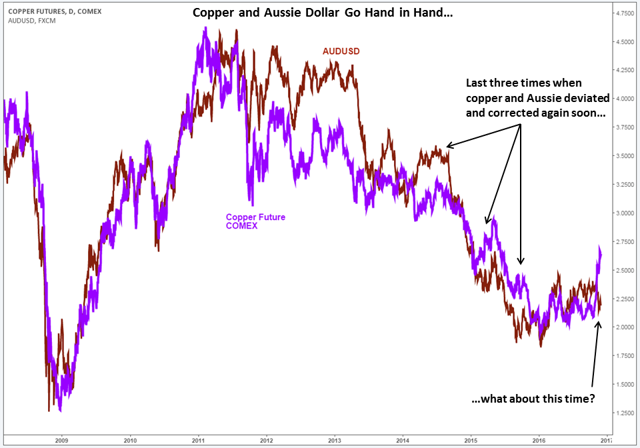 Source: tradingview.com
In fact, technical indications of excessive speculation are found in the speed with which copper moved. Copper has patiently formed a long-lasting bottoming triangle formation, throughout most of this year. When it finally broke the upper limit of this triangle to the upside, in early November, copper set in motion a new bullish trend with an intermediate target of $2.65 a pound. In such major reversal patterns, the average time length typically required for markets in order to cover the distance to similar targets is about half the time it took to form their original reversal pattern. In the case of cooper this would mean that I should take a few weeks at the very least, for the market to reach this bullish target. Rather, the thrust behind copper's bid was so enormous that it pushed it to its target within just a few days, assisted by the Trump effect, among others.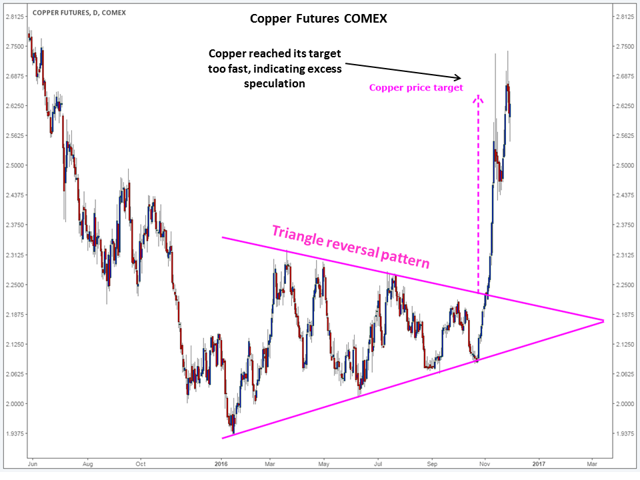 Source: tradingview.com
This behavior has fueled a growing discussion among traders about what this commodities frenzy really reflects. Is it driven by pure speculation and high frequency algorithmic trading or it is responding to an anticipation of improving local and global fundamentals? The truth, most likely, rests somewhere between the two and for good reason.
Chinese Speculation or Improving Fundamentals?
China's policy actions to curb the real estate market bubble, as well as the more recent imposition of fresh capital controls in the yuan, have forced speculative funds to seek higher returns in alternative markets, such as commodities and corporate bonds. Trading volume and prices in base metals like zinc, iron-ore and copper have skyrocketed in Chinese exchanges, and by reflection have fueled unusual daily volatility in western metal exchanges too.
On the other hand, all recent Chinese PMIs have been exhibiting accelerating demand while the Baltic Dry Index, a gauge of the cost of shipping dry material across the oceans, has continued its ascent at two-year highs. Long-term bond yields, in emerging Asia Pacific as well as in all advanced economies are running on bullish mode, and this can certainly not be attributed to the kind of speculation that allegedly drives commodity transactions in Chinese exchanges.
All these factors taken together suggest that at least some part of the copper's rally reflects optimism about the global business cycle, while the rest is due to excessive speculation by Chinese cash pools. Given the fact that investors cannot know in advance if global fundamentals will eventually support the copper's rally or not, they should look for markets which are pointing towards the opposite direction. The Aussie dollar is the currency which serves that purpose. This bearish divergence of the Aussie dollar looks quite strange if we take into account its underlying forces.
Should the Aussie Respond?
Australia, the third largest exporter of copper ores and concentrates, as well as refined cooper in the world, can definitely be impacted by any shifts in real demand for copper, especially from China, the biggest consumer of copper globally. In fact, about a third of total Australian exports go to China, tying the Aussie very closely to the Chinese industrial cycle. If Chinese activity really goes up, as all recent macro indications suggest, then commodities will hold their bullish patterns, and this will turn Australia's trade deficit into a surplus. Every time in the past that such a turnaround of Australia's trade position took place, the Aussie benefited greatly, and there is no reason to expect that this pattern won't occur again.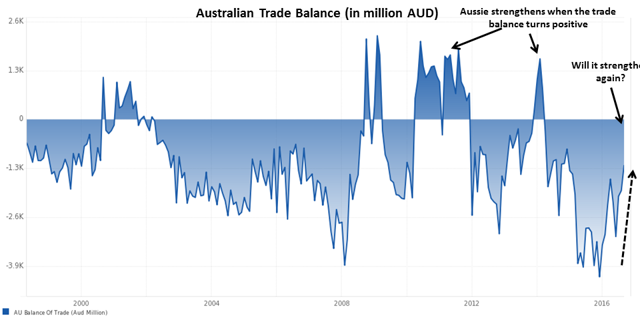 Source: ieconomics.com
Beyond China itself, the Australian economy is showing signs of resilience, with a tightening labor market, accelerating inflation, a shrinking trade deficit, and soaring long-term bond yields. In fact, Australian bond yields have been consistently outperforming the global yields' rally in the last couple of months, making Aussie-denominated assets increasingly more alluring to global investors. This means that beyond international trade gains the Aussie can benefit from increased investment flows as well. Despite all these considerations, the Aussie hasn't yet reacted as it should do, making the case for a delayed response to the global growth pickup story more compelling than ever.
In this light, it is worthwhile to mention that the AUDUSD has formed a similar to copper's consolidating triangle pattern for the largest part of this year, which it briefly broke to the upside at the beginning of copper's rally. Soon after, though, the Aussie plummeted from $.77 to $.74, diverging from the macro euphoria of the commodity and bond markets, giving rise to the current dislocation.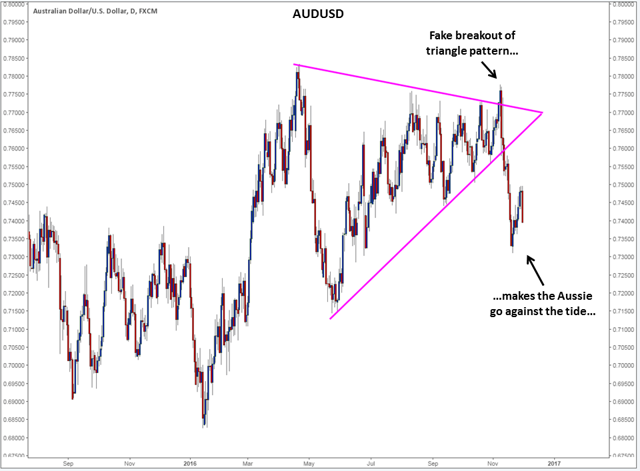 Source: tradingview.com
Having said these, one thing has become clear; either the Aussie bears or the copper bulls have to give. This means that a short window of opportunity opens for investors who would like to take advantage of this dislocation. A synthetic short position on copper coupled with a long position on AUDUSD is a strategy which can benefit from the potential adjustment of global commodity and currency markets to the actual macro fundamentals.
When different assets classes bet on diverging macro outcomes, investors are often faced with conundrums; and only one time can bring the answer. In the case of copper and Aussie dollar, time will most certainly do its duty again. Investors just need to be patient enough.
Disclosure: I/we have no positions in any stocks mentioned, and no plans to initiate any positions within the next 72 hours.
I wrote this article myself, and it expresses my own opinions. I am not receiving compensation for it (other than from Seeking Alpha). I have no business relationship with any company whose stock is mentioned in this article.
Additional disclosure: The views expressed in this article are solely those of the author, provided for informative purposes only and in no case constitute investment advice.