Apple (NASDAQ:AAPL) has been in the news a lot lately, but for lack of products rather than new ones. The most recent example of this is with the leaked information that they have dissolved their team in charge of developing routers, called "airports" by the company. This follows the announcement that the company would also cease to produce their own external monitors. Not very long ago, it also came to the news outlets' attention that they have all but abandoned producing a rumored car, with the current goal to be implementing some form of software for the car rather than manufacturing their own. Taken separately, this can all but be ignored. Together, however, begs some questions.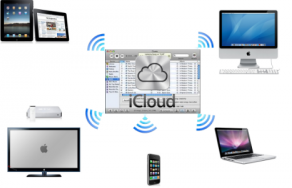 (Image Source)
I would argue that one of the most important components for success in the ever-changing tech landscape is to have a sticky ecosystem of products to keep users loyal. I think I could declare that Apple has excelled at this notion with little dispute from any camp - bull, bear, fan-boy or hater. Their devices have always been made to work flawlessly together. Which is why these recent developments beg the question: Why is Apple dismantling their ecosystem? Or better, Why are they reducing their hardware offerings while their main competitors are doing the exact opposite? It is not like the company is strapped for cash, by any standards.
It is my thought that even if they were losing a substantial amount of money (tens of millions of dollars), which I have yet to see any proof of from any of their current offerings, I would think that it could be justified by helping to retain customers of their other products.
Instead, they seem to be abolishing their ecosystem in favor of saving a few bucks here and there. If the profit is not "moving the needle," so to speak, they are ending it. If it is taking up to much R&D with no end in sight, like the potential car offering, they are dismantling it.
These do not seem to be the ways of a company with more cash than some countries.
After all, why would you want a computer unless it worked in sync with your iPhone? Why would you want an Apple Watch if you had an Android or a Windows phone? You simply wouldn't, as it would be anything but functional. This is why Forbes among others called Apple's ecosystem its greatest advantage. It is the same reason why I'm perplexed at these recent decisions, as they seem more concerned about the financial sheets than coming up with a compelling product for the customer, let alone an entire ecosystem of them. Especially when your competitors are realizing success from the exact opposite approach.
The Competition
Take Amazon (NASDAQ:AMZN) for example. Their Prime memberships are viewed as one of their secret sauces for customer retention and driving more purchases on their platform. This has been so lucrative to their business they are constantly expanding the perks associated with the membership. First, free, fast shipping. Now, free books, music and video streaming, food delivery and soon basically anything under the sun by the looks of it. Amazon can simply not get enough of keeping people under their umbrella of services. They have even provided hardware at a perpetual loss just to ensure customers are using their devices to access things online, from books and movies to games and more. All of these, by the way, are things to be found on their website. By providing this hardware portal into the Amazon world, they are ensuring that when customers do make a purchase, it is from them. Alexa and the Amazon Echo can be seen as another proliferation of this. Listening to music in your living room and remember you need new hiking boots for your trip this weekend? Just say a few words and the product is en route from Amazon.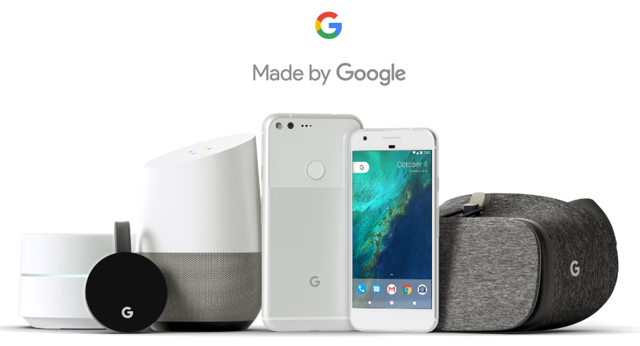 Click to enlarge
(Image Source)
Another Apple competitor is also upping the game in this manner. Alphabet's Google (NASDAQ:GOOG)(NASDAQ:GOOGL) has also recently expanded their ecosystem into additional hardware offerings. Before where you could only get software from the company, now you can get TV streaming devices by way of the Chromecast dongle to a pure Android vanilla phone with the Pixel, to their recently released routers. Yes, you read that right, while Apple is quietly discontinuing the creation of Internet access devices with their Airport line, which has not even been updated for three years, Google is releasing their own take on this device for the very first time.
For both these competitors, it is all about driving consumers back to their services. With Google, it all comes down to search engine revenue, so they have built the Google Assistant into an increasing number of devices to ensure it is always accessible and works seamlessly.
I see no reason Apple can not release a speaker that has Siri built in, or a router, especially because they already added the functionality to Apple TV in a copycat move of Amazon integrating Alexa into their own FireTV offerings.
Implications
While I certainly would not be one to call Apple an unsuccessful company, they seem to be admitting defeat an awful lot lately. I can understand back peddling from a capital intensive industry like car manufacturing is known to be, especially in light of the fact that many view Apple as a software company that offers hardware instead of the opposite. I would also never be one to tell a person or company to back away from their strengths for the sake of competing in more areas, but it seems as though Apple has no ambitions or innovations left.
Although there have been rumors of an "Apple Glasses" offering, this hardly excites me due to others failing in the space (namely Google thus far) and the fact that the watch has not yet grown enough to be considered anywhere close to the company's next iPhone. With their monitor production being given to LG, with not even an Apple logo on them anymore, it seems as though the Apple ecosystem is falling apart.
If Apple continues to lose traction and stops offering a comprehensive full circle solution for all aspects of connectivity, I think they will quickly see iPhone defectors increase in numbers as well as Mac Book sales dwindle. You could completely forget about the Apple Watch, which would hardly tell the time without another iDevice to connect to. I would be extremely worried as an Apple investor if no new "homerun" product is introduced soon, especially if Apple continues to discontinue the sale of its already relatively limited (compared to the competitions) hardware offerings, especially considering nobody would subscribe to their new software products like Apple Music or use Apple Pay if they defect from the devices they work best with.
Conclusion
If this trend continues, I think it will be the beginning of the end for the tech giant. While no action is advised for current holders, I certainly would not open a position in the stock without clear signs the company has a focus or new direction to take. You cannot simply make products skinnier and expect to sell billions of dollars of revenue in perpetuity. If Apple is out of innovations and must continue to scale back ambitions and reduce the completeness of their ecosystem, the glory days are certainly over.
Disclosure: I am/we are long AMZN, GOOG, GOOGL, AAPL.
I wrote this article myself, and it expresses my own opinions. I am not receiving compensation for it (other than from Seeking Alpha). I have no business relationship with any company whose stock is mentioned in this article.
Additional disclosure: All of my current holdings in AMZN, GOOG, GOOGL, AAPL are through ETF's at this time. Please do your own due diligence before investing in any stock or index fund, as you are solely responsible for the results. Any content contained in this article with recommendations regarding investment decisions is a matter of opinion and not to be taken as professional advice or absolute fact.