As rumors of an agreed-upon production cut are swirling, it pays to observe the market reaction instead of listening to the talking heads. Speaking of the futures curve for West Texas Intermediate (WTI) oil (NYSEARCA:USO) price marker, far too much attention is focused on the front month and not nearly enough on months further out the curve.
The economic significance of the spot oil price is greatly exaggerated
The shock-and-awe value of the front month, January 2017 WTI future rising by $3.69 to reach $48.96 at 9:20 AM New York time is clear. Yet many medium-sized oil (NYSEARCA:OIL) producers hedge half or a greater share of their production one or even two years into the future. The largest integrated oil companies do not. However, their stocks are commonly thought of as valued in view of long-term equilibrium oil prices, rendering short-term fluctuations in the spot market mere noise.
There is liquidity further out there
On a typical trading day, the first six months of the futures curve are actively traded, followed by the contract approximately one year out and sometimes the future that is two years out. Today is not a regular day - much more activity is seen throughout the curve. At this time, every contract out to April 2018 is flashing regularly. As we look ahead, December 2018 is active - this is the contract the discussion below will focus on.
The longest-term futures are still not high enough
In an analysis of Chevron Corporation (NYSE:CVX), I found that the stock at $103.82 (the closing price on October 28) would be fairly valued in an environment where the long-term oil price was $78 per barrel. For reference, Chevron rallied to $112.27, up $2.93 by around 9:50 this morning in New York.
Looking at Exxon Mobil (NYSE:XOM), analysts at Raymond James noted that "almost all E&P stocks, including large-caps, are currently pricing in oil in the $60s".
The longest-term futures, many of which have not traded for weeks, are showing signs of life today that offer an idea about the market perception of oil prices further down the road. June 2019 (2.5 years out) is at $52.94, yet up only $1.42, indicating the flattening of the curve today. December 2019 is at $53.62. The longest-dated contact that traded today is December 2020, at $54.94 and up $1.80.
The following chart illustrates unusually high activity this morning. The contracts shown would not have active quotes on most other days.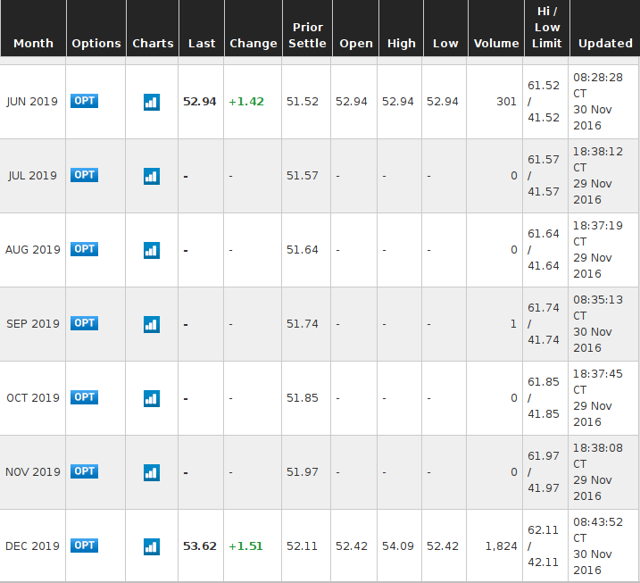 Click to enlarge(Source: CME)
One does not have to check the calculator to see that every single WTI future remains far below $60. The front end rose by about $3 - twice as much as the long end, and reducing the currently seen contango. In plain terms, the market gave OPEC some credence today while valuing their current posture as having a significantly less impressive poise in terms of market equilibrium in the longer term.
The 2-year WTI future fails to breach the crucial resistance level
The 24th month continuous WTI future is probably the longest-dated contract that sees regular activity. Today it approached $53, rising about only half as much as the front month. This level is shown in orange in the following exhibit.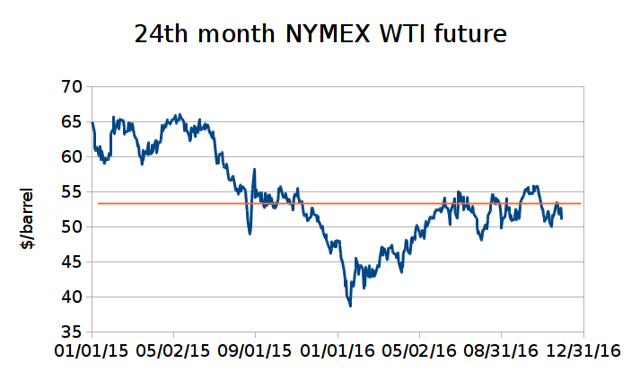 Click to enlarge
(Source: Quandl and author's analysis)
The pattern looks technically bad: the contract has failed to breach the $55.80 recent high seen on October 24. In other words, OPEC's bite has this time proven to be weaker than its bark (talking the market up in October).
Conclusion
An OPEC output cut may or may not be announced. Judging by the movement in the short end of the futures curve, it likely will be. Any deal, however, may or may not be honored by all parties involved. However, it is not talk and not even any deal announcement that matter for valuation of stocks of oil producers. Movement of the futures curve is everything.
An OPEC deal, if deemed effective, will likely be met with further flattening of the contango. The long end of the futures curves is not going up anywhere close to where it needs to be to justify valuations of, for instance, Chevron. This morning's optimism will likely end up in disappointment.
Note from author: Thank you for reading. If you like this article, please follow me by clicking the "Follow" link at the top of this page and choosing "Real-time alerts on this author" to be informed of my latest ideas.
Disclaimer: Opinions expressed herein by the author are not an investment recommendation and are not meant to be relied upon in investment decisions. The author is not acting in an investment, tax, legal or any other advisory capacity. This is not an investment research report. The author's opinions expressed herein address only select aspects of potential investment in securities of the companies mentioned and cannot be a substitute for comprehensive investment analysis. Any analysis presented herein is illustrative in nature, limited in scope, based on an incomplete set of information, and has limitations to its accuracy. The author recommends that potential and existing investors conduct thorough investment research of their own, including detailed review of the companies' SEC filings and consult a qualified investment advisor. The information upon which this material is based was obtained from sources believed to be reliable, but has not been independently verified. Therefore, the author cannot guarantee its accuracy. Any opinions or estimates constitute the author's best judgment as of the date of publication and are subject to change without notice. The author explicitly disclaims any liability that may arise from the use of this material.
Disclosure: I/we have no positions in any stocks mentioned, and no plans to initiate any positions within the next 72 hours.
I wrote this article myself, and it expresses my own opinions. I am not receiving compensation for it (other than from Seeking Alpha). I have no business relationship with any company whose stock is mentioned in this article.