National Express (OTC:NXPGY) is a U.K. public transport provider, that also operates in North America, Spain and Morocco. In 2015 it generated £1,920m of sales and £194m of operating profit. The company's share price has increased by 7.8% since the start of 2016.
The share price of National Express is likely to continue its upward trend and the company could be added to the investor's portfolio for the reasons below.
Strong financial performance in 2016
National Express recently released a Q3 2016 trading update, where the company reported an 11% and 5% year-to-date increase of sales and operating profit respectively (on a constant currency basis). The company is on target to reach its full year forecasts.
Moreover, National Express has achieved attractive performance ratios, including ROCE of 11.7% in 2015 (up from 10.7% in 2014) and operating profit margin of 10% (far above its three main competitors).
The latest full year operating margins of key U.K. transportation players are presented in the chart below.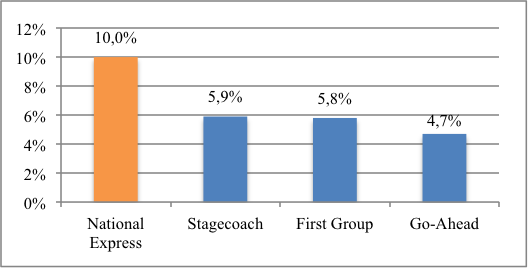 Source: Annual Reports of National Express, Stagecoach, First Group, Go-Ahead
Diversified product portfolio and regional presence
National Express generates c. 60% of its revenue in the foreign markets, with 35% of sales coming from the School Bus and Transit market in North America. With the rest of foreign sales generated in the Bus and Coach market in Spain and Morocco, National Express is protected from declining value of sterling and sluggish demand for public transportation service in the U.K.
In the domestic market, the company provides Bus, Coach and Rail services. In the Coach service segment, National Express is a leader with 60% market share.
The company's 2015 revenue breakdown by region is illustrated below.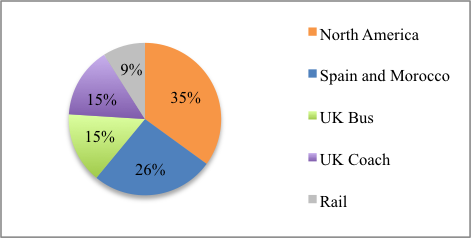 Source: Annual Report of National Express
Growth potential in new regions
In 2015 National Express entered the German Rail market and Bahrain Bus market. In Germany, the company signed rail contracts, securing €2.6bn of revenue through to 2033. German revenue is expected to grow with the CAGR of 11.5% over the next 10 years. Management is currently considering expansion into new regions.
Positive expectations about future performance outside the U.K.
Although demand for public transportation services in the U.K. is weak, there are growth opportunities abroad. In the School Bus market in North America, National Express is the second largest player with 14% market share. According to the company's 2016 investor presentation, management expects to achieve 50% growth of sales in this segment in the next 5 years.
In Spain and Morocco, Bus and Coach market grows by c. 3% annually, which is beneficial for National Express, that is controlling one third of the market.
A recent pipeline of bolt-on acquisitions
National Express has been actively involved in M&A activity in the first half of 2016, acquiring three businesses in North America and one in Spain. Management foresees further acquisition opportunities in North America, which would bring $150m of additional revenue annually.
Conclusion
National Express is a U.K. public transport company, that also operates in the foreign markets. Its diversified regional presence and product portfolio reduces risks and secures resilient cash flow generation. The company is strengthening its position by expanding into new regions and acquiring small transportation players. Together with strong recent financial performance and positive sentiment about further development in its key markets, I consider National Express to be an attractive investment.
Disclosure: I/we have no positions in any stocks mentioned, and no plans to initiate any positions within the next 72 hours.
I wrote this article myself, and it expresses my own opinions. I am not receiving compensation for it (other than from Seeking Alpha). I have no business relationship with any company whose stock is mentioned in this article.
Editor's Note: This article discusses one or more securities that do not trade on a major U.S. exchange. Please be aware of the risks associated with these stocks.