There was a lot to like in EOG Resources Inc.'s (NYSE:EOG) third quarter report on both the financial and operational front. Higher natural gas prices and relatively flat crude prices q-o-q helped increase EOG Resources Inc.'s net operating cash flow streams from $503 million in Q2 to $760 million in Q3. That implies an annualized run rate of just over $3 billion in cash flow and implies EOG Resources will have the firepower to enter 2017 with growth in mind.
EOG Resources was also able to lock in another $200 million in non-core asset sales in Q3, bringing its YTD haul up to $625 million. Keep in mind a decent chunk of that has yet to be realized on its balance sheet. The firm is selling off assets that don't meet its premium drilling return guidelines as these are positions EOG knows it won't develop for years if not decades.
At the end of Q3, EOG had $2.74 billion in current assets (up ~$290 million from Q2), $1.73 billion in current liabilities (up marginally q-o-q), and just under $7 billion in long term debt (flat sequentially). On the back of significant cash flow generation improvements EOG increased its 2016 capex budget by $200 million to $2.7 billion, which comes on top of roughly $400 million in annual dividend payments post-Yates acquisition.
EOG Resources hadn't stated what the impact of the Yates purchase, which closed in early-Q4, would be on its long-term production trajectory until now. At $50 WTI and assuming "balanced spending", which means EOG is generating enough cash flow to cover both capex and dividend payments, EOG expects it could post 15% CAGR oil production growth through 2020. Previously at $50 WTI, EOG was guiding for 10% CAGR. That goes up to 25% CAGR if WTI reaches and maintains a $60 pricing point, up from 20% previously.
Keep in mind this is just crude production but it gives investors a picture of what to expect.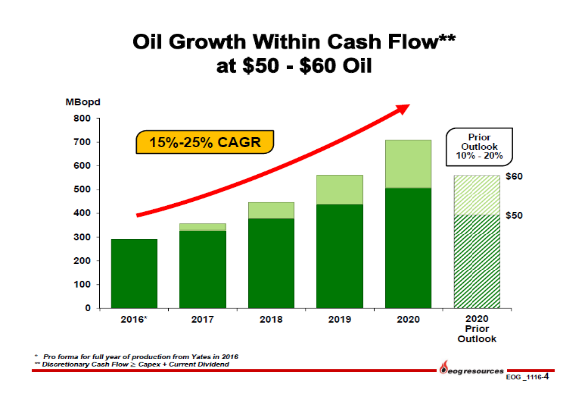 Source: EOG Resources Inc. Q3 2016 Presentation
Based on its strong cash flow generation in Q3, that guidance seems plausible as it is very likely EOG is going to boost its 2017 capex versus 2016 levels. While EOG was able to raise its 2016 crude output guidance versus previous assumptions its production base still moved lower in Q3 as fiscal discipline takes precedent.
Drilling & completion overview
With its larger 2016 capex budget EOG is going to drill and complete far more wells than originally expected. Sharp completed well costs and operating cost reductions enabled EOG to revise the number of wells that are going to be drilled and completed this year up by 90 net and 180 net wells, respectively, compared to its original plan. Now EOG sees itself bringing 450 net wells online as it drills 290 net wells this year, which will see its DUC (drilled but uncompleted) inventory decline to a "normal level" of 140.
That sets the stage for strong sequential growth starting in early-2017 as increased completion activity starts bolstering its production base. With WTI holding around the $45 area and Henry Hub treading water around $3/Mcf, EOG wanted to get to work capitalizing on past drilling activity.
While EOG's drilling costs could be considered sunk (on top of its midstream and oilfield service investments) when looking at its DUC inventory, management didn't want to waste that portfolio to generate weak returns. In previous updates EOG commented that a ~$50 crude price would make completing its DUCs compelling. It appears management expects prices to recover enough over the next 12 months to justify bringing that inventory online.
Its Middle Bakken DUC inventory in particular will be worked down. The region requires higher prices to be considered economical and EOG ended up building a significant DUC portfolio in the Bakken/Three-Forks plays during the downturn. EOG didn't state what its DUC make-up would look like exiting 2016 but it does appear that Bakken DUCs will represent a significant part of its additional DUC completions.
Comparing its past guidance to its new forecasts EOG plans to complete 25 additional net wells in the Williston Basin (Middle Bakken and Three-Forks plays), bringing its total up to 50 net wells. In the Wyoming portion of both the DJ Basin and Powder River Basin, EOG now plans to complete 55 net wells up from 25 net wells previously.
Rig count
During its Q3 conference call management noted that the company was running 15 rigs across its domestic operations. Five in the Permian Basin with a focus on the Delaware, six in the Eagle Ford, and four in the Rockies (which includes the DJ, PRB, and Williston basins). By the end of 2016, EOG wants to add another rig to both the Eagle Ford and the Permian Basin.
One rig in the Rockies is going to be let go soon as it was a part of the Yates purchase and most likely was brought on at a rate significantly higher than current prices. EOG Resources, like all upstream players, has been able to lock in lower third-party rates but it still has a ways to go in cutting down its rig rates. Those were signed on through long-term contracts and when those contracts roll off, EOG will save a good amount of money.
Well returns resistant to inflationary pressures
Here is a key excerpt to keep in mind from its call (emphasis added);
"While the major driver of cost reduction has been efficiency gains we are also [benefiting] from approximately half of our high-cost drilling and completion contract being replaced by rates that are 40% lower. In addition, tubular and well head cost will come down 25% with our 2017 arrangements.
The market is speculating about service costs increases and how they will impact the industry. For EOG due to our integrated operations, current arrangements and continued efficiency gains we are well insulated. At a minimum we expect at least the well cost lap in 2017. Our teams continue to make significant efficiency gains."
Most of the reduction in EOG's completed well costs has come from efficiency gains, not third-party savings. Using a standard Wolfcamp well in the Delaware Basin as an example, EOG has saved $1.6 million through operational improvements and $600,000 through third-party rate reductions.
Stating that its completed well costs will at least stay flat next year is a big deal. It means that even if inflationary pressures from a recovering oil & gas market takes hold, EOG's well returns at constant realized prices will remain solid. That means that higher realizations will continue to translate into very strong returns without the irritating but normal inflationary effects eating away at those economics.
Final thoughts
EOG Resources Inc. is entering 2017 on a very strong note as its cash flow shortfall problem continues to dissipate while management preps for sustained production growth in a slightly higher crude pricing environment. This is a company that is best of breed in the unconventional upstream industry and one worth considering as an investment on a pullback (possibly due to OPEC not reaching an agreement) or if it appears the crude market is going to continue its recovery.
The Yates Petroleum transaction was a very smart purchase and one that will help EOG Resources Inc. maintain its strong financial standing. Investors looking to read more about the mostly-stock deal can read about it here.
Disclosure: I/we have no positions in any stocks mentioned, and no plans to initiate any positions within the next 72 hours.
I wrote this article myself, and it expresses my own opinions. I am not receiving compensation for it (other than from Seeking Alpha). I have no business relationship with any company whose stock is mentioned in this article.