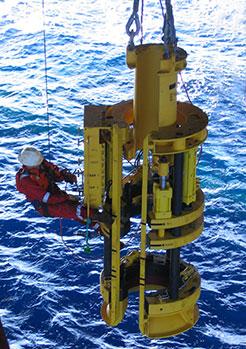 Dril-Quip's (NYSE:DRQ) Q3 revenue of $123.6 million exceeded analysts' expectations and its EPS of $0.51 came in as expected. DRQ is flat since earnings were released, but the company has started to show cracks.
Revenue Is In Free Fall
Dril-Quip's revenue is in free fall; Q3 revenue of $123.6 million was off 13% sequentially and 39% Y/Y. The performance followed a 14% sequential decline last quarter. Subsea equipment sales had previously been steady since the rout in oil prices, while land drilling was punished. Now the tables have turned. While the land drilling sector enjoyed a rebound in Q3, experts predict deepwater will be the last sector to rebound.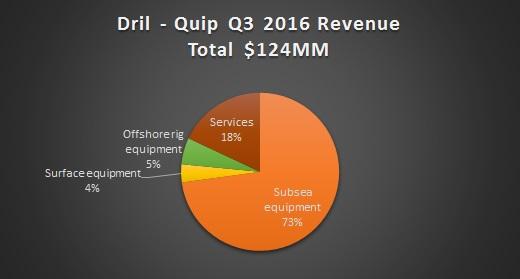 The company receives 73% of its revenue from subsea equipment sales. In Q3, subsea equipment revenue fell 13% Q/Q, and this followed a 17% decline in the previous quarter. Many subsea projects are not economical at current oil prices. Big oil is reticent to approve new projects until oil prices stay above $60 for a sustainable period. Until then, revenue could continue to slide.
EBITDA Margins Broke Support
Dril-Quip has practically fought gravity during its slide in revenue. Through cost containment efforts, the company was able to keep EBITDA margins in the mid-30% range. Q2 margins increased from 34% to 38% despite a 14% decrease in revenue. This quarter margins fell from 38% to 25%. Cost of sales increased from 51% to 56% and SG&A expense increased from 12% to 19%.
Part of the increase in cost might have been due to the company's acquisition of TIW Corporation, a Houston-based provider of liner hangars and related equipment and services. That said, the company could experience an uptick in costs as it integrates TIW.
Conclusion
While Cameron International sold itself to Schlumberger (NYSE:SLB) and FMC Technologies is expected to complete its merger with Technip (OTCQX:TNHPF), Dril-Quip is going it alone. Its backlog, designed to mitigate future downturns in the market, was $378 million at Q3. It equated to about three quarters worth of revenue, and was down 56% versus the $824 million in the year earlier period. Given the declining backlog and dearth of new orders, I believe 13x EBITDA is too pricey for DRQ. The stock remains a sell.
Disclosure: I/we have no positions in any stocks mentioned, and no plans to initiate any positions within the next 72 hours.
I wrote this article myself, and it expresses my own opinions. I am not receiving compensation for it. I have no business relationship with any company whose stock is mentioned in this article.