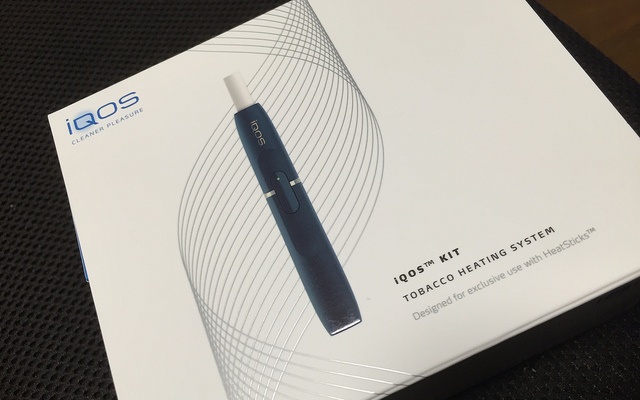 Philip Morris International (NYSE:PM) today started selling its new iQOS "heat-not-burn" tobacco product to the nearly 10 million consumer strong UK market. To mark this Philip Morris's CEO, Andre Calantzopoulos, gave his first broadcast UK interview. It was on the BBC's iconic, long-running Radio 4 Today current affairs program* and threw up some very interesting thoughts.
I have been thinking quite a bit about tobacco companies of late. In October I put together my thoughts on the British American Tobacco (NYSEMKT:BTI) bid for Reynolds American (NYSE:RAI) before suggesting in November why a Japan Tobacco (OTCPK:JAPAY) bid for Imperial Brands (OTCQX:IMBBY) looks increasingly likely.
As a result, I thought it worthwhile to transcribe some bits from the Today interviews and write down some extended thoughts on some of the things discussed including the problem of the deficit of trust between tobacco companies and consumers and the potential for a swifter phase-out of traditional cigarettes than we'd perhaps imagine. It will be very interesting to read your thoughts.
Deficit of Trust with Consumers
Needless to say, the key feature was the matter of the apparently less-harmful iQOS and the future of tobacco companies. According to the company, iQOS produces the same nicotine hit but with 90% fewer of the toxins that come with cigarette smoke. Yet, in a reminder as to why so few tobacco CEO's are keen to be interviewed, the interviewer-Dominic O'Connell-raised the matter of the "deficit of trust" with the consumer for such claims.
This is certainly a big issue for the company and its peers. Recently Philip Morris as well as British American Tobacco, Japan Tobacco and Imperial Brands received a further blow to their reputation for transparency during the legal challenge to the UK's plain packaging law. The UK's Royal Courts of Justice accused them of providing evidence which left a lot to be desired (Source: UK Royal Courts of Justice, 19 May 2016):
Put bluntly the Government says that the intrinsic quality of the tobacco company's evidence is inferior as not being in compliance with methodological best practice accepted worldwide by the scientific and technical research communities. These include such matters as: the importance of peer review of research results; the independence of researchers and experts from vested interests; the cross-referability of the reports of experts instructed by the tobacco companies against the internal documents of the tobacco companies themselves; the qualifications and competence of tobacco company experts to opine upon particular topics; and the practice of the tobacco company experts of ignoring or dismissing the pre-existing and adverse literature.
Blunt indeed. Yet it got worse for the tobacco giants with the judge pointing out that:
In my judgment the [UK] Government was entitled to conclude that the tobacco company's evidence did fall below acceptable standards during the consultation…. As a generality, the Claimants' evidence is largely: not peer reviewed; frequently not tendered with a statement of truth or declaration that complies with the CPR [Court Procedural Rules for England and Wales]; almost universally prepared without any reference to the internal documentation or data of the tobacco companies themselves; either ignores of airily dismisses the worldwide research and literature base which contradicts evidence tendered by the tobacco industry; and, is frequently unverifiable.
This is a serious issue for tobacco companies when trying to push their less harmful, next-generation products. Consumers remain-understandably-wary of their claims. It seems very likely that they have a compelling story to tell to consumers, if they are able to believe them. As Professor John Brittan of the University of Nottingham explained on the Today program:
The problem with iQOS at the moment is that the only information we have on its performance comes from Philip Morris. And we know there is a history of decades of failure to disclose facts about tobacco products. So it is not reliable information. However, on the face of it I entirely agree [with their data]. It looks as if these products will be much less hazardous than combusted tobacco in conventional cigarettes but probably more hazardous than electronic cigarettes… but we just don't know enough about them at this stage from reliable sources to be able to say where they fit [on the spectrum of risk].
Philip Morris and its peers do have an uphill struggle here. If they want their new products to gain market share they need to gain consumer trust. To gain consumer trust they need to prove their products are safer than conventional tobacco products. Transparency is key here. As Calantzopoulos explained:
I understand there is some deficit of trust out there that is why I am saying we are committed to full transparency and trust can be built through verification by inviting anybody who wants to do the verification to come and do it.
They remain open about the addictiveness of their nicotine-based products. Doubts about the true nature of their danger in light of the fact that the vast majority of the statements of safety come from tobacco companies themselves, however, has left many more reticent than you'd imagine to put down a cigarette and pick up alternatives. As Calantzopoulos added:
The addictiveness of the pharmacokinetics of the product-to be a bit more technical here-are similar to cigarettes, And that is important I think for the satisfaction of consumers because today we have smokers. And, as we have seen with electronic cigarettes, although they have a very large reduction in toxicity-even slightly higher than iQOS has-the adoption is rather limited. I understand, as you said previously, there is sometimes some deficit of trust. I am not asking people to trust me, I am asking people to verify what I am doing. I think this product has a great promise for smokers because if we manage to switch them and already we have 1 million people switching in Japan, by the way, I think that they can support the effort despite the fact that this comes from a tobacco company as we say. I would say to the smokers it doesn't matter where the innovation comes from and a better product for them comes from.
The simple fact is that people continue to buy tobacco companies products because they are addicted, not because they trust the company behind them. To some extent iQOS's success can continue to ride on the addictive element driving big tobacco's impressive sales history. Yet with iQOS and similar products increasingly claiming comparatively limited health hazards if they want such next-generation tobacco-tech to not just be a final top and bottom line growth driver in a disappearing industry but the first part of a new sustainable, nicotine-focused industry they need to shrink that deficit of trust. Talk of "transparency" and "verifiability" is encouraging but needs to be followed through fastidiously to make any sort of progress in rolling back decades of undermined trust in the tobacco giants factual fidelity.
Quitting the Habit
Perhaps most interesting in the interview, however, was Calantzopoulos's views of the future of conventional cigarettes in Philip Morris's business. Asked if he felt Philip Morris would like to exit the conventional tobacco business entirely, he said that:
Eventually we will and that is clearly the objective of the company. I think we are transforming our company to achieve this. We are moving very massively our resources and focus of the organization from our existing traditional business to the new one. So, as far as we are concerned, we will do everything we can to accelerate this reaching of consumers to this product. Now, we are not alone in this journey. I think consumers need to be convinced-that's an important factor obviously-and also regulators can play a role.
What is more, for Calantzopoulos there is a pretty clear blueprint for how he thinks that will come about:
I believe that there will come a moment in time where we have sufficient adoption of this alternative product that are reduced harm by consumers-say 50 to 60%-and sufficient awareness to start envisaging, together with governments, a phase-out period for cigarettes. And I hope this time will come soon.
This is truly fascinating if, perhaps, hardly surprising. After all, the growth in cigarette volumes in recent years has chiefly been driven by emerging markets where regulatory pressure has been more benign for tobacco compared to increasingly restrictive developed markets. Emerging markets are also, however, increasing pressure on the tobacco industry. Many have also introduced health warnings of cigarette packets helping to push the global total to nearly 80 countries (Source data: Canadian Cancer Society):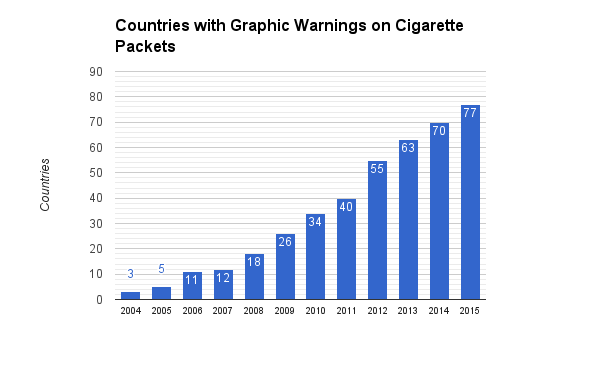 Undoubtedly, pragmatics have no doubt fuelled Calantzopoulos's above view. Yet for a tobacco giant like Philip Morris to actively be talking about its exiting by apparently proactively phasing-out of cigarettes altogether is striking.
Stranded Assets?
In another part of the program, they talked to David Stubbs-Global Market Insights Strategist at JP Morgan Asset Management-specifically about how he has previously described tobacco companies as being a "stranded asset" rather similar to how people see oil and gas companies (a subject I have written about previously). Stubbs argued:
The same is happening-you could argue it is already gradually happening-with tobacco companies and their trademarks, their ability to push this product and find new and younger customers in the next generation.
Tobacco giants' key assets are their trademarks as well as their body of addicted consumers. With both declining in value through plain packaging legislation and shrinking smoking popularity amongst the younger generation, are their genuinely valuable businesses today increasingly built on sand?
Let's say that at 50% to 60% penetration of next generation tech that tobacco companies do look at actively phasing-out cigarettes. The real question is will this be a case of replacing their increasingly sandy foundation with a concrete one or just one made of a slightly more stable pebble base? Is Philip Morris's move towards iQOS and its successors a means to deal with the threat of these "stranded assets" in a way that some oil majors are turning to renewable tech to prepare for the future? Or is it more like oil majors' moves to natural gas over oil which although has benefits over oil still holds similar (if softer) credentials as a potential "stranded asset"?
This is not clear. Yet as the debate surrounding the potential positive health benefits of nicotine when separated from the smoking hazards continues to develop maybe these non-smoking nicotine-based products do have a sustainable (or should that be renewable) future. Early work on the benefits of nicotine have been undertaken on preventing Alzheimer's Disease and delaying Parkinson's as well as the potential for easing symptoms of Attention Deficit Hyperactivity Disorder (NASDAQ:ADHD).
With Alzheimer's increasingly becoming amongst the leading killers in developed countries-or indeed the leading killer in the UK in 2015, knocking off heart disease for the first time-nicotine in itself may well have a "healthy" future in the world in both the commercial and public health sense. Yet more needs to be done to understand this.
Nicotine clearly still has less than healthy influences. It is, transparently, addictive. Yet as anyone who needs their caffeine fix (of which I am one) can state, this is not enough to secure its removal from our daily lives if it provides means to enhance quality of life or utility within our lives. We need, however, to understand all this much, much better. What is more, we need to understand it with a degree of transparency which has often been absent in debates regarding smoking.
Conclusion
Calantzopoulos interview with the BBC was very interesting indeed. As iQOS increasingly expands it reach across the globe, it will be fascinating to see the uptake. Calantzopoulos pointed out in the interview, for instance, that 1 million people in Japan are using IQOS and about 70% are "fully converted users" from cigarettes. This is a striking response if replicated elsewhere. iQOS may well, therefore, prove to be a compelling brand in its own right as well as, cleverly, leveraging their established cigarette brands (for example, using Marlboro-branded HeatSticks in the device).
Longer term, tobacco giants may well have a sustainable future as businesses. Right now, I have to agree that they are businesses with potentially high levels of "stranded assets." Right now, personally I believe iQOS from a research and cultural perspective is (to return to my earlier metaphor) more of the switch from a sand to a pebble foundation for the company. Yet changing understanding of the effects (whether positive or negative) of nicotine may well provide something more concrete for the market as a whole.
Yet whether or not future research supports a sustainable future for the nicotine (rather than cigarette) industry will require them to do something they have repeatedly failed to do in the past: be transparent. Consumer and broader societal attitudes to their future products rests not on their ability to distribute confusing factoids (meant very much in the "similar but not the same as a fact" sense) but demonstrate convincing facts to the public.
Yet, here is the crux of the matter, this would need to include those convincing facts that run counter to the tobacco giants preferred narrative. History suggests they will be unable to do this. The future, however, will have to prove they can.
Notes
* For United Kingdom-based readers, you will be able to listen to the full Today program from the 30 November 2016 here. As I understand it, non-UK residents will be unable to listen.
All graphs, tables and the calculations contained within them were created by the author. All data (unless otherwise noted) was collected from publicly accessible company filings and reports. Creative Commons images reproduced from Flickr user clieistd (cropped).
Interested in other high-quality, highly cash generative businesses? Please do consider subscribing to my new premium Seeking Alpha research service "UK Free Cash Flow Dividend Stars" focused on attractive potential investments in the United Kingdom.
Disclosure: I am/we are long IMBBY.
I wrote this article myself, and it expresses my own opinions. I am not receiving compensation for it (other than from Seeking Alpha). I have no business relationship with any company whose stock is mentioned in this article.