Western Forest Products (OTCPK:WFSTF) is a timber company with a $740 million market cap whose operations are concentrated in British Columbia on Vancouver Island and on the coastal mainland. Timber is a decidedly out-of-favour sector right now, and Western tends to move with, or underperform, its Canadian peers such as Canfor (OTCPK:CFPZF), Interfor (OTC:IFSPF), West Fraser (OTCPK:WFTBF), Domtar (NYSE:UFS), and Acadian (OTC:ACAZF), as you can see below. It's been a bad year for all of them and only Domtar and Interfor have eked out positive returns.

Click to enlarge
Size Matters
Domtar has a higher PE, about the same dividend, and lower return on equity than Western. Why has it outperformed its Canadian peers? It has expanded into the US in recent years and developed a nice consumer products business to go along with its logging and sawmill activities, to the point where it only remains a marginally Canadian company. This diversifies its business and doesn't leave it totally at the mercy of timber prices, for one. I suspect this is one reason Domtar and International Paper (NYSE:IP) are bumping up against 52-week highs while Canadian forestry stocks languish. But the other reason is size. These companies have multi-billion-dollar market caps and with NYSE tickers and index inclusion are easily accessible to US investors. Western Forest, which trades as a pink sheet south of the border, is much less so. And even on the TSX, where the much more liquid listing is, the sub-$2 price insures discretion. Many people will simply not touch stocks whose prices are below token amounts like $5 or $10. Most Seeking Alpha readers know this is an absurd metric to value a company by, as it has no bearing on its financials, but I have a sneaking suspicion Western would get more respect if it undertook a 10:1 reverse split. I'm not suggesting they do this, just offering as a reason for the lack of interest in this company.
Firing on all cylinders, continuing to slide
The company has just achieved record operating cash flow of $42M and has more than doubled the cash position on its balance sheet from $8M to $19M in the last two years, all while continuing to pay a dividend of 2 cents per quarter. The dividend has been in effect since 2013 and at current prices can be dripped for as little as a $187 CAD initial investment.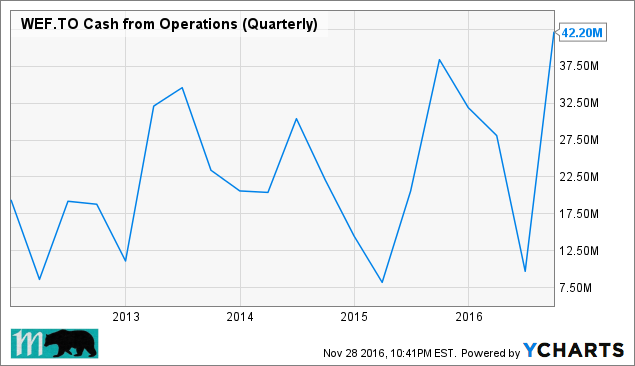 WEF Cash from Operations (Quarterly) data by YCharts
The company has also achieved a better five-year total revenue CAGR (10%) than Acadian (4%), Domtar (4%), and West Fraser (7%). It slightly lags Interfor and Canfor that are both just over 10%, but even within the Canadian forestry sector, you are also not comparing apples to apples. Most of these companies log mainly in the BC interior, passing through the boreal forest across the country to the Canadian Shield. Two invasive species of beetles have been destroying vast swaths of this forest, partly because it does not get cold enough in the winter to kill them off anymore. Western exclusively operates in the more temperate region where these species are not a threat, and therefore has a leadership position in several types of wood found mainly in its region such as red cedar. It relies less than these other timber companies on the pine found elsewhere in Canada, which is used extensively in homebuilding, because it logs many rarer, and therefore, higher value wood products.
From a valuation perspective, the market is not recognizing this enviable position in the sector, valuing Western Forest at mostly inferior multiples compared to its peers (ranking based on lowest ratios):

Click to enlarge(Source: My excel table with data obtained from YCharts.com)
Where the market's lack of respect for Western Forest is really egregious is on the management effectiveness front. This company is simply working harder for its shareholders than any of its competitors, with the highest percentages on all three metrics in the below table as proof, yet it still trades at a discount to them.

Click to enlarge
(Source: My excel table with data obtained from YCharts.com)
The stock has been range bound between 1.70 and 2.80 for over two years. Historically, purchasing it when the yield was above 4% provided good total return results. For example, when the yield spiked to 4.75% in mid-2015, the stock was available for $1.75. This purchase would have yielded a 27% gain in just a few months. The stock is slowly but surely inching back to this yield purchase zone and is arguably in it, but...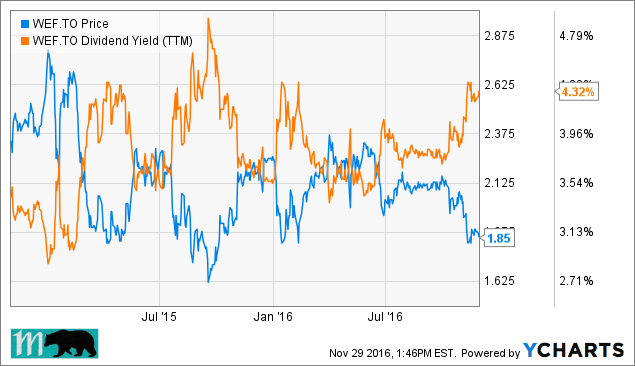 WEF data by YCharts
Macro Factors
As with any market opportunity, there are reasons for the discount. Bravery is required, because you do not get something for nothing. The timber sector in Canada is clouded with uncertainty now. The overvalued Canadian housing market is a continual source of anxiety, although housing starts remain in line with their five-year average for the moment. Japan and Asia, which Western does about 20% of its sales to, are flat but not declining, and it is probably prudent to maintain that expectation. The strength of the housing market in the Southern United States over the last few years has been a bright spot for Canadian loggers to the point of several of the larger ones acquiring and relocating mills in these states. Western itself does about 45-50% of its business with the States, but all of its operations are in BC. American presence or not, the Western investment thesis probably depends partly on continual US economic recovery and the consequent demand for lumber by homebuilders. This is the case for all Canadian forestry companies.
The biggest cloud over the industry right now, however, is the Softwood Lumber Agreement, or lack thereof. One of the longest and most acrimonious trade disputes between two otherwise friendly countries has expired as of October 2016. The US lumber industry has claimed since 1982 that Canadian lumber companies are unfairly subsidized. We are exiting from a 10-year period of relative calm, but during the last SLA breakdown, in 2003, 15,000 people were thrown out of work. Canada has generally won these disputes in the International Trade Court, but the resolution process takes years. This dispute is unfortunate because US homebuilders need the lumber and Canadian foresters need the sales, which is why neither side ever accepts to blink. Meanwhile, in less than two months, an American president who has never seen a trade deal that was not "unfair" to America will be sworn in.
If all of that wasn't bad enough, remember that timber is currently at a five-year low. The commodity itself is depressed. However, anyone who has looked at a steel or copper chart knows that commodity businesses are highly cyclical and it's generally better to buy them and the companies that produce them are low rather than high. A weak Canadian dollar also benefits Western Forest, like all Canadian exporters, but it does not fully participate in this trend because of the cost of hedges in place to mitigate home currency swings against USD and JPY. The bigger thing to watch remains timber, which should provide a tailwind sooner or later.

Click to enlarge
Summary
Every experienced investor knows that even the best laid plans or the most well-thought out thesis can go awry. Western Forest has the size and liquidity of its stock and the macro environment all working against it right now. However, a 4% dividend covered by record operating cash flow, equity that is being managed better than that of any of its bigger competitors, and a unique and valuable asset base should all interest value investors. The combination of high ROE and low price to book makes the stock undervalued by more than 10% according to the Benjamin Graham formula, and the company's liquidity position, current ratio, and Altman Z score are pretty good current indications that it will not experience financial stress in the near term. For value investors with high risk tolerance that are prepared to withstand considerable jawboning on NAFTA for the next year or two while earning 4%, Western Forest could be interesting at these levels. More cautious people might want to see the actual "ripping up" of NAFTA to see a "blood in the streets" valuation. But knowing it has no control over that, Western's management will probably continue to work just as hard for its shareholders which, so far, has worked pretty well.
Disclosure: I/we have no positions in any stocks mentioned, but may initiate a long position in WFSTF over the next 72 hours.
I wrote this article myself, and it expresses my own opinions. I am not receiving compensation for it (other than from Seeking Alpha). I have no business relationship with any company whose stock is mentioned in this article.
Editor's Note: This article discusses one or more securities that do not trade on a major U.S. exchange. Please be aware of the risks associated with these stocks.