It's a historic day today. OPEC announced a production cut deal of 1.2 million b/d. The three-day meeting concluded today with the bullish production cut news sending Brent over $50.
Leading up to the event, the consensus and many Seeking Alpha authors didn't think OPEC will reach an agreement. Here's how the poll data looked like:
Click to enlarge
Despite the consensus maintaining its bearish stance, HFI Research stood firm on our call that OPEC will reach an agreement. Our prediction however was for OPEC to only cut production to 33 million b/d versus the 32.5 million b/d. Iraq did end up agreeing to a production freeze as we detailed here, and Iran did end up freezing production at 3.8 million b/d as we detailed here.
The OPEC production cut agreement does come with one bit of a twist. Non-OPEC production needs to be reduced by 600k b/d with Qatar saying Russia has agreed to cut production by 300k b/d. Oman also has verbally committed to cutting production.
Here's what the producer table looks like: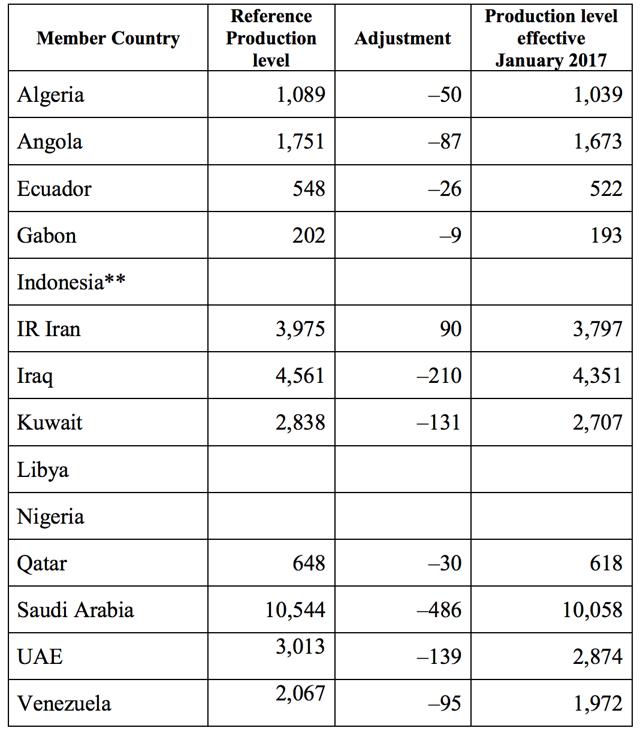 Click to enlarge
Source: OPEC
(Edited: There's been some confusion on what happened with Indonesia oil production. Indonesia according to secondary sources pumped 740k b/d. Because of its status as a net-importer of oil, it was not able to comply with the supply cuts. As a result, Indonesia chose to freeze its OPEC membership. In response to Indonesia freezing its membership, the 4.5% supply cut that was supposed to come from Indonesia (740k b/d x 4.5% = 33.3k b/d) was split amongst all the OPEC members except for Libya, Nigeria, and Iran. As a result, the 32.5 million b/d floor target INCLUDES Indonesia's production of 740k b/d.)
If you actually add up all the production cuts, it amounts to 1.263 million b/d. If you assume that Iran can grow its production from 3.7 to 3.79 million b/d, then subtract 90k b/d from the 1.263 million b/d. Whatever the difference is in actual production cut is not the main focus of the market right now, and as we have repeatedly said over and over again, it's the perception of reality change that's taking place that everyone should be paying attention to.
As oil (NYSEARCA:USO) bulls, we have received a lot of criticism for our research, but the objections never phased us as we stood pat on our year-end oil target of $60 while many were calling for $30 oil or even sub $30 oil again. We came to the conclusion following the Algiers deal that a deal was possible by paying attention to incentives. Saudi's interbank lending rates kept creeping up and this usually signals liquidity issues in the country. The Saudi stock market was tanking, and IMF estimated its fiscal breakeven to be $78. Along with the distress in its local economy, its 2030 vision required the full valuation of Saudi Aramco (Private:ARMCO) in 2018. That wouldn't have happened if sentiment around the oil industry remains pessimistic.
To us, this OPEC deal officially starts the bull trend in oil prices. Sentiment shift among OPEC members along with incentives being aligned leads us to believe that we will see much higher oil prices ahead. Because this production cut will only last six months, we don't think it will be hard to implement or monitor. In addition, if non-OPEC does stick to the 600k b/d cut, that would mean a total reduction in supply of 1.8 million b/d. Our variant perception up to this point has been that the oil markets are actually already in a minor deficit of about 300k b/d. If we add the 1.8 million b/d supply reduction on top, it would be a deficit of over 2 million b/d. This will accelerate the storage draw process, and we currently estimate storage to normalize by May 2017 or when OPEC is expected to have its next semi-annual meeting.
We plan to write a detailed update to premium subscribers today, and if you enjoy our public articles, we are certain you will enjoy our premium research as well. You can join premium here.
Disclosure: I/we have no positions in any stocks mentioned, and no plans to initiate any positions within the next 72 hours.
I wrote this article myself, and it expresses my own opinions. I am not receiving compensation for it (other than from Seeking Alpha). I have no business relationship with any company whose stock is mentioned in this article.