Welcome to the November 2016 edition of EV company news. There has been plenty of exciting EV market news, and October delivered the fourth best ever EV sales month globally, albeit a slowdown from last month.
Global EV sales - as of end October 2016
Global EV sales slowed a bit in October 2016 with 64,000 sales, up 23% year on year compared to 2015. Global EV sales are heading towards around 750,000 for the year (currently at 580,000), representing about 1% of the global market share.
China led the way again with 32,000 sales in October, up 46% over the same month last year. Chinese EVs now have 1.4% market share. Chinese EV sales are on target to deliver around 375,000 EVs in 2016. Current subsidies will start being phased out, reducing by 20% in 2017.
Europe performed solidly again with 17,000 EVs sold in October 2016, 1% lower than the same period in 2015, as some incentives have been withdrawn.
US had a good month in October with over 10,000 sales, up 9% on 2015 levels.
Global EV sales by manufacturer by end October 2016 and ytd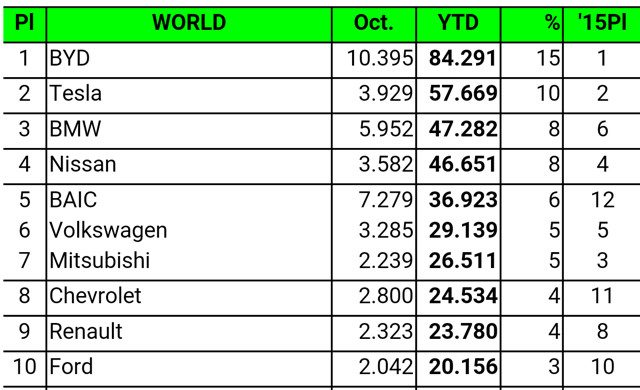 Click to enlarge
Source: EV Sales
NB: Tesla (NASDAQ:TSLA) sales are estimated each month by EV Sales, and are then updated quarterly as Tesla does not release monthly sales.
EV market news for November 2016
As reported by the Washington Post, executive director of the International Energy Agency (IEA) Fatih Birol said: "Electric cars are happening", in a recent interview in London. He also said,
"their number will rise from little more than 1 million last year to more than 150 million by 2040."
Now that is an amazing admission by the IEA, but will prove to be way too pessimistic (of course) towards EVs.
The IEA also says,
"In the next 25 years, gasoline consumption will drop 0.2 percent, according to the new IEA calculations. While the number of passenger vehicles will double to 2 billion by 2040, the amount of oil we use for cars will be lower than today."
Meanwhile in California, the State is about to achieve 250,000 plug in electric cars sold. California is certainly leading the US in that area.
California 250K plug in vehicle cumulative sales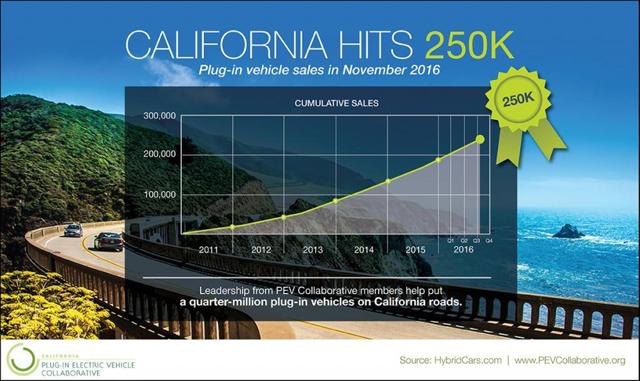 Click to enlarge
(Source)
At the November 2016 Mines and Money Conference in London, Pala Investments' Anthony Milewski said,
"I believe analysts are underestimating the demand for EVs in the US and the speed at which consumers will buy EVs." He also said, "the most interesting way to play the EV story on the basic materials side is cobalt."
On November 29, the White House hosted an EV "datathon", with the "goal of devising ways to use data to increase electric-car adoption." You can read more here.
Internal Combustion Engine (ICE) vehicles banned from 2030 in Germany
Germany's Bundesrat has banned the internal combustion engine by 2030. The Bundesrat is the federal council of all 16 German states. Ars Technica reports: "The resolution is non-binding, but it's still a powerful signal, and applies to gas and diesel vehicles... It will apply only to cars at this stage."
Other countries have recently considered banning fossil-fuelled cars; Norway's four main political parties are debating whether to ban petrol and diesel cars by 2025, as has the Netherlands. Paris has also banned all pre-1997 cars, and a ban on diesel cars in London has gained traction.
England has a "2018 deadline by which all new taxis in the UK capital will need to be emission-free."
EV Company news for November 2016
BYD Co. (HK:1211) (OTCPK:BYDDF) (OTCPK:BYDDY)
BYD Co. announced 3Q earnings on 31 October 2016. Q3 net profits were down 6% on last year. "The company predicts that full-year profits would rise 77.09% to 84.17%."
On November 22, Green Car Reports reported:
"BYD partners with U.S. firm to launch all-electric garbage truck...The 3.9-ton truck has a driving range of 100 miles, according to BYD, and takes 2.5 hours to recharge....The automaker believes the truck could cut operating costs by 58 percent, as well as eliminating the health risk of diesel trucks spewing exhaust fumes as they drive slowly up and down neighborhood streets."
The US firm is Wayne Engineering, which specializes in garbage-truck bodies. You can read more about BYD's expansion into electric trucks in my recent article here.
Tesla Motors
On November 7 Tesla announced:
"For Teslas ordered after January 1, 2017, 400 kWh of free Supercharging credits (roughly 1,000 miles) will be included annually so that all owners can continue to enjoy free Supercharging during travel. Beyond that, there will be a small fee to Supercharge which will be charged incrementally and costs less than the price of filling up a comparable gas car. All cars will continue to come standard with the onboard hardware required for Supercharging."
We may see a burst of Tesla fleet vehicle buyers to beat the January 1 deadline, and have unlimited free supercharging.
On November 17, Tesla announced:
"Tesla's shareholders have overwhelmingly approved our acquisition of SolarCity. Excluding the votes of Elon and other affiliated shareholders, more than 85% of shares voted were cast in favor of the acquisition."
Tesla also recently launched solar roof tiles, Powerwall 2 and Powerpack 2.
Renault Nissan (OTC:RNSDF) (OTCPK:NSANY)
On November 8, CNBC reported:
"A low-cost $8,000 electric car produced by automaker Renault-Nissan could come within in the next two years."
The price mentioned would be after subsidies, and focused on the China low-end market, which they say is "where the market is moving."
Mahindra (OTC:MAHMF)
On October 28, CleanTechnica reported: "Mahindra Launches 4-Door "e2o Plus" (in India) - $8,100 All-Electric Vehicle", designed to be a smart city car. That price is after subsidies and the cheapest version. The price range for the different versions will range from "$8,100 to $12,600." The electric motor size is indicated to range from 19-31 kW. The top model P8 is capable of "a range of up to 140kms, and can achieve a top speed of 85km/h. It can accelerate from 0-60 km/h in 9.5 seconds. It is fitted with 'Fast Charging' as standard, which recharges the battery pack in 1.5 hours." The car is now on sale in India.
Mahindra e2o all-electric EV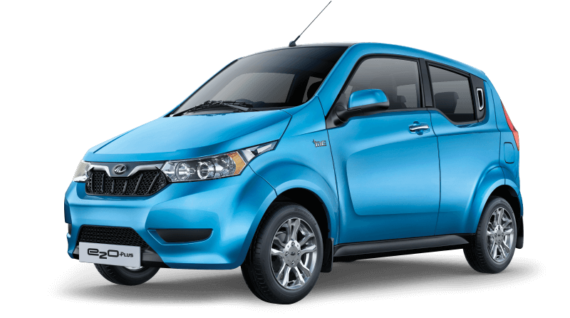 (Source)
BMW (OTCPK:BAMXF)
On November 29, BMW announced:
"BMW Group, Daimler AG, Ford Motor Company, and Volkswagen Group with Audi & Porsche plan a joint venture for ultra-fast, high-power charging along major highways in Europe."
This shows the incumbent manufacturers are now serious about EVs.
Mitsubishi (OTCPK:MSBHY) (OTCPK:MMTOF)
Mitsubishi has the cheaper 2017 all-electric 16 kWh iMiEV coming out for US$22,995, with limited range of just 62 miles. Let's hope 2018 brings a substantial increase in range.
Volkswagen group (OTCPK:VLKAY), Audi (OTCPK:AUDVF), Porsche (OTC:POAHF)
Volkswagen plans to release the 35.8 kWh e-Golf in 2017, which I expected to have an EPA range of around 124 miles. Note, in September, Clean Technica reported, "Volkswagen upgrading battery pack sizes of several electric models in 2017."
On November 18, Bloomberg reported:
"Volkswagen agrees deal with unions to cut 30,000 jobs....The cuts came with a management pledge to create 9,000 new jobs in the area of battery production and mobility services at factories in Germany as part of efforts to shift towards electric and self-driving cars."
On November 21, Electric Car News reported that
"VW to invest €3.5B in battery cell & modular electric drive plant....A pilot plant for battery cells and cell modules is to be developed. Volkswagen will be investing €3.5 billion in the transformation of the company."
Volkswagen ID series electric concept car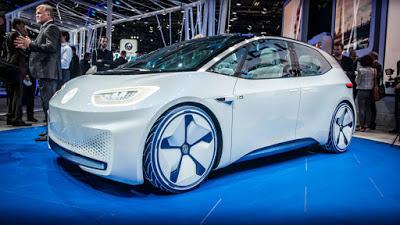 (Source)
BAIC (HK:1958) (OTC:BCCMY)
BAIC has had a great past few months outselling BYD in China for the number one best-selling car model, with its EU 260 model. BYD still leads the China ladder for top selling manufacturer, and ytd sales.
Kandi Technologies Group (NASDAQ:KNDI)
On November 14, Kandi announced "appointments of new chief strategy officer and chief financial officer.....Mr. Wang Cheng (Henry) and Mr. Mei Bing."
General Motors/Chevrolet (NYSE:GM)
On November 5, Phys.org reported; "GM starts producing 200-mile electric Chevrolet Bolt.....starting at $37,495 before a $7,500 federal tax credit, will go on sale in California and Oregon before the end of the year." And, "analysts say the Bolt's 238-mile range on a single charge, plus a net price of around $30,000, should make it an attractive alternative to cars with internal combustion engines." I agree. I think the Bolt will do a lot better than what many expect.
Retiring President Obama sitting in the 2017 Chevy Bolt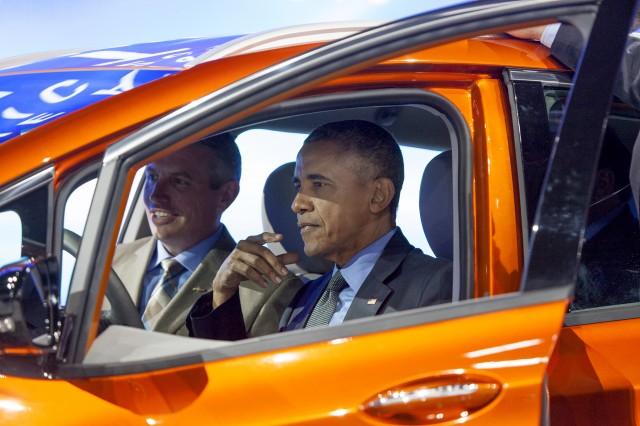 (Source: Green Car Reports)
Ford (NYSE:F)
On November 23, Green Car Reports announced some details on the 2017 Ford Focus Electric (33.5kWh). It said it will have "a range of 115 miles, and it now offers DC fast-charging capability as standard."
Geely Automobile Holdings Ltd (HK:0175) (OTCPK:GELYY), Volvo (OTCPK:VOLVY)
Zhejiang Geely Holding Group Company (the private parent company of Geely Automobile Holdings Ltd.), the owner of the London Taxi Company (and Volvo), recently secured $400 million to finance the electrification of its taxi fleet.
On November 2, The Financial Times announced,
"Volvo is to share a factory in China with parent Geely, the first time that Chinese and foreign marques will be made on the same mainland production line."
Daimler-Mercedes (OTCPK:DDAIF) (OTCPK:DDAIY)
No new news for Daimler-Mercedes that I could find. However, in September Reuters reported that they "plan to launch at least six new EVs, and possibly as many as nine...that they would bring to market between 2018 and 2024." Their plan includes "a 500-kilometer (310-mile) range" all-electric model. That certainly would be an impressive range.
Hyundai (HYMLF) (OTC:HYMTF)
On November 11, Forbes announced: "2017 Hyundai Ioniq, Company's first dedicated electrified vehicle platform arrives in December." The Ioniq comes with a 100% electric version and an 88-kW drive motor, 28kWh battery with 124 miles of range. The company has said it expects the Ioniq to get close to 150 miles of range, and EPA-rated range of about 110 miles. Test reviews showed 140 miles of range. It has 80% fast charge capability in 30 minutes. It also comes in a hybrid version. "Hyundai is also developing a liquid cooling battery system, which will be used with an upgraded version of the Ioniq that has a range of more than 200-miles and is scheduled to launch in 2018." Hyundai "intends to have 28 high-voltage electrified vehicles by 2020", including "eight BEVs". The 2017 Ioniq has had strong reviews. NiceCarsInfo stated, "the model posts a very low coefficient of drag at 0.24 making the model one of the most aerodynamic cars on the market." The Ioniq is to be priced in the UK at £28,995 ($37,900 USD). This may need to come down if it wishes to compete successfully with other new entrants such as the GM Bolt, especially given the Bolt has a 60kWh battery and 238 miles of range all for USD 37,500 before incentives.
On November 21, Green Car Reports reported that, "Hyundai Ioniq electric beats Prius Prime, BMW i3 on energy efficiency." More good news for Hyundai.
2017 Hyundai Ioniq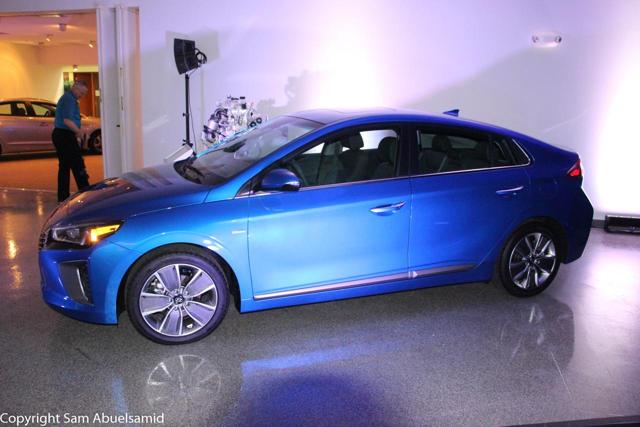 Click to enlarge
(Source)
Kia (OTC:KIMTF)
On November 19, Green Car Reports reported that the "2018 Kia Soul EV to get range boost to keep pace." The 2017 Kia Soul has an EPA-rated range of just 93 miles. However, the 2018 version is suspected to get an extension on this. No details just yet.
Toyota (NYSE:TM)
Fortune recently reported: "Toyota Motor is looking at mass-producing long-range electric vehicles (EVs) that would hit the market around 2020." And, "by adding longer-range EVs to its product range, Toyota would be changing its tune from promoting plug-in petrol-electric hybrid cars and hydrogen fuel-cell vehicles ((FCVs)) as the most promising alternative to conventional cars."
A similar Reuters article stated:
"Toyota would set up a team in early 2017 dedicated to developing electric cars that can travel more than 300 km (186 miles) on a single charge."
You can read more here. Great news that Toyota finally joined the party.
Honda (NYSE:HMC), (OTCPK:HNDAF)
In October, Honda showed its new single-seater 100% electric vehicle prototype at the CEATEC Consumer Electronics Show in Japan. Very cute.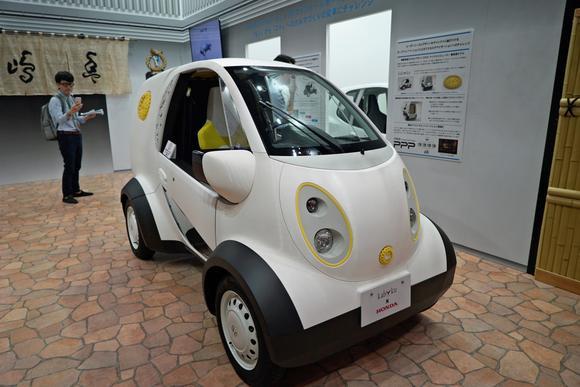 (Source)
Honda plans in 2018 to have a battery electric vehicle (BEV), a hybrid electric, and a fuel cell vehicle all under the Honda Clarify name, and using the same platform. For now, the 2017 Honda Clarify is only a hydrogen fuel cell vehicle. Specs on the 2018 BEV are still scarce, but you can find out some information from Honda here.
Mazda (OTCPK:MZDAY) (OTCPK:MZDAF)
On November 17, CarAdvice announced that Mazda will "introduce electric vehicles by 2019, as it sees the sales of electric cars comprising around 10 per cent of the global car sales by 2020". The article later goes on to say Mazda sees 5-10% of cars will be pure electric by 2020. I find that most interesting as a traditional internal combustion engine (ICE) company stating 5-10% EVs by 2020. I say this as most ICE or oil related companies normally give substantially lower numbers around 1-3%. The 5-10% EVs by 2020 is getting nearer to my target of 8-10% EVs by end 2020, as you can read in my article "Electric Vehicles Will Be Affordable And Popular By 2020 - An EV Portfolio To Consider".
Faraday Future (TW:3035)
On November 18, Green Car Reports reported, "Faraday Future halts factory work, hopes to resume early 2017." And also, "Faraday Future backer LeEco is running out of cash, CEO admits."
Lucid Motors (formerly Atieva) (OTCPK:LCDX)
On November 15, Engadget reported, "Lucid Motors' super-secret car makes an appearance." And the "sedan will have a 300-mile range and potentially fully autonomous features when it launches." Apparent the army style camouflage is only temporary. Maybe it will get some military sales.
Lucid Motors all electric luxury sedan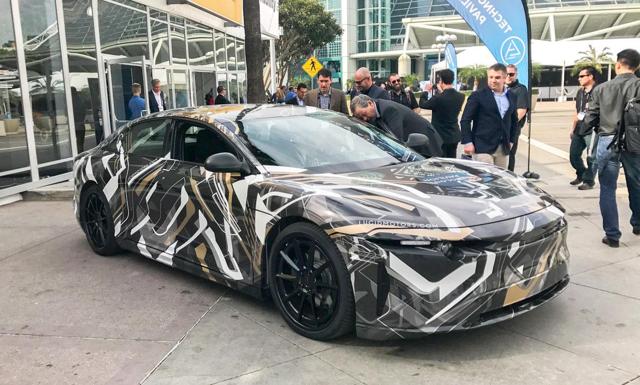 Click to enlarge
(Source)
Conclusion
EV sales have continued strongly throughout 2016, and are set to do even better in 2017, with the arrival of the affordable long-range EV. You can read more in my recent article: "Electric Vehicles Set To Electrify The Market In 2017."
2016 has seen a fairly widespread acceptance by the ICE companies that EVs are coming, and coming fast. Many of the German and Japanese ICE giants finally woke up in 2016, and will show their full EV force in the years leading up to 2020. Certainly the Volkswagen emissions and diesel scandal has helped the EV cause, but more than that was Tesla outselling the ICE companies that really jolted them into action. Of course, Government rules and incentives have also played a big part.
I will finish by quoting a November headline from a CNBC article I read today - "'Bottled fresh air' from Canada, NZ fetches over $30 in smog-hit China". This article only convinces me further of the urgent need we face to clean our air and switch to clean energy and EVs. Or perhaps we should be living in Canada or NZ and selling fresh air.
As usual all comments are welcome, and if you have some EV news from November that I have not covered, feel free to add it in with the link.
Disclosure: I am/we are long BYD CO (HK:1211).
I wrote this article myself, and it expresses my own opinions. I am not receiving compensation for it (other than from Seeking Alpha). I have no business relationship with any company whose stock is mentioned in this article.
Additional disclosure: The information in this article is general in nature and should not be relied upon as personal financial advice.
Editor's Note: This article discusses one or more securities that do not trade on a major U.S. exchange. Please be aware of the risks associated with these stocks.