ARCA Biopharma (NASDAQ: ABIO) is a development stage biotech company that has been beaten down over several decades. Their flagship therapeutic candidate, Gencaro® is a beta-blocker that has seen multiple efficacy issues in outcomes measures. Furthermore, an unfavorable efficacy profile for Gencaro® and issues with study performance at multiple clinical sites led to a 2009 CRL for the use of the drug in Chronic Heart Failure (CHF). ARCA has weathered these storms and emerged with new direction, but they have been scantly analyzed and covered to date allowing major price erosion to continue unabated since the 2009 clinical failure (Figure 1). The low value of this company appears to be derived from past failures. Current positioning and future opportunities tell another tale and a new look at ARCA reveals an attractive risk/reward balance.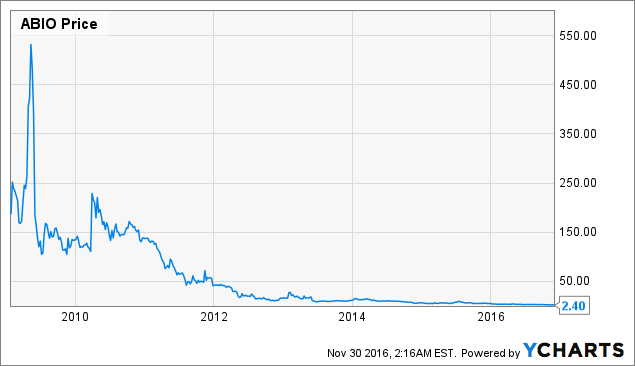 Figure 1. ARCA share price since 2009.
In ARCA Biopharma you've got a company with a late stage clinical candidate, $23.8M in cash and marketable securities, $28.7M in total assets with only $2.2M in liabilities, yet somehow ARCA commands a valuation of only $21.3M. Essentially, the company is worth less than its short term asset position. Factor in the substantial additional potential tied up in clinical trials and that's an attractive figure. Cash will, of course, be spent to continue to fund clinical trials. Over the next 9 months, at the current rate of consumption, ARCA will spend approximately $15.1M of cash and short term assets. If that investment fails to produce suitable clinical data investors are tuck with a downside valuation on assets alone of around 50%. Fortunately, the 3Q2017 timeline on the release of interim results from ARCA's pivotal GENETIC-AF study means there is no requirement for additional fundraising prior to a major catalyst for the company. In the event of positive interim data additional financing would be required in order to continue clinical operations toward regulatory approval. At a cost of nearly $30M to take the first 150 patients to the study's primary endpoint, this would mean an estimated additional $75M to complete the study. This round of financing is likely to be dilutive to investors as the company typically raises money through the sale of equity or convertible debt. However, positive momentum for a company that is being valued on a failure from 7 years ago would serve as a major catalyst and mitigate damaging effects of additional working capital requirements for continued clinical operations. Other sources of dilution including options and warrants do exist, but at exercise prices range from 260% to over 3700% of the current share price would, again, only come into play in the event of already substantial gains to shareholders. All factors considered, the current valuation and timing present an opportune entry point for ARCA. Furthermore, a deeper look at current operations reveals a very asymmetric upside potential.
ARCA Biopharma's Clinical Past, Not Future, is Likely Trampling Company Value
ARCA has been around for well over a decade and has yet to achieve regulatory approval despite extensive clinical trial experience. Their lead clinical candidate Gencaro® has been extensively studied, but unfortunately has suffered a rash of failures on the back of poor efficacy data and issues with methods employed in a pivotal clinical trial. Early studies published in 2001 and 2003 examined the efficacy of Gencaro® at enhancing survival in patients suffering from late-stage heart failure with reduced ejection fraction (HFREF). In both studies, Gencaro® failed to show any benefit above placebo. Things then appeared to be on the upswing as Gencaro® moved through clinical trials and focused on mild and moderate HF patients. However, in 2009 following completion of the Phase III BEST trial and NDA submission the FDA issued a CRL, rejecting Gencaro® and citing, amongst other things, improper study performance at several of the company's clinical sites. It seems that based upon these past failures, the market has valued ARCA based upon the sunk costs bore by previous equity holders. With new management in place since failures, and a new clinical strategy, this equates to big opportunities for ARCA investors.
Gencaro® Is Back On Track For Positive Clinical Outcomes - Preliminary Significant Clinical Efficacy Achieved
Things get interesting now. With almost no coverage of this stock, favorable efficacy data has been almost entirely ignored, and potential for favorable clinical outcomes seems to have been completely missed. In a 2013 study, ARCA turned to personalized targeted treatment trends to find a home for Gencaro®. By turning their attention to patients expressing a beta-1 389 arginine homozygous genotype, as well as subsets of atrial fibrillation (AF) and sinus node (SN) patients, ARCA finally found its niche. In the recent study, Gencaro® administration resulted in a significant reduction in cardiovascular hospitalization/mortality (hazard ratio (HR) 0.79 and 0.61 respectively) in AF and SN responders (heart rate returned to <80 bpm). A significant reduction in all-cause mortality/heart failure hospitalization and cardiovascular mortality/hospitalization was also observed in beta-1 389 arg/arg patients (hazard ratio 0.23 and 0.28 respectively). This data was the basis for the Phase IIB/Phase III pivotal clinical trial GENETIC-AF.
Ongoing Clinical Trials Are Now Supported By Specific Protocol Approval, Fast-Track Designation, and State Of The Art Data Collection Devices
Following failure to achieve regulatory approval in 2009, ARCA went back to work, redesigning their studies with increased FDA input and oversight to enhance their probability for clinical success in round two. The overall study design for the current round of clinical trials in individuals with beta-1 389 arg/arg genotype received specific protocol approval (SPA) from the FDA 2010. SPA means that the FDA agrees in principle that the study design, endpoints, and analysis are suitable to evaluate the drug for regulatory approval. Earlier last year, ARCA also received Fast-Track designation from the FDA. Essentially, Fast-Track designation creates a formal process for increased interaction with the FDA to facilitate continued appropriate clinical performance. It also creates eligibility for a number of accelerated approval mechanisms.
To enhance reliability of data collection, ARCA has also partnered with Medtronic (NYSE: MDT) to allow for continuous cardiac rhythm monitoring to reliably confirm symptomatic AF or atrial flutter (AFL), one of the principle clinical endpoints for the GENETIC-AF study. Additionally, it will allow the company to measure overall AF burden or time spent in AF, a secondary endpoint of the study. Continuous monitoring is achieved using either previously implanted cardiac-resynchronization or defibrillation devices or newly implanted devices called Reveal® loop recorders.
The GENETIC-AF Pivotal Phase IIB/Phase III Clinical Trial Study Design
GENETIC-AF is a Phase IIB/III study designed to evaluate the safety and efficacy of Gencaro® vs. Toprol-XL, a commonly prescribed beta-blocker for HF patients. The Phase IIB study has an estimated enrollment of 250 patients. The overall study is an adaptive design, meaning that favorable data in the Phase IIB arm will trigger enrollment of an additional 420 patients to generate sufficient data in a pivotal Phase III evaluation of the drug.
Patients enrolled in the study are adults with mild to moderate HFREF with at least one episode of AF within 180 days of study enrollment. Patients also express the beta-1 389 arg/arg genotype. The primary study endpoint is time to first incidence of symptomatic AF/AFL or all-cause mortality during the 24 week follow-up period post establishment of stable sinus rhythm while on study drug. Many additional endpoints related to AF burden, all-cause mortality, other cardiovascular issues, or overall safety profile are being measured that can be found on the official clinical trial description.
Progress to Date
Current enrollment in GENETIC-AF is 125 patients. Data is pending enrollment and study completion of at least 150 patients which is anticipated in 1Q2017. This enrollment estimate places Phase IIB interim efficacy analysis in 3Q2017. Following this analysis, the GENETIC-AF Data Safety Monitoring Board (DSMB) will conduct an interim efficacy, safety and futility analysis of data from at least 150 patients with evaluable data. This analysis will determine whether or not the company will proceed to the phase III portion of the study.
Gencaro® Addressable Market Info
AF occurs in 10-40% of patients with chronic HF (HF) and has been associated with poor outcomes including death and HF progression. Overall incidence of AF is around 1% of the population or 2.7 million people in the United States with 250,000 to 500,000 new cases diagnosed each year (ARCA Internal Estimates). The beta-1 389 arg/arg genotype occurs in approximately 50% of the population. Price per month for similar drugs is between $10-200 per patient. Gencaro® would be expected to fall somewhere in the midst of that range to remain competitive.
There is heavy competition in this market, but prescribing is fragmented and many drugs have achieved a moderate market share. Beta-blockers for treatment of patients with mild HF command large revenues of up to $400M. Toprol-XL, the comparator drug in GENETIC-AF was recently acquired by AstraZeneca (NYSE:AZN) for $175M and is on a $110M run this year. Peak revenues for the drug were $1.6B in 2006. Gencaro® has a number of advantages over these legacy drugs that should prove marketable. These advantages include a unique mechanism of action which decreases norepinephrine and deactivates constitutively active adrenergic receptors. Furthermore, Gencaro® has a superior safety profile to many existing beta-blockers which have toxic or cardiovascular adverse effects in HF patients. Assuming that Gencaro® performs well against Toprol-XL in GENETIC-AF it would be safe to assume that it could command a sizeable market share. Although not as large as Toprol-XL while on patent, it would be safe to attribute a peak 10% market penetration or 270,000 patients. 270,000 patients equates to annualized peak revenues of over $200M. Although not a blockbuster, this level of revenue potential paints a very attractive picture for a company with a sub $25M valuation.
Summary: ARCA's Current Valuation Presents Attractive Risk/Reward Profile
ARCA is a rare preclinical company. The company valuation is extremely low but risk is low and return potential is huge. Normally the sub $100M valuation of this sort is reserved for companies with little clinical data or almost certainly on the verge of failure. However, here, you have a company that has made a comeback and is being valued on the sunk costs of previous investors. Most companies with late-stage preclinical candidates are valued at between $200M and $1-4B. All it should take is positive interim data in 3Q2017 to advance ARCA into Phase III clinical trials and bring share prices into this range representing a sizeable gain from current value even with an additional $75M in dilution. ARCA has a real shot at delivering such data. The company's new clinical strategy that is built around proven performance in a targeted patient population creates a good probability for clinical success. As far as downside is concerned, over the same period of time, ARCA will burn through $15M of its $29M in assets, so if everything goes unimaginably bad, there's a downside, and while large, it is much asymmetrical in comparison to gains to be made. The bottom line with ARCA is that the lack of coverage of this company has potentially created a heavily skewed valuation, and a great opportunity for new investors.
Disclosure: I/we have no positions in any stocks mentioned, and no plans to initiate any positions within the next 72 hours.
I wrote this article myself, and it expresses my own opinions. I am not receiving compensation for it (other than from Seeking Alpha). I have no business relationship with any company whose stock is mentioned in this article.
Editor's Note: This article covers one or more stocks trading at less than $1 per share and/or with less than a $100 million market cap. Please be aware of the risks associated with these stocks.