As many of you know, I recently completed a new book called The Trump Factor: Unlocking the Secrets Behind the Trump Empire.
In my book, I personally visited each property owned by President-Elect, Donald J. Trump. It took me over three years to tour the buildings and golf courses, mainly because I was self-funded, and I wanted to keep my book completely independent, with no conflicts of interest.
I told President-Elect Trump when I started the book that I wanted to be the only author to write a book with no partiality.
Being neutral is important for any writer, especially an analyst, who relies on data to provide opinions related to recommendations.
Case in point, I stayed over a week in Las Vegas last year. I stayed at Trump's Las Vegas hotel and if the room was free, it could have influenced my research. It was important for me to build my book around unbiased research so that it would not impact my conclusions related to the property.
Simply put, my book is not a puff piece, as I steered away from the glamour to showcase the true "secrets behind the Trump Empire." To date, I am the only author who has penned a Trump book with all the business deals, including the well-documented failures.
Over the years of writing on financial securities, I have found that readers respect writers who provide fact-based research. As many of you know, the internet is littered with stock picks in which analysts offer differed opinions and motivations. I have found that investors find the most comfort with writers whom they can trust, who have no conflicts of interest, with an alignment of interest to protect principal at ALL costs.
When it comes to the President of the United States, independence is a must, and Donald J. Trump recognizes that he must bifurcate his business Empire from his new role as commander-in-chief. Hope Hicks, campaign spokesperson for Trump, said,
We are in the process of vetting various structures with the goal of the immediate transfer of management of the Trump Organization and its portfolio of businesses to Donald Jr., Ivanka and Eric Trump as well as a team of highly skilled executives. This is a top priority at the organization and the structure that is ultimately selected will comply with all applicable rules and regulations.
Critics say that falls far short of the standard - transferring Trump's business to his children would mean he'd no longer have to list those assets on his annual financial disclosure form, but it would not relieve the conflict-of-interest problem.
As I write in my book, Donald Trump has a particularly complex array of business assets, including hotels, golf courses and large residential towers. It would be difficult (perhaps impossible) for him to sell off the empire in a few weeks.
One of the easiest deals he could do, in my opinion, is to sell his 30% in 1290 6th Avenue of the Americas and 555 California Avenue (in San Francisco) to Vornado Realty (NYSE:VNO). The two are partners in the office towers, but Trump would be subjected to large capital gains as he swapped into these two buildings using the 1031 Tax Exchange code. A better method is using VNO's currency and structuring the deal using an UpREIT vehicle such that Trump owns shares in VNO versus a partnership interest in the buildings.
I wrote on VNO here and here's how the company looks using FAST Graph: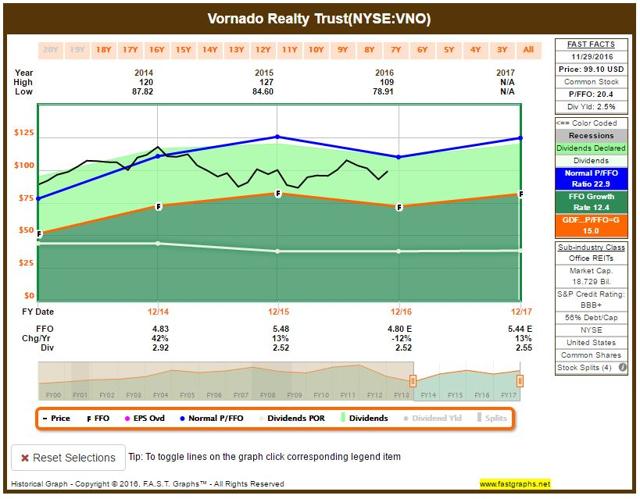 Click to enlarge
Although VNO is relatively expensive (dividend yield just 2.5%), I believe Trump should consider utilizing VNO's currency. Shares could be held in a Blind Trust vehicle and this would eliminate a splinter of the conflicts of interest.
As I write in my book, I know all of Donald Trump's kids (the oldest three) and I believe they would all be ideal executives and board members of the new entity. However, I believe Trump needs more distance from the deals in which his kids are orchestrating. In other words, I believe Trump should bring in new executives to take the company to the next level, or as I wrote in my book,
No other brand in the world enjoys such an advantage in keeping up with the mood during these fast-moving times.
Just like Trump's proposed new wall bordering Mexico, Trump must build a wall around the Trump Organization, making sure that politics and business are completely isolated from one another and that there are no conflicts of interest that would impede the objective of the commander in chief - to protect Americans at all costs.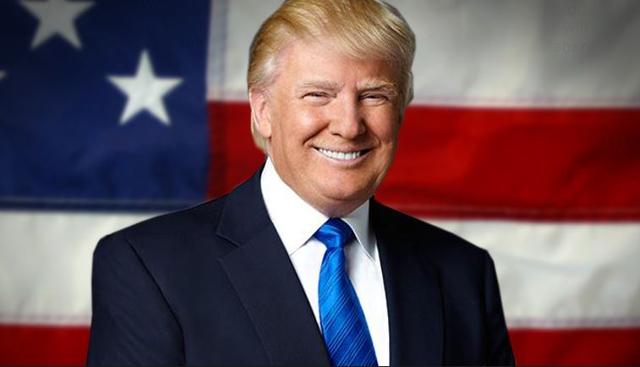 Click to enlarge
Investors Should Also Avoid Conflicts At All Costs
As my loyal readers know, I spend a lot of time researching REITs that are managed both internally and externally. I favor internally-managed REITs for many reasons, namely the fact that they have dedicated management teams with an alignment of interest with investors.
One of the biggest reasons that I tend to avoid externally-managed REITs is because of their conflicts of interest. A few weeks ago, I wrote on RMR Group, Inc. (NASDAQ:RMR):
Most all the client companies (TA, FVE and Sonesta) have overlapping investment objectives, and some of these companies have material business relationships with each other that could give rise to conflicting interests.

Also, in addition to serving on RMR's of Directors and executive team, at least one of RMR's founders also serves on the boards of each of the client companies. Many of the executive officers of the client companies are also officers.

These multiple responsibilities and varying interests could create competition for the time and efforts of RMR and its founders, and actual, potential or perceived conflicts of interest may arise.
Other REITs with externally-managed platforms include Bluerock Residential (NYSEMKT:BRG), Gladstone Commercial (NASDAQ:GOOD), and Gladstone Land (NASDAQ:LAND). We own shares in a few externally-managed REITs such as New Senior (NYSE:SNR), Preferred Apartment Communities (NYSEMKT:APTS) and Blackstone Mortgage (NYSE:BXMT).
When you compare externally-managed REITs with internally-managed REITs, they (externally-managed REITs) underperform based on many reasons: (1) corporate-level expenses and especially interest expenses are responsible for lower levels of cash available to shareholders (FFO), (2) higher interest expenses are due to both higher levels of debt and higher debt yields for externally advised REITs.
Conflicts of interest can be best understood when you consider the compensation derived from the external managers based on either assets under management or on property level cash flows. Most externally-managed REITs create incentives for managers to increase the asset base, by issuing debt even if the interest costs are unfavorable.
When you compare the weighted cost of capital (or WACC) for externally-managed REITs like HPT or GOOD, it's clear that investors in these stocks are taking on outsized risks for subpar returns. Oftentimes the chase for yield in the stock market leads to the same thing that all such chasing leads to - impulsively reacting to dividend quantity over dividend quality.
As I wrote on Investopedia, a "sucker-yield" is based on quantifiable high yields, seemingly ridiculous, when the underlying security has a flawed or vulnerable business model. Companies that fall under the "sucker-yield" definition typically have unpredictable and unreliable earnings histories with unsafe dividend payouts.
In closing, I expect that President-Elect Donald Trump will do that right thing by putting Americans first. Having recently finished my new book on all his businesses, I suspect that the billionaire President will put together a team of experts to ensure that his legacy brand is protected for future generations. As I wrote,
Because of the brand's emphasis on quality and luxury, the brand narrative has the power to transform itself repeatedly in the years to come. The immortal durability of Donald Trump's brand will likely prove to be the ultimate expression of The Trump Factor!
Author Note: Brad Thomas is a Wall Street writer and that means that he is not always right with his predictions or recommendations. That also applies to his grammar. Please excuse any typos and be assured that he will do his best to correct any errors, if they are overlooked.
Finally, this article is free and the sole purpose for writing it is to assist with research, while also providing a forum for second-level thinking. If you have not followed him, please take five seconds and click his name above (top of the page).
Disclaimer: This article is intended to provide information to interested parties. As I have no knowledge of individual investor circumstances, goals, and/or portfolio concentration or diversification, readers are expected to complete their own due diligence before purchasing any stocks mentioned or recommended.
Disclosure: I am/we are long O, DLR, VTR, HTA , STAG, GPT, ROIC, HCN, OHI, LXP, KIM, WPC, DOC, EXR, MYCC, TCO, SKT, UBA, STWD, CONE, BRX, CLDT, HST, APTS, FPI, CORR, NHI, CCP, CTRE, WPG, KRG, SNR, LADR, PEB, BXMT, IRM, CIO, LTC, DEA, NSA, HASI, VER.
I wrote this article myself, and it expresses my own opinions. I am not receiving compensation for it (other than from Seeking Alpha). I have no business relationship with any company whose stock is mentioned in this article.