According to market research firm Localytics, Google's (NASDAQ:GOOG) (NASDAQ:GOOGL) new Pixel smartphones "won" black Friday compared to Apple's (NASDAQ:AAPL) iPhone 7. Does this mean that Google sold more phones than Apple? No, not even close.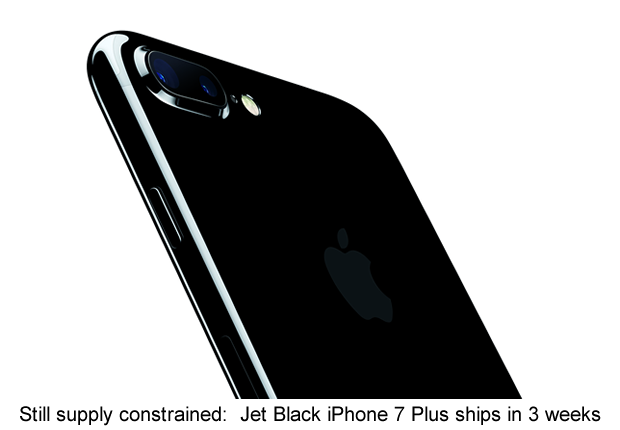 Source: Apple
Pixel Spin
The desire to paint Pixel as a runaway hit while iPhone sales supposedly languish was very evident in Fortune's misleading take on the Localytics data: "Google Pixel Trounced Apple's iPhone Over the Holiday Weekend". The justification for this assertion was the Localytics blog piece that claimed that device activations were up 112% for Pixel, but only up 13% for iPhone 7 over the Black Friday weekend.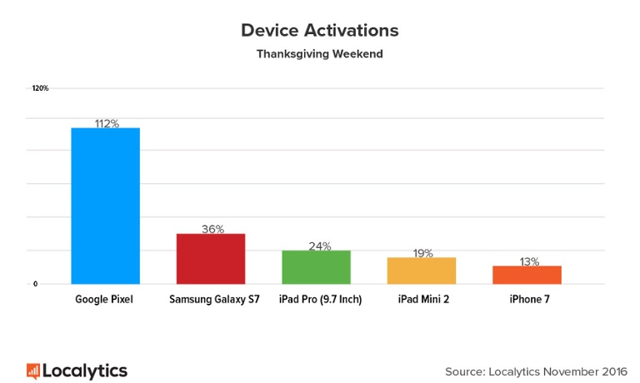 Click to enlarge
The numbers look impressive, until one asks the simple question: Activations were up compared to what? Localytics explained that this was compared to the previous four weekends' sales. That still sounds very impressive until one considers the total number of devices in question.
According to Morgan Stanley, Google is expected to sell about 3 million Pixel phones in the December quarter, and 5-6 million in all of 2017. Apple will probably sell about 75 million iPhones (all models) in the December quarter, which I estimate about 2/3 being the newer iPhone 7 models, for 50 million.
This means an approximate average weekly sales rate of 250,000 Pixel phones compared to over 4 million iPhone 7s per week, a ratio of more than 16/1. Assuming that Localytics numbers are correct, then the number of Pixel phones sold during Black Friday weekend surged to about 530,000 compared to iPhone 7's meager 4.7 million.
This is a great example of how the business media manipulates market research data in order to make Apple look bad in the eyes of investors. Clearly, Apple has the law of large numbers working against it here, but that is never acknowledged.
Localytics also published data purporting to show that iPhone 7 and 7 Plus not showing as much of a gain on Black Friday as last year's iPhone 6s and 6s Plus.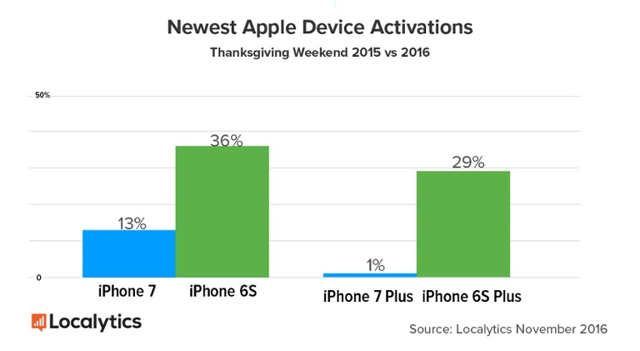 Click to enlarge
Now, does anybody in the known universe think that iPhone 7 will not outsell iPhone 6s in the December quarter? So what conclusion are we supposed to draw from the above chart? That iPhone 7 is a flop? Come on. The data is especially suspect since iPhone 7 Plus sales have been a much larger percentage of iPhone 7 total sales than in previous years.
Kuo's Galaxy Quest
KGI Securities analyst Ming-Chi Kuo has issued yet another note to investors repeating his predictions that the next "iPhone 8" will feature a curved OLED screen, a glass back, and wireless charging. He claims that these features will drive "unprecedented replacement demand".
Apple fans may not be aware of this, but what Kuo is describing, in terms of outward features, is the Samsung (OTC:SSNLF) Galaxy S7 Edge. The not so subtle message to investors is that Apple needs to build an iPhone copycat of the S7 Edge. This is what will drive sales, according to Kuo.
It's another way of saying that no one should/would want an iPhone 7 since it's not like the S7 Edge. This is just another variant in the ongoing Kuo narrative that began early this year with his finding that iPhone 7 would lack "compelling new features" since it didn't have a curved OLED screen, a glass back, and wireless charging. Like the S7 Edge.
Okay Ming-chi, we get it. You really think the S7 Edge is cool. You really think Apple should build a phone like it. Why keep repeating yourself?
Because... if something is repeated enough times on the Internet, it will be accepted as true.
Thus the Wall Street Journal runs yet another story based on "supply chain" sources claiming that Apple will adopt OLED for next year's iPhone. This is basically the same story that has been coming out of Korea since the beginning of the year. The more versions of it I see, the more I'm convinced that Samsung is behind it:
But LG Display, Japan Display and Sharp are behind Samsung when it comes to OLED investment. Samsung has spent close to $10 billion this year alone to expand its OLED production and research and development, while LG Display plans to invest close to $3 billion by 2018 to expand its production of smartphone OLED screens.
The message, with only slight variation, is always the same: Apple will have to buy from Samsung, because Samsung is the OLED screen leader, and because OLED screens are obviously superior.
Okay Samsung, we get it. You really think the S7 Edge is cool. You really think Apple should build a phone like it. Why keep repeating yourself?
Because... if something is repeated enough times on the Internet, it will be accepted as true.
Investor Takeaway
In the run-up to the January earnings seasons, investors can expect many such reports as we've received from Localytics and Kuo that in some way characterize Apple as stumbling. I'll try to provide analysis of many of these, but doubtless, I won't be able to keep up with all of them.
At some point in the future, Apple may indeed adopt OLED screens. What I've pointed out in the past is that the presumption that OLED is inherently superior to LCD simply doesn't hold water technically. And I doubt that Apple will adopt any display technology alternative to LCD until Apple is satisfied that it is superior.
As far as the glass sandwich, well, that was the big "innovation" for the S6 wasn't it? Samsung replaced the cheap feeling plastic backs of the previous generation S5 with curved glass. Apple has been there, done that with iPhone 4. I can't see Apple going back.
I have in past articles complained that Apple is in need of a product architect. Apple's product design at times seems adrift and without a unifying vision. But I don't think things have gotten so bad that Apple will stoop to just aping Samsung. If that happens, I will immediately advocate regime change at Apple. But I don't expect this.
I remain cautiously optimistic that December quarter sales will exceed expectations. I remain long Apple and recommend it as a buy for investors with a 3-5 year investment horizon.
Author's note: Several readers have pointed out that my interpretation of the WSJ article photo showing an iPhone 6 and 7 was probably in error. I thought the iPhone 6 looked like a fake, but the better explanation is that it simply had a thin transparent bumper case.
After giving it some thought, I decided I should just delete the section, since it was a needless distraction, while admitting my mistake. Thanks to those who pointed this out. Good catch everyone.
Disclosure: I am/we are long AAPL.
I wrote this article myself, and it expresses my own opinions. I am not receiving compensation for it (other than from Seeking Alpha). I have no business relationship with any company whose stock is mentioned in this article.
Editor's Note: This article discusses one or more securities that do not trade on a major U.S. exchange. Please be aware of the risks associated with these stocks.