There's been plenty of debate over the Chevy Bolt and what General Motors (NYSE:GM) has intended for the vehicle. With a new roll-out schedule, some see it as a compliance vehicle, while others believe it is the first nail in the coffin for Tesla Motors (NASDAQ:TSLA). Recently, an important milestone was achieved, as consumers can now build and price their own Bolt on the Chevy site. I tried to put every option in I could (minus some where pricing depends on the dealership), and this is what came up with: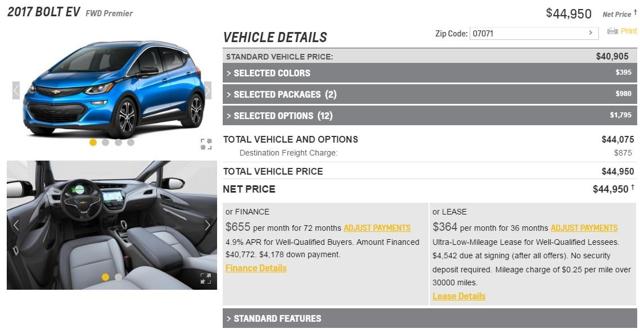 Click to enlarge
(Source: Chevy Bolt configuration summary page)
Again, I put almost every available package and option I could in, so consumers that don't could end up a lot lower, as the base price is $37,495. This is before US federal and state incentives, which could make the net price much lower for many consumers. The Tesla Model 3 is expected to start at $35,000 before incentives, but as I recently discussed, it's likely that consumers will end up spending a lot more on that vehicle.
Previously, the assumption was that the Bolt would be rolled out across the US all at once. However, that stance has recently changed, with only California and Oregon getting initial deliveries before the end of 2016. Next year, the vehicle's presence will be expanded to more states, but in very limited quantities it appears.
So why the change in roll-out plans? One possibility is low production, something we've definitely seen as an issue with Tesla in the past. Another possibility is that General Motors is waiting to see how the new Trump administration wants to align its policies around electric and potentially autonomous vehicles. But the most interesting explanation comes from Electrek, stating that the Bolt is more a compliance car than a mass market one:
There's no greater proof of a vehicle being a compliance car than being sold at a loss before incentives. Under California ZEV program, GM will receive 4 ZEV credits for every Bolt EV delivered in the state. At a market value of about $4,000 to $5,000 for GM, it means that selling a Bolt in California makes the difference between losing $8,000 to $10,000 per vehicle and making $8,000 to $10,000 per vehicle.
There are currently 10 states with ZEV mandates, but some of them are more populated ones like California, New York, and New Jersey. As the above description states, it might be worth it for GM to only sell the Bolt in ZEV states where it can make up for not having to purchase expensive credits. We'll see if that is the case as 2017 progresses, depending on which states do get the Bolt. According to Electrek, GM will lose approximately $9,000 per Bolt before the impact of ZEV credits, which adds up when you start talking about thousands or tens of thousands of vehicles. Tesla's investors are quite used to losses, with the company losing over $1.7 billion since the start of 2014.
As Electrek points out, however, the initial strategy on the Bolt could easily change over time to a mass market one. General Motors lost money on the Volt for years before incentives, only to become profitable earlier this year. In the end, consumers can now start building their Bolt online, even if they may not be able to get it just yet. That does give GM an early advantage over Tesla's Model 3, which we are still waiting on further details for. We'll see how soon Elon Musk and Co. decide to respond.
Disclosure: I/we have no positions in any stocks mentioned, and no plans to initiate any positions within the next 72 hours.
I wrote this article myself, and it expresses my own opinions. I am not receiving compensation for it (other than from Seeking Alpha). I have no business relationship with any company whose stock is mentioned in this article.
Additional disclosure: Investors are always reminded that before making any investment, you should do your own proper due diligence on any name directly or indirectly mentioned in this article. Investors should also consider seeking advice from a broker or financial adviser before making any investment decisions. Any material in this article should be considered general information, and not relied on as a formal investment recommendation.