I initiated coverage of Philip Morris International (NYSE:PM) at $85.50 in fall of 2015. Since then shares have fallen back to almost that level after spiking 20-25%. Is this an opportunity? Well let me stop right there and say "LOL." Why? Well, I am reminded of the movie Iron Man when Tony Stark announced his weapons company Stark Industries would no longer make weapons. Today PM stock is getting hit after the company's management insinuated the company would no longer sell cigarettes. Now this may of course been in the future, and referred to smokeless tobacco, or actually paperless/burning of tobacco in favor of vaporization, but I find the notion and the sentiment laughable. As in hysterical. Don't get me wrong I am a health professional and smoking is bad for you. But for a company that sees stagnating sales thanks to anti-smoking interventions, the timing couldn't have been worse. That said, I love the dividend of the company and really do respect the innovation to keep customers by offering alternatives. But there is something funny about the notion of a cigarette company that doesn't sell cigarettes.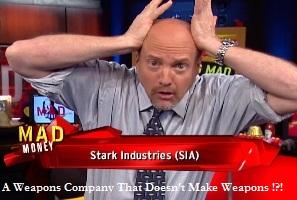 Source: Iron Man Film
That all said, I am revisiting the name because it has pulled back to just a few points above my initial buy call over a year ago. To understand if it is time to get back involved, barring the notion of no longer selling traditional cigarettes, let us look into the performance of the name. The company has recently reported its Q3 results so let's discuss.
The quarter was so-so on the surface. As you know, I recommend holding a core position that you add to on dips, and sell some when the stock gets ahead of itself a bit. Hopefully, you took some off the table over $100. Now that shares have taken a nose dive, should you consider adding or waiting for a further pull back? Well, I think the answer may be the latter. But why? Performance just is not there. The company has seen better days in terms of growth, but it is by all means becoming a value, dividend play. But let's take a good look at sales as well as discuss future expectations.
In its most recent quarter, the company took in revenues that rose a paltry 0.7% year-over-year to $6.98 billion. Almost no sales increase is better than reduced sales, which the company had been dealing with. However, this company is one that was getting burnt by currency issues. Thus, what I think is prudent is to control for this impact to understand the real changes in revenues from a company operating standpoint. If we exclude the unfavorable currency impact and look at revenues in constant dollars, we see a negative hit of $196 million due to currency issues. So, controlling for this, revenues were up 3.6% year-over-year. Much of this was due to pricing. That said, cigarette shipment volume was down 5.4% year-over- year. Factoring in expenses, the company saw earnings of $1.25, flat from last year's Q3. However, the currency issue persists. If we back out the $0.04 negative impact and look at a constant dollar basis, earnings per share were up 3.2% versus last year. Still, revenues missed estimates, falling short $30 million on the top line, but the company squeezed out a beat on the bottom line by a penny.
These results suggest the company continues to make money, but is stagnating. This is where management's insinuation of stopping cigarette sales eventually comes into play as the company is about innovation. Still, even with recent innovation, the stagnating sales are negative. What is interesting is that the company appears to have taken on more debt looking at the balance sheet versus last year. Net debt is approaching a whopping $27 billion, up almost $1.4 billion from last year. That is about a year of revenues. The company instead should focus its seasonally strong periods on reducing some of this debt. Looking ahead, the company sees 2016 reported earnings per share forecast to be in a range of $4.53 to $4.58 Excluding an unfavorable currency impact of approximately $0.35 for the year, the reported diluted earnings per share range represents a projected increase of approximately 10.5% to 11.5% versus 2015 earnings. That is a bit stronger than the quarterly results would indicate. All this said, and despite my laughing at the potential future of the company's revenue sources, let's let the stock pull back further, then pull the trigger again. I reiterate a buy rating and once again, recommend you trade around the core position.
Note from the author: Christopher F. Davis has been a leading contributor with Seeking Alpha since early 2012. If you like his material and want to see more, scroll to the top of the article and hit "follow." He also writes a lot of "breaking" articles that are time sensitive. If you would like to be among the first to be updated, be sure to check the box for "Real-time alerts on this author" under "Follow."
Disclosure: I/we have no positions in any stocks mentioned, but may initiate a long position in PM over the next 72 hours.
I wrote this article myself, and it expresses my own opinions. I am not receiving compensation for it (other than from Seeking Alpha). I have no business relationship with any company whose stock is mentioned in this article.