Introduction
Big 5 Sporting Goods (NASDAQ:BGFV) is a sporting goods retailer that doesn't even crack the top 20 U.S. sporting goods retailers1 despite being in business since 1955 and going public almost 15 years ago. Despite little to no growth, no competitive advantage and a single-digit ROI profile, investors have bid up shares to 25x earnings or 9x EV/EBITDA based on a one-time shot-in-the arm from industry consolidation.
Deconstructing Industry Consolidation
Every time BGFV's stock has taken off, it was due to a one-time positive impact. In 2009, the stock took off with the post-recessionary market rally. That only faded as results did not rebound like its peers. In 2013, the stock bounced on that year's unique gun surge. Once again, the stock faded (as did same-store sales). This year, we have a unique situation of several competitor bankruptcies clearing the landscape and donating share to the survivors. I expect this stock spike to be short-lived as well.
Earlier this year, Sports Authority closed down roughly 460 stores and Sport Chalet closed down almost 50 stores. City Sports and Golfsmith were also among the bankruptcy filers. By my calculation, this eliminated roughly 5% of square footage in the sporting goods industry. As seen in strong 3Q comps at Dicks Sporting Goods (NYSE:DKS) and BGFV, shoppers turned to the survivors to purchase goods. That in turn has pushed up shares of DKS and BGFV. I believe the traffic boost for BGFV will be short-lived because management is pushing cash back to shareholders instead of investing in what is becoming a more competitive space.
I believe online and DKS will be the bigger beneficiaries from the bankruptcies and to come out as more dominant competitors. For its part, I estimate that online takes 1-2 percentage points of market share every year from brick and mortar and currently comprises about 15-20% of revenues.2 On the brick and mortar side, market leader DKS has taken at least 0.5% of market share every year for the last four years from other stores.3 BGFV's online business is nascent (only launched in 4Q14), unprofitable and small.4
BGFV has received some benefit from the consolidation, which will likely spill over into the next quarter or two. However, whether it maintains that traffic is debatable, especially in light of expected store growth from competitors and continued online penetration. In fact, even with the boost this year and excluding the extra week mismatch, it looks like BGFV will still cede market share to other brick-and-mortar retailers in 2016.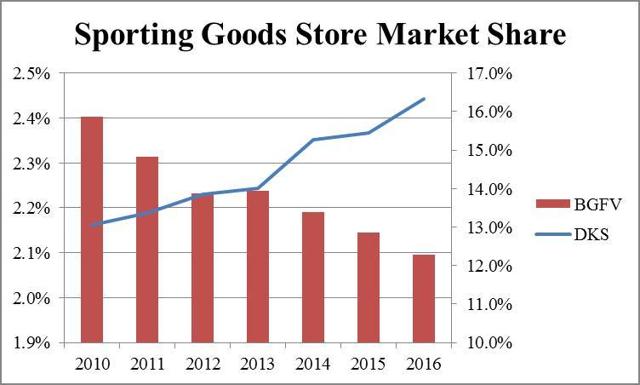 Click to enlarge
Source: BGFV, DKS, US Census
Share Donation
While BGFV has retrenched on store growth, DKS and the overall online channel continue to grow at a rapid pace. In fact, the combined DKS and online channel account for 100-150% of the growth of the entire sporting goods industry.5 It is easy to see why Sports Authority and others have folded. Looking forward, both channels are not slowing down. Online growth in retail sales has actually accelerated from the low double-digit pace in 2015 to 20% range this year.6 With DKS taking over former Sports Authority and Golfsmith locations, square footage is slated to grow around 8% in 2017. It's math: BGFV will take its place in line as a future share donor.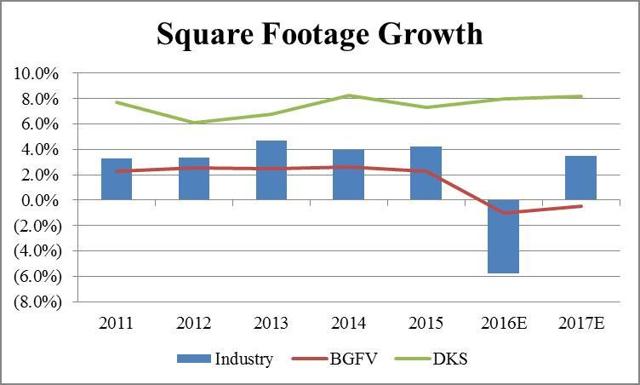 Click to enlarge
Source: Company Information, My Estimates
Management's Core Strength
BGFV's management team has been in place for 10+ years and has overseen a monumental drop in returns on capital and store productivity. While the concept was understandably impacted by the carnage in store-based retailing, BGFV has seen no recovery since the recession and little progress in growing online sales when compared to peers.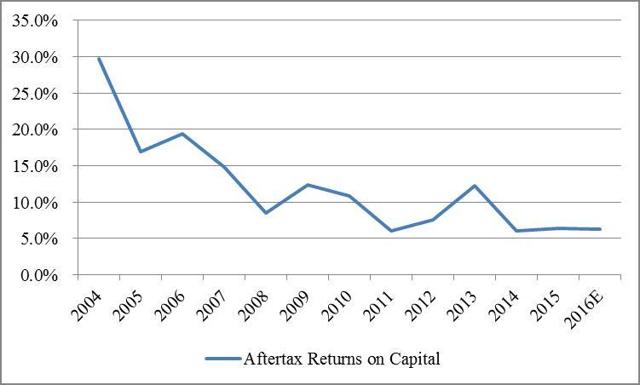 Click to enlarge
Source: Company Information, My Estimates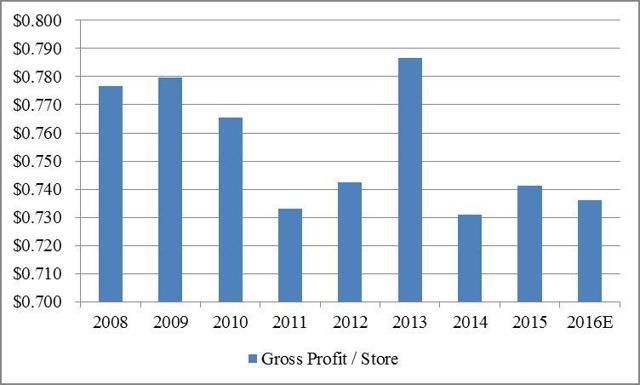 Click to enlarge
Source: Company Information, My Estimates
What management does excel in is timing the stock. Over the last 10 years, insiders opportunistically increased holdings in 2008, 2014 and 2015 at cyclical lows. Conversely, they were sizable sellers in late 2009, through most of 2013 and again with the recent spike. Joining management in the recent spate of selling is activist shareholder, Stadium Capital, which lightened up its position by 30%.

Click to enlarge
Source: Insider Score
But Look at All that Free Cash Flow!
In its most recent quarterly press release, BGFV increased its dividend to $0.15/quarter due to "strong cash flow". In fact, free cash flow (FCF) per share for the first 3 quarters of the year was an impressive $2.06. However, this cash flow didn't come for free nor is it sustainable. Inventory per store is down almost to bare-bones recessionary levels and will require a future cash outlay. In fact, FCF/share is largely driven by the company's inventory cycle.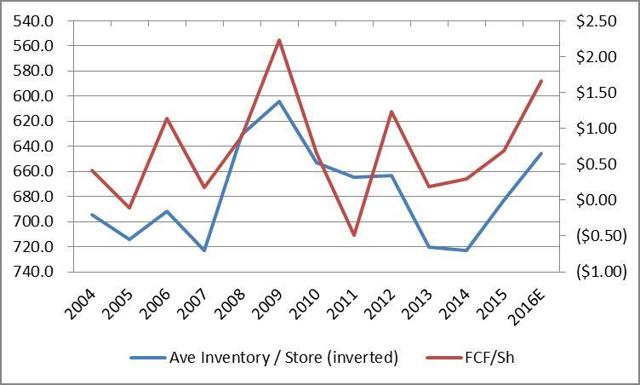 Click to enlarge
Source: Company Information, My Estimates
About that Dividend…
Over the last 10 years, BGFV's average FCF/share was $0.70. Then again, the chain isn't growing 5-6% like it was pre-recession and can utilize the foregone capital expenditures to return to shareholders, right? Wrong. Revenue grew at a compounded annual growth rate of 1.2% during the last 10 years. I would define the $171M spent on capex during the period as purely maintenance. That is the crux of the problem with BGFV: it's in a competitive industry and spending $5-15M in capital expenditures is not good enough to even tread water.
Currently, the chain is in need of capital spending. Management has cut capex almost back to recessionary levels. D&A per store is at a 10-year low. If we eliminate the working capital/inventory CF boost and normalize capital expenditures to $50-60k/store, FCF/share this year would be about $0.65/sh. That leaves very little room for error with a $0.60/sh dividend.
Click to enlarge
Source: Company Information, My Estimates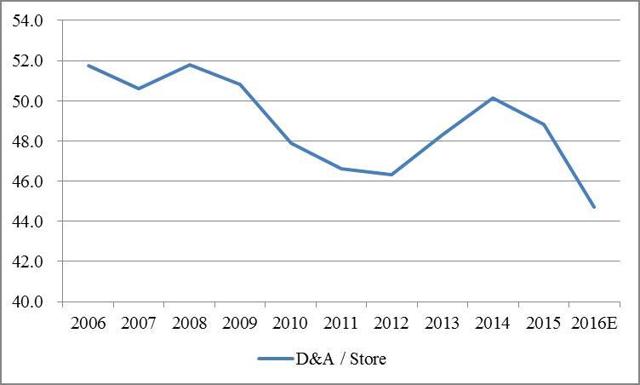 Click to enlarge
Source: Company Information, My Estimates
Growth, Perhaps?
Some may be tempted when looking at the store location map to think that BGFV has plenty of growth ahead of itself. Don't. The only change to this map since BGFV went public almost 15 years ago is the addition of the economic powerhouse Wyoming in 2010. In fact, BGFV all but exited Texas this year (leaving only 3 stores in El Paso). As noted before, returns on capital have eroded and per store productivity is not encouraging. It would be foolish to expand under those conditions.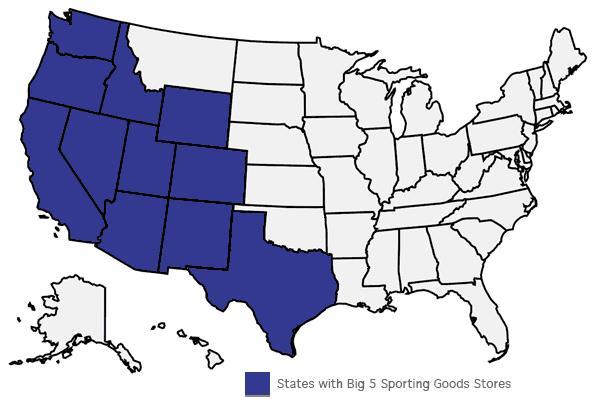 Source: Company
Benefit of the Doubt
Even if we give BGFV the benefit of the doubt and return margins to a very healthy 5.0%, the stock would still be at a full 6.1x EV/EBITDA and 14x earnings. The fact of the matter, however, is that margins across the industry will never return to their pre-Amazon heyday. Gross margins are never going back to the mid 30% range.
Maybe BGFV could continue to cut costs to grow margins? Sadly, no. SG&A per store has stubbornly plateaued in the $620k-$640k range. The only way for BGFV to improve margins from here would be to drive the top line. Keep in mind that the boost from Sports Authority is transpiring now. Despite this, 2016 operating margin will fall shy of 3.0%. The traffic benefit will only fade in 2017 without any new source of sales growth. My money is on the momentum to continue swinging to DKS and the online purveyors.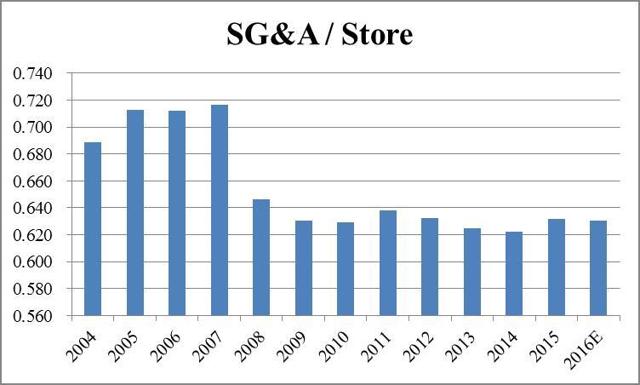 Click to enlarge
Source: Company Information, My Estimates
Conclusion:
I would be a seller of BGFV on the recent stock spike. The chain will continue to bleed market share, more so now that management is focused on shoveling all sustainable cash flow back to shareholders. While the industry's consolidation is nice for all, it will provide only a momentary boost to BGFV's fortunes. I fully expect that DKS and the online channel will eventually capture any gains made by BGFV.
I see fair value as $9-10 or 12-14x sustainable free cash flow and earnings of $0.70, which is fair for a no growth regional retailer.
Footnotes:
1Statista
2Internet Retailer, DKS, Statista
3US Census, DKS
4BGFV 10-K: e-commerce revenues "not material"
5US Census, Statista, Internet Retailer, Company Information
6US Census
Disclosure: I am/we are short BGFV.
I wrote this article myself, and it expresses my own opinions. I am not receiving compensation for it (other than from Seeking Alpha). I have no business relationship with any company whose stock is mentioned in this article.