The Janus Portfolio Construction Services Team performs customized analyses on advisor portfolios, providing differentiated, data-driven diagnostics. From a diverse universe of hundreds of models emerge trends, themes and potential opportunities in portfolio construction that we believe will be interesting and beneficial to any investor.
One of the common themes we've recently been paying attention to in our daily consultations with advisors is fixed income and its role in a portfolio. We've noticed that over the past several years, the fear that a rising rate environment would erode capital, coupled with the need to generate higher yields, has led many investors to increase their allocation to strategic fixed income funds.
Strategic income funds are those that can invest in a variety of sectors in search of yield, often with little or no constraints. They are typically classified as Multisector and Nontraditional Bond funds. With their investment flexibility and potential to deliver returns in any type of market, it's easy to see why these funds quickly gained so much popularity. Many advisors have come to see them as a one-stop shop, where they can gain exposure to different asset classes in one untethered opportunistic place, seeking to add diversification and hedge against rising rates.
Of course, to date, we have not been in a period of steadily rising rates. And, while it's true that these funds provide the potential to deliver higher yields and reduce interest rate risk, over time, many advisors have been using these funds to replace traditional core allocations, potentially adding unintended risk to client portfolios.
The Triple Threat to Your Portfolio
In order to generate the higher yields many investors are looking for, strategic income funds often invest heavily in high yield and corporate credit. This means that when selecting this asset class, investors may be trading interest rate risk prevalent in traditional bond funds for credit risk. Strategic income funds can also provide equity-like correlation and increased volatility. Together, this may lead to a very bumpy ride - one investors may not expect from a fixed income product.
Do You Know What You Own?
Because strategic fixed income managers often have very broad mandates with very few constraints, they can, and often do, look for yield wherever they can find it, whether that means high yield, emerging markets, equities or all of the above.
They also have the flexibility to hold significant cash and government bond positions depending on whether we are in a "risk-on" or "risk-off" environment. So, given their flexible natures, it's not surprising that two managers could have similar objectives, but vastly different exposures at any given time. In fact, three of the largest Nontraditional and Multisector fixed income funds bear little resemblance to each other - and two of them look nothing like they did five years ago.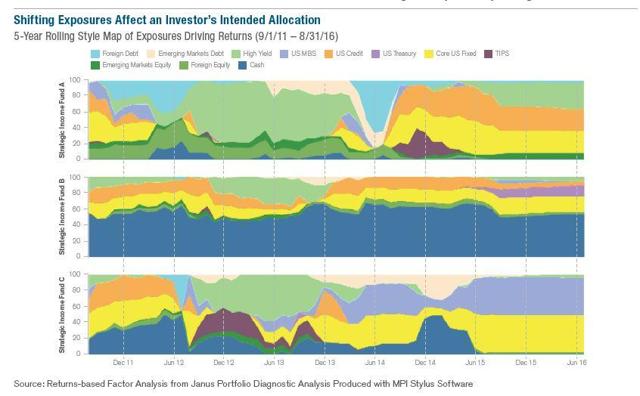 Click to enlarge
Not All Equal
Taking a look at these same funds' exposures reveals just how unique each can be. For example, while Fund A has been exposed to a fair amount of high yield, emerging markets and foreign debt, Fund B has quite a bit of cash-like exposure and little else. Each fund can be reallocated depending on what the managers consider the best bet at the time.
The challenge, then, is to conduct extensive due diligence to make sure the fund or funds you allocate to are delivering the assets, diversification - and results - you expect.
Get Ready for Volatility
Strategic fixed income funds may not only look quite different from each other, but may also act quite differently from traditional fixed income. In fact, recently, these funds have been more highly correlated to high yield, emerging markets, and even equity markets than to core fixed income. And, while this has helped these strategies perform in certain time periods, investors with significant exposures could be disappointed not to find safety in their fixed income during times of market turbulence.
This is not only due to correlation, but also to size. Consider that the largest three funds in both the Nontraditional and Multisector categories account for about 50% of each category's assets. With some $10 billion to $60 billion in assets, these funds may not be so nimble during periods of market stress, particularly in asset classes where liquidity can be constrained.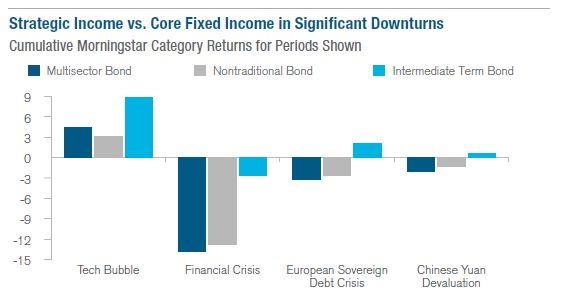 Case in Point
Naturally, given the equity-like correlations and use of riskier assets we've discussed, increased volatility may often follow. But are investors expecting the drawdowns that can come with it? Over the past five years, drawdowns for some of the largest funds by AUM (assets under management) have been quite significant - far larger than core fixed income, and lasted much longer. Fund A, for example, had a drawdown of -11.94% that lasted 18 months, compared to -3.67% for the Bloomberg Barclays U.S. Aggregate Bond Index (NYSEARCA:AGG), lasting four months. Losses like these could have lasting repercussions for retired, income-drawing investors.
Are Investors Being Compensated for the Risks?
While investors may anticipate the volatility inherent in riskier assets, they may also expect that the additional risk they are taking on will be compensated. But is it?
Would it be surprising to learn that over the last 3 and 5 years, the Intermediate-Term Bond category had higher risk-adjusted returns than both the Multisector and Nontraditional Bond categories?
Strategic Income in Your Portfolio
Of course, reviewing the risk and reward of a fund by itself provides only a picture of how that fund is doing, not how that fund is impacting your portfolio. And it's important to understand both. In the following example, you can see that the two strategic income funds are adding more to the portfolio's risk than to its return. Though there are likely to be periods in which the risks being taken will be rewarded, it's important to remember why investors own traditional core fixed income to begin with.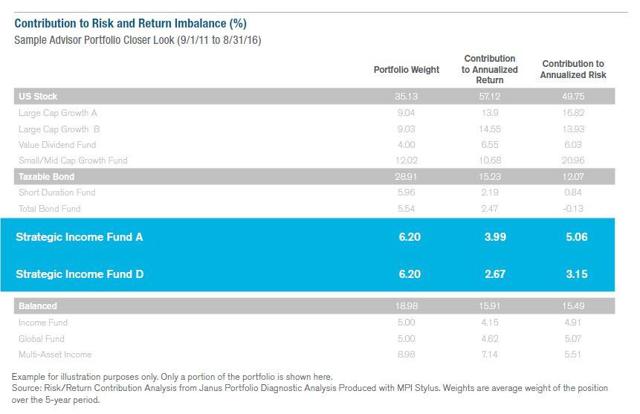 Click to enlarge
Get Back to Basics
The bottom line is that strategic fixed income can be a smart strategy that plays an important role in a portfolio. But we have not been in an environment of steadily rising rates and the idea of "too much of a good thing" may apply. In our opinion, these strategies may be better suited for satellite positions, rather than replacing core fixed income holdings.
While strategic fixed income funds can serve to diversify your portfolio, striking a balance between return and principal preservation, when considering these investments, it is important to:
• Know what you own - Review the exposures for the past few years and see if the fund is providing the expected exposures.
• Make sure it is playing the role you intended - Review the correlation of the fund against peers, core fixed income and equities.
• Make sure the risks are appropriate - Analyze the returns and standard deviation to help determine if risks have been compensated and whether it is appropriate for your portfolio.
This article is part of a regular series of thought leadership from Janus' Portfolio Construction Services Team.
For more, visit Janus.com/PortfolioDiagnosticsReport
Disclosure: I/we have no positions in any stocks mentioned, and no plans to initiate any positions within the next 72 hours.
I wrote this article myself, and it expresses my own opinions. I am not receiving compensation for it. I have no business relationship with any company whose stock is mentioned in this article.
Additional disclosure: 1Morningstar Nontraditional Bond Category 3-year through 9/30/2016 Correlations: S&P 500 Index: 0.7; Bloomberg Barclays US Corporate High Yield Bond Index: 0.91; MSCI Emerging Markets Index: 0.75; Bloomberg Barclays US Aggregate Bond Index: 0.04 Morningstar Multisector Bond Category 3-year through 9/30/2016 Correlations: S&P 500 Index: 0.7; Bloomberg Barclays US Corporate High Yield Bond Index: 0.95; MSCI Emerging Markets Index: 0.79; Bloomberg Barclays US Aggregate Bond Index: 0.39 2Source: Morningstar as of 6/30/16 33-year through 9/30/2016 Annualized Sharpe Ratios for Morningstar Category Averages: Multisector Bond: 1.06; Nontraditional Bond: .72; Intermediate-Term Bond: 1.39; 5-year through 9/30/2016 Annualized Sharpe Ratios for Morningstar Category Averages: Multisector Bond: 1.20; Nontraditional Bond: .88; Intermediate-Term Bond: 1.21 Past performance is no guarantee of future results. Investing involves risk, including the possible loss of principal and fluctuation of value. Diversification neither assures a profit nor eliminates the risk of experiencing investment losses. Fixed income securities are subject to interest rate, inflation, credit and default risk. As interest rates rise, bond prices usually fall, and vice versa. High-yield bonds, or "junk" bonds, involve a greater risk of default and price volatility. Foreign securities, including sovereign debt, are subject to currency fluctuations, political and economic uncertainty, increased volatility and lower liquidity, all of which are magnified in emerging markets. Correlation is a statistical measure of how two securities or groups of securities move in relation to each other. Sharpe Ratio measures risk-adjusted performance by dividing the portfolio's excess returns (returns above a "risk-free" rate such as a Treasury bill) by the standard deviation of those returns. The higher the ratio, the better the portfolio's return per unit of risk. Standard deviation measures historical volatility. Higher standard deviation implies greater volatility. Bloomberg Barclays U.S. Aggregate Bond Index is a broad-based measure of the investment grade, US dollar-denominated, fixed-rate taxable bond market. Bloomberg Barclays U.S. Corporate High Yield Bond Index measures the US dollar-denominated, high yield, fixed-rate corporate bond market. MSCI Emerging Markets IndexSM is a free float-adjusted market capitalization index that is designed to measure equity market performance of emerging markets. S&P 500® Index measures broad U.S. equity performance. An investment cannot be made directly in an index. The views presented are as of the date published. They are for information purposes only and should not be used or construed as an offer to sell, a solicitation of an offer to buy, or a recommendation for any security or market sector. No forecasts can be guaranteed. The opinions and examples are meant as an illustration of broader themes, are not an indication of trading intent, and are subject to change at any time due to changes in market or economic conditions. There is no guarantee that the information supplied is accurate, complete, or timely, nor are there any warranties with regards to the results obtained from its use. It is not intended to indicate or imply in any manner that any illustration/example mentioned is now or was ever held in any Janus portfolio, or that current or past results are indicative of future profitability or expectations. As with all investments, there are inherent risks to be considered. Janus Distributors LLC Janus is a registered trademark of Janus International Holding LLC. © Janus International Holding LLC. FOR MORE INFORMATION CONTACT JANUS 151 Detroit Street, Denver, CO 80206 I 800.668.0434 | www.janus.com C-1016-4203 11-30-17 144-15-44203 10-16