Maybe it's just me, but I think Under Armour (UA) is still pretty much under the radar in Europe. I hadn't heard of them until recently, but that's possibly because I'm nearly forty, live in Bulgaria and sit in front of screens most of the day. Apparently they are 'cool' and lots of kids in California wear them?
It's fair to say I'm no expert on the company or fashion stocks in general. But do I need to be to make a trading decision about them? Well it may help, but many so called experts have been telling us to buy since the 2015 highs and none of those trades will be in profit now.
Most of what I need to know can be found right here on Seeking Alpha and on my charts. The experts who really count; those that move the stock, are leaving traces of their activity all over the charts. This only tells us what they have done, and are doing, but based on a few techniques it can also tells us what they might do in the future.
Some Fundamentals
I want to know what type of company I am looking at, what is driving price in the current direction, and potential catalysts to drive price in the other direction.
Under Armour is a stock I would categorize as one which has come 'too far too fast'. Reality always catches up with the likes of Tesla (TSLA), Gilead (GILD), and Under Armour.
New highs aren't a target here. Not for a long time. But on the other hand, the stock is not a crash candidate either. The current move down is a correction in time and price, allowing fundamentals to catch up and positions to be at first unwound and then re-established lower.
The top didn't come from company changing bad news. UA is more or less the same company it was at the highs; the same 'cool' label, the same potential, the same founder and CEO, Kevin Plank, at the helm. And yes, the same debt and the same growing pains that most companies have.
Why stocks top and reverse is explained by Tom Demark (more on him and his techniques later) in his book New Market Timing Techniques: "my studies suggest that market tops are not made because omniscient top pickers or informed trading syndicates with massive financial resources co-ordinate their selling campaigns; rather a diminution in buying occurs at that particular point in time and price declines of its own weight."
He calls it 'buyer exhaustion'.
The fundamentals at the highs were lagging price, but they often do and this can continue for a long time. The same can happen on the way down as sentiment and positioning accentuate the move and disconnect prices from true value.
The big difference between now and 2015 is sentiment and positioning. What generally happens at this point is investors expect another move up and buy too early while those who rode the trend while it lasted are still distributing.
Early longs will at some point capitulate and this move down will create 'seller exhaustion' in the same way as 'buyer exhaustion' caused the reversal at the highs.
In other words, price will likely make a technical reversal. At this point price will be so low that investors will realize that fundamentally UA is now undervalued. Sentiment will change.
Perhaps Christmas sales will be better than expected and a great Q4 will be reported. I have no way of knowing these things, but I do have ways of looking for capitulation and selling exhaustion.
The PE (TTM) of 112 at the 2015 highs has now been halved and price is 40% off the highs. Is this enough? Let's look at the technicals.
The Technicals
UA is current hovering around the 200 week moving average. It has nearly retraced 50% of the 2009-2015 rally, and this may be a target and act as support, much as the 38.2% Fibonacci retrace did in January 2016. If you look at the likes of Tesla you will see this is a common pattern among 'too far too fast' stocks; it first retraced to the 38.2% in February 2015, bounced strongly to a lower high, then came down to the 50% in early 2016.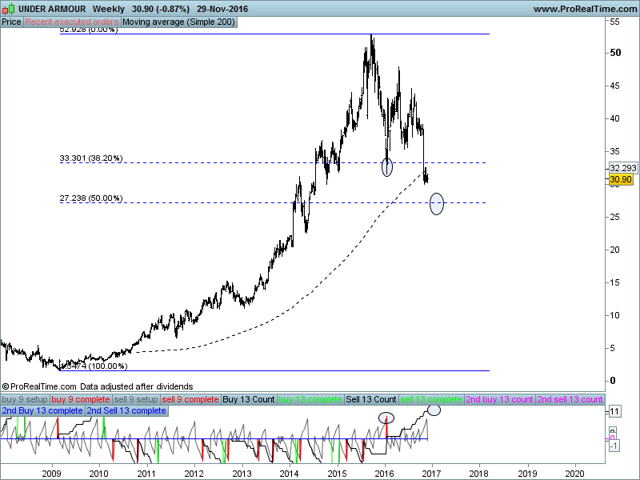 Click to enlarge
The lower pane shows a sequential indicator created by Tom Demark. As I mentioned it in the chapter above, it is designed to show buying and selling exhaustion.
The first signal was given right at the January low (circled) and the next signal is at least two weeks from completion. The specifics are quite hard to explain, but if and when the weekly 9-13 completes, there is a good chance sellers are exhausted.
There are two main takeaways from the weekly chart: firstly, $27 should act as support. Additionally, sellers are nearly exhausted and if price were to get to $27 there should be very little selling left.
The daily chart shows some more detail of the cycles of buying and selling as defined in Elliott Wave.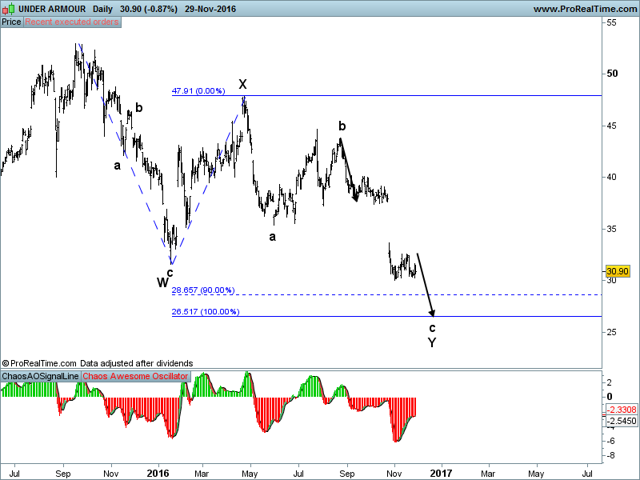 Click to enlarge
The minimum target for the pattern shown is the 90% measured move at $28.65, with potential for the 100% target at $26.5. This ties nicely in with the $27 target provided on the first chart. It would also give us momentum divergence on the oscillator shown on the bottom chart; price will make a lower low, but the oscillator won't.
I plan to start a position around $28 and will watch the charts for signs of exhaustion or reversal patterns. I will target the gap fill at just under $40, with a view to hold for 3-6 months.
Expectations can further be guided by stocks which have behaving in the same way over the past year. For whatever reason, Starbucks (SBUX) is one of these stocks: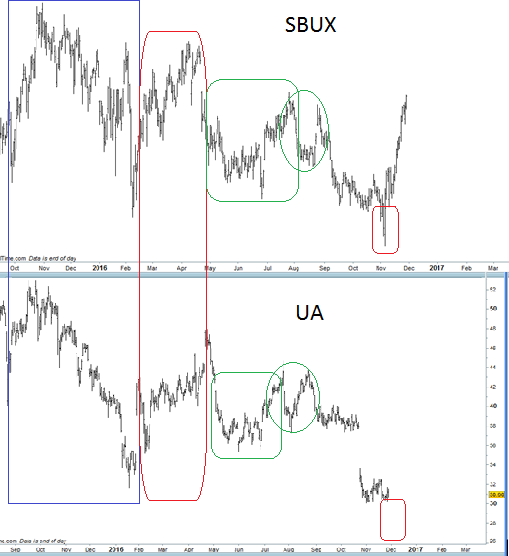 I'm not for one moment comparing the two companies. But consider the positioning in these two stocks are bound to be similar as the patterns created by buying and selling are nearly identical.
The main takeaway here is the reaction we should expect once price reverse. $40 is a conservative target.
If you like UA and are looking for a place to buy, I think under $28 is a great place for a starter position.
Conclusions
The decline is UA is driven by fundamentals. The valuations in 2015 were not realistic and that fact is being corrected by price and time.
At certain points fundamentals and price diverge and this creates opportunities. Price will eventually be pushed too far to the downside and sellers will be exhausted. This is what I'm looking for and when I plan to buy.
Disclosure: I/we have no positions in any stocks mentioned, and no plans to initiate any positions within the next 72 hours.
I wrote this article myself, and it expresses my own opinions. I am not receiving compensation for it (other than from Seeking Alpha). I have no business relationship with any company whose stock is mentioned in this article.