Long term holders of Lloyds Banking Group PLC ( LYG) are about to experience a long term rally in their beleaguered stock. It has been one heck of a gut wrenching ride for this company after the 2009 financial crisis almost forced the giant into Bankruptcy.
Every time it seemed like the big bank was about to get out of the cellar something happened to knock it down. This stock reminds me of Bank of America (NYSE:BAC) earlier in the year when it traded down to $11.
BAC stock is up 90% from that level in February and has reached my target price of $20 before year end. In August I penned an article when the stock was at $15 calling for $20 by year end. People called me crazy and heaped a lot of insults my way, I encourage readers to reread the article and comment section and make your own decisions to my judgment as an analyst.
I am a buyer of BAC on any weakness as I feel the stock will go to the $25 level quicker than many realize.
Why I love Lloyds Banking Group at this price right now
A look at the charts: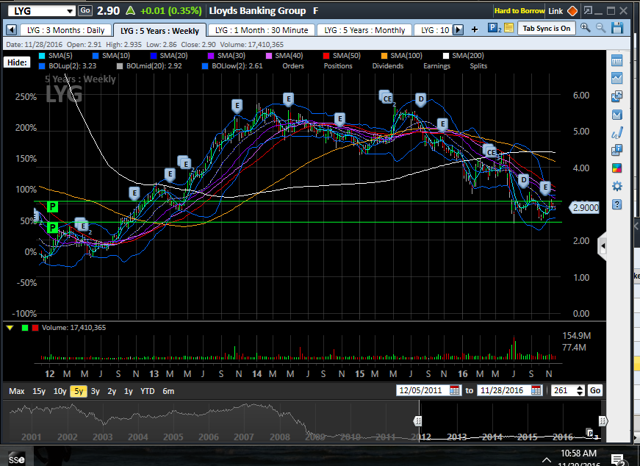 Click to enlarge
Above is a 5 year weekly chart showing a 400% range of movement in pricing action. I have had my eye on this one for a long time and I FIRMLY believe now is the time to take a position in the stock.
Investors can clearly see the stock had good momentum going into Brexit and the surprise vote crushed the stock sending it down nearly 50%. The doom and gloom predicted by the talking heads in particular, the head of the IMF Christine Lagarde have not come to fruition and now they are all looking a little silly in their predictions.
While it is possible for a small and short pullback the shakeout has taken place and now it's a battle of attrition. I believe we are seeing the final slow grinding process that can cause some investors to give up which is understandable.
A stock under $3 is not marginable for most investors which means you have to own it in cash. I recently bought this at the $2.70 level and rode it to $3.09 where I sold and then bought back a smaller position. I am now holding from here and will not sell until I see a minimum of $5 a share and then there will need to be good reason as I see the bank returning a ton of capital to shareholders over the next several years.
The bank is in a strong capital position and their loan portfolio is very conservative with their LTV's around 50%. They have exited all subprime lending which is great for their portfolio. The government is paring down their stake which currently sits at less than 8% according to this filing on November 23rd.
Today the Bank of England reaffirmed Lloyds Banking Group PLC's strong capital rating through its stress test. You can view the SEC document here.
A 60 minute intraday chart scouting a good entry point.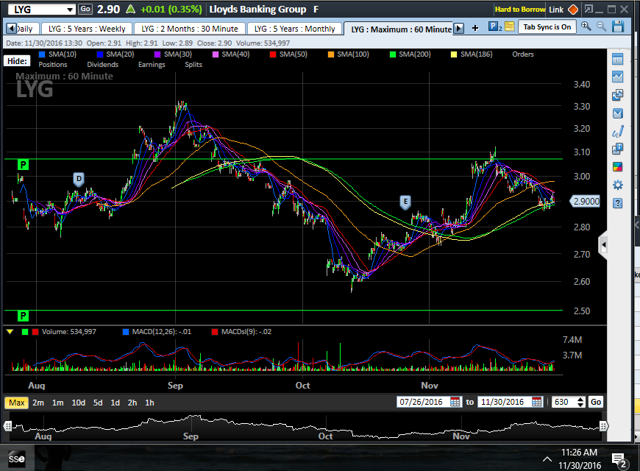 Click to enlarge
This chart is a 60 minute intraday chart going back to late July. Investors can see the wicked gap up and gap downs shaking the tree and the medal of convicted buyers. Like an irritating teenager, this stock has tested the limits of everyone involved with the trade but there is good news here as I believe the game is up.
London will continue to be a hub for investment, world is not ending with Brexit, and the process will take time. The bank is in a strong capital position and I believe that any dip from here should be bought.
I own it right here and will buy more if it goes any lower. I see this trading at $5 by June of 2017 which is a great return. The company recently announced over 5,000 job cuts which will continue to improve its bottom line going forward. I encourage any investor to listen to the last two earnings calls and make their own decision.
Conclusion
Stocks sometimes make their moves when least expected. Bank of America was just at $14.80 a few weeks ago and now trades around $21. The banks have room to run and BAC is a strong buy on any pullback if investors get one. My 6 month target remains $25 on the stock.
Lloyds Banking Group is a pound the table buy right here and on any weakness, it may take some time but this one will soon trade back to $5 and quicker than many think.
The Brexit fallout and sell-off was overdone and it takes time to expire options. timing is everything and the time for the long term move to the upside is upon us.
Mark this article for future reference as I believe this will rally just like BAC did recently. London will continue to be a financial hub for the world and Lloyds Banking Group will regain its solid reputation as a leader in their field.
As always do your own research and always have an exit plan before making any trade.
Disclosure: I am/we are long BAC,LYG.
I wrote this article myself, and it expresses my own opinions. I am not receiving compensation for it (other than from Seeking Alpha). I have no business relationship with any company whose stock is mentioned in this article.