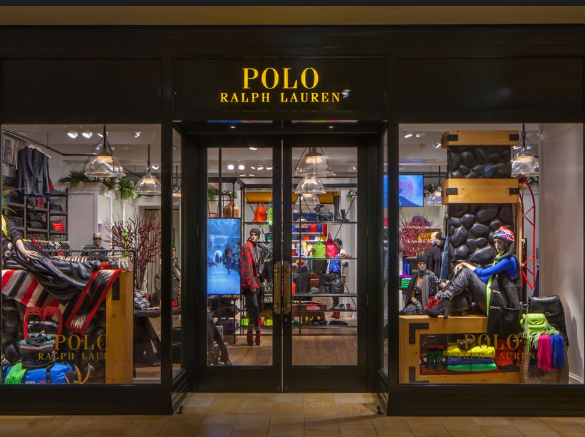 Ralph Lauren (NYSE:RL) is a stock I've been very bearish on for a long time. It started when shares were back near $200 - which seems like ages ago - and has continued through to this day. The company's struggles have continued unabated and while management is trying to fix demand issues, they haven't and the stock has suffered for it. The Trump Bump provided a relief rally for RL but yet another lackluster earnings report failed to continue the move. But some signs of hope are emerging; is RL finally bottoming?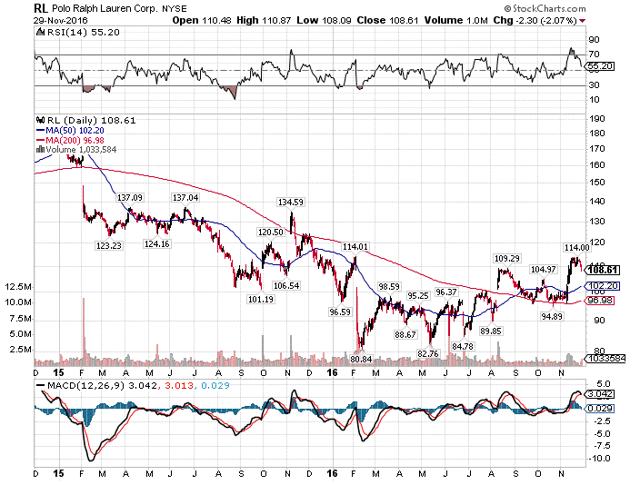 Click to enlarge
My principal reasons for being bearish on RL all this time are simple; it has struggled over and over again with revenue and margins. There are no two metrics more critical to any business than revenue and margins and as RL has ceded both over time, it was very easy to see that the stock was expensive. But as I said, it looks like RL may have made a bottom back in the $80s; we just need some support from the fundamentals to keep the rally going.
Total revenue was down 8% in Q2 as RL has a number of negative factors impacting demand. First, RL announced its Way Forward plan and part of that is to reduce sales by concentrating on core offerings. We know revenue is going to be weaker than it otherwise would have been this year in part due to this. That was certainly a factor in Q2 but there are others at play here as well.
The Wholesale segment suffered the most as it ceded 10% of its revenue base due to a huge decline in North America. The problem is that the Retail segment isn't doing any better as it produced comp sales of -8% on a reported basis and -9% on a currency-neutral basis. The decline was due to traffic losses that were only partially offset by pricing gains due to RL's new, markdown-light pricing strategy. RL's retail segment continues to be absolutely terrible and with the strategic pullback in the Wholesale business, there is literally nowhere for RL to hide. That's how you end up with high single-digit losses in revenue.
On the plus side, RL's focus on pricing improvements via fewer discounts is showing some signs of life. Adjusted gross margins were up 40bps in Q2 and while that's not a blockbuster result by any means - it represents less than 1% improvement on the base of better than 56% - it is progress in an area where RL desperately needs it. That's great and the fact that the new initiative is working certainly bolsters the bull case as I have been very critical of RL's margins in the past. Its former policy of discounting and promoting to try and salvage revenue growth didn't work and while revenue growth is still atrocious, there is a lot to be said for better margins.
Unfortunately, adjusted operating expenses rose 150bps against last year. This is despite the fact that those expenses fell 4% Y/Y because RL saw deleveraging due to drastically lower revenue. Again, progress is needed here and while expenses did fall on a dollar basis, they didn't fall quickly enough to keep pace with rapidly declining revenue. And if you recall, gross margins rose only 40bps so the 150bps loss in operating margins due to higher expenses was too much to overcome.
As a result, adjusted operating margins fell 110bps against last year to 12.4%. RL said this number exceeded its forecast due to better than expected due primarily to relative success in the International business but the message here is very clear; RL still has a long way to go if it is to turn things around. Green shoots are certainly popping up, but are they enough?
RL is right at the same price it was following the Q1 report and it is still going for 20 times this year's earnings as estimates are roughly congruent with where they were three months ago. That multiple doesn't necessarily scare me but consider all the things RL is working through in order to eventually grow into it. This is important because that kind of multiple isn't for a struggling company with no growth prospects; the market is still betting on a turnaround here.
RL's revenue growth is going to be very negative for this year as it works through its Way Forward plan. We know that's going to be the case but it is painful nonetheless. The thing is that the -10% or so we'll see from revenue this year is going to give way to another 2% loss in revenue next year. Shifting pricing strategies is always a very difficult and lengthy process because you have to train customers not to expect discounts and promotions any longer. While the payoff with higher margins is great - and RL is starting to see that - the pain with respect to revenue is palpable. That presents a huge headwind to EPS growth because the revenue base is likely going to shrink yet again next year off of already very low levels.
What that will do is further deleverage operating expenses and while the damage likely won't be as bad next year as it was in Q2, RL still has a long way to go there as well. That means that any gains in gross margins will likely be offset by further losses in terms of higher operating expenses as a percentage of revenue and that will derail the planned 8% in EPS growth. To make a long story short, I think there is some downside risk to earnings forecasts for next year and at 20 times this year's earnings, the stock is not priced for that.
On the side of the bulls, something that should not be ignored is that RL is now trading in excess of a rising 200DMA. That hasn't been the case for two years or so and is a very important development. That should provide RL with some staunch support and that means the bears will have some work to do in order to keep RL down. As bearish as I am on RL's fundamentals, that is an important point to make. To be fair, the 200DMA is currently about $12 below the stock so there is certainly some room for a pullback before a meaningful test would come into play, but that's one important point for the bulls.
On the whole, however, I still see a company that is struggling to remake itself in a harshly competitive industry. The new initiative is working to boost gross margins but the toll on revenue is huge. In addition, RL's operating expenses aren't falling quickly enough and as we see further revenue losses next year, I think there is some downside risk to RL's EPS forecasts. This stock is not worthy of a 20 multiple but that is where we find it so I'm still bearish until there is a successful test of the 200DMA.
Disclosure: I/we have no positions in any stocks mentioned, and no plans to initiate any positions within the next 72 hours.
I wrote this article myself, and it expresses my own opinions. I am not receiving compensation for it (other than from Seeking Alpha). I have no business relationship with any company whose stock is mentioned in this article.