Investment Thesis
The Buckle (NYSE:BKE) is a debt free retailer that like many retailers in North America is struggling with the declining mall traffic and heavy declines in average price points. Comparable store sales are down by a staggering 15.3% in the last quarter of 2016 Q3.
BKE is not growing very fast, but it is stable and has a growing dividend and it pays out a special dividend. My argument in this article is that at the price ($1.2B) it currently trades investors are well protected with a large margin of safety.
In spite of the lack of growth and declining comps, I believe that BKE should over the next two years trade 35%-50% premium to current market prices, or at $1.65B-$1.85B.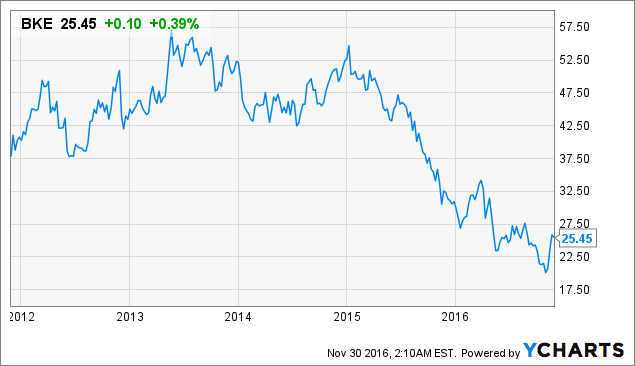 Business Overview
BKE is a retailer of medium to better-priced casual apparel, footwear, and accessories for fashion conscious young men and women. BKE operates ~460 retail stores in 44 states. The men and women's apparel industries are highly competitive with fashion and price and service being the principal competitive factors.
Financials
I will be the first investor to point out the obvious: that BKE financials are very much lackluster.

Click to enlarge
Source: Morningstar.com; author's calculations. Highlighted in green are the dividend, high ROE and high FCF%. Pink is the increasing share count and slow revenue growth.
On the other hand - and what attracted me to BKE - investors notoriously over discount companies that have the illusion of not growing very fast. But BKE has in fact grown at a respectful 3% average of the last 5 years and 8% average over the last 10 years. Although this is not very exciting, it is profitable, high free cash flow ("FCF") generative - and the company also pays a dividend (more on the dividend further down).
Additionally, while BKE has huge returns on capital I personally prefer to define a good quality company as a one that is able to generate a free cash flow margin above 5% (defined as FCF/Revenue (%)).
One metric catches people. We prefer businesses that drown in cash. An example of a different business is construction equipment. You work hard all year and there is your profit sitting in the yard. We avoid businesses like that. We prefer those that can write us a check at the end of the year.

- Charlie Munger
Special Dividend
In the last few years the company has paid a special cash dividend in the 4th quarter of each year.
| | |
| --- | --- |
| 2011 | $2.25 |
| 2012 | $4.50 |
| 2013 | $1.20 |
| 2014 | $2.77 |
| 2015 | $1 |
Source: Sec filings
These dividends are in addition to its raising quarterly dividend, currently at $0.25 per quarter. These dividends are random and at the board's discretion. However, with $200m in cash on its balance sheet and no debt, I suspect these special dividends will continue.
Short Sellers
As a deep value investor, the more shorted the stock, the better. The reason is twofold.
First, because anyone that sells shorts is fully committed to repurchasing the shares at some point in the future. Of course, short sellers are betting that they will buy the shares at a lower price. But they are committed nevertheless. Currently, about ~27% of the shares are short sold.
Secondly, when a share is heavily shorted, all the pessimism is already priced into the share price.
Insider Ownership
Insiders own quite an impressive amount of the stock, 41.8%. With Mr. Hirschfeld owning the vast majority at 33.3%. I personally find it quite interesting that Mr. Hirschfeld at 74 years old prefers the company to pay out a special dividend rather than engage in a share buyback. That's especially if you think that through the dividend he has in fact had to pay double taxation on that dividend. The company gave an evasive answer when asked about that on the earnings call:
Well the only comment we have right now is we try to be careful on that because we don't have a large float and we want to make sure that we don't make it too slim afloat for our stock and so that's part of the reason, we are cautious on the buybacks.

2016 Q3; Earnings call
This explanation is somewhat nonsensical if you think about it. Management could have a stock split to get round this problem.
Competition
Currently, all retailers are out of favor, so investors willing to be selective will be able to pick up great bargains.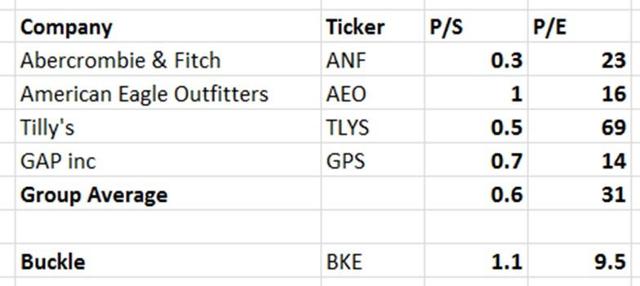 Click to enlarge
Source: Author's calculations showing competitor's valuation (NYSE:ANF), (NYSE:AEO), (NYSE:TLYS) and (NYSE:GPS).
Although BKE has the lowest P/E, it also has the highest FCF generating abilities - something that is not demonstrated in the above table.
Valuation
I performed both a relative valuation and a DCF.
On a relative valuation, as the table below shows investors over the last 5 years have been quite happy to get a 2% yield on their BKE investment (without accounting for the random special dividend). Currently investors are getting nearly double yield (again, without accounting for the special dividend).

Click to enlarge
Source: Morningstar.com
I am not saying that BKE will be as profitable as in the recent past, but I can easily see at least 50% upside.
I confirmed this when I performed a back-of-the-envelope DCF analysis, with a normalized $150m of FCF, with 2% growth over the next five years (which is equal to normalized inflation, or in other words, 0% real growth in revenue and below the 5 year average of 3%), before leveling off at 1% (below inflation). I then discounted this FCF back at 10%. I used 10% because although BKE is a cyclical, it is debt free. This brings the DCF to ~$1.8B or at least 35%-50% upside to the current share price.
Conclusion
BKE is a mixed bag. If you include the special dividend investors are currently paid nearly an 8% dividend while they wait for BKE to turn around. BKE, like many retailers, is struggling to compete in this difficult environment, but by paying a nice dividend and being debt free they are very much able to weather the storm. There is not a huge amount of upside, but there is minimal downside from the current share price. However, I recommend that investors look for better opportunities elsewhere, such as here or here.
Thank you so much for reading my article. If you have enjoyed reading this article, please click "Follow" to get more articles of mine in real time.
Disclosure: I/we have no positions in any stocks mentioned, and no plans to initiate any positions within the next 72 hours.
I wrote this article myself, and it expresses my own opinions. I am not receiving compensation for it (other than from Seeking Alpha). I have no business relationship with any company whose stock is mentioned in this article.