National Retail Properties Preferred Shares have Pulled Back Significantly
National Retail Properties (NYSE:NNN) Preferred series E shares have dropped from an intraday high of $27.13 per share on July 11, 2016, to an intraday low of $23.02 on November 14, 2016 for a 15.1% drop from top to bottom. Currently, as of November 23, 2016 close, the shares traded at 23.92, for a yield of 5.96%. To clarify the yield calculation, these shares have a 5.7% yield rate based off of a par value of $25 per share, which means there is 1.425 per share in annual dividends paid, quarterly.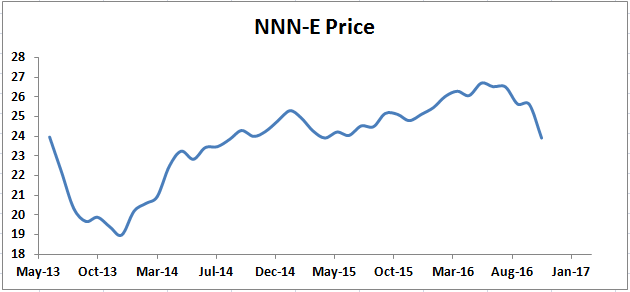 Source: Monthly closing prices from the Wall Street Journal.
The earliest these shares can be called back at the $25 par value is May, 30, 2018. Therefore, if the stock is called at $25 in May 2018, an investor would get a 4.5% capital gain, or 3.0% annualized, in addition to the annual dividend rate of about 6.0% based on the market price. Therefore, an investor is not harmed by the stock being called back. This is a critical factor for preferred stocks, because it becomes risky to buy them above the par value, because then the risk/reward profile becomes asymmetrical in favor of higher risk. If the shares traded above $25, then they would offer no long term upside in the event the market yields plunge, and shares rise, because they would eventually be called at $25. However, there would still be downside risk if the market yield rate rose substantially coinciding with a price decline.
They Currently Offer an Above Market Spread to Long Term Treasurys
NNN Preferred series E currently offer a yield of 5.96%, and the relevant benchmark Treasury Bond to use for comparison is the 30 Year Bond, which has a yield of 3.02%, as of November 24, 2016. In theory, these Preferred Shares have a very long duration for the downside scenario where market interest rates rise, since the owner never can forcibly get the principle back since there is no specified maturity. The option to return principle at $25 per share is solely given to the issuer, here National Retail Properties.
The duration of a perpetuity is equal to (1+ Y) / Y, where, Y is the yield, so if we assume the preferred shares are sort of like a perpetuity, the duration is 17.8 for these shares at the current price with the current yield at 5.96%. At a 3.02% yield, the 30-Year Treasury Bond has a duration of roughly 20. Therefore, the comparison of these preferred shares to Treasury Bonds as the appropriate benchmark is reasonable.
Since the 30-Year Bond is the relevant benchmark, it is helpful to compare the spread of these preferred shares to the Treasury Bond to see how much additional return the preferred shares offer for the risk. Currently, the spread of NNN Preferred E Series shares to 30-Year Treasurys is 2.94%, as the T-Bond yields 3.02% while the NNN Preferred Shares yield 5.96%.
The graph below displays the Yield Spread for NNN Preferred based on price data from The Wall Street Journal, and it displays the Corporate Bond BBB Spread from FRED database.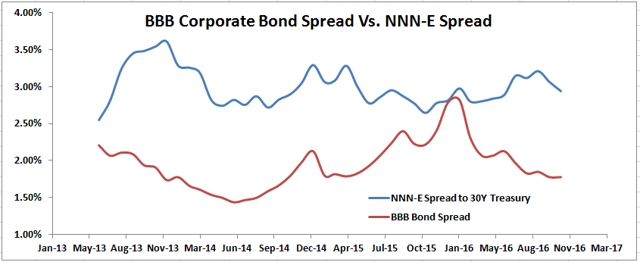 Click to enlarge
The NNN E series preferred shares have a Baa2 credit rating from Moody's, last affirmed in December 2015. Therefore, the credit risk on these is comparable to a BBB rated corporate bond, since the BBB rating is 2 notches above junk, just like the Moody's Baa2 rating.
Although these preferred shares have essentially the same credit risk as BBB rated corporate bonds, they offer a 1.16% higher yield than BBB rated bonds. Some of this may be due to relatively lower levels of liquidity of the preferred shares, but this only presents a short-term risk, and the investor is well-compensated for it via a higher yield than commensurate BBB rated corporate bonds.
Although liquidity is technically a risk, the investor can use any liquidity issues to his/her advantage, by possibly accumulating more shares should they temporarily decline sharply if large sellers dominate the market. This is likely easier for a longer term investor to do, and the preferred shares are generally more appropriate for longer term investors as they have a duration of nearly 18 years as of November 23, 2016.
Preferred Shares Carry Some Risk, but Much Less than Common Stock
The NNN-E preferred shares do carry some risk, but substantially less than the NNN common shares. First, in order for the preferred shares to stop paying the dividend, the dividend on the common shares would need to be fully suspended. Bolstering the safety of the preferred dividend is the fact that the common shares have paid an increasing dividend for over 27 years, so not only would that streak have to be broken, but the dividend would have to be cut 100%, in order for there to be any impairment to the preferred shares. Moody's appears to agree with the notion that this is not very likely, as the preferred shares are rated Baa2, or two notches into investment grade territory.
Also, perhaps one of the highest profile bankruptcies in the REIT sector was General Growth Properties (NYSE:GGP), which filed for bankruptcy in 2009. The REIT was very highly leveraged as a REIT leasing more cyclical mall-type properties going into arguably the most severe financial crisis since the Great Depression. As a result, the company saw its FFO plunge, while borrowing costs and debt mounted, forcing it to file for Chapter 11 bankruptcy in April 2009. However, if one owned the preferred shares of this REIT, the investor escaped unimpaired. Despite arguably the "worst case" scenario for that REIT, the preferred investor didn't appear to lose any money. However, the General Growth Properties common shares have still not recovered to the highs from before the bankruptcy.
On another note, VEREIT (NYSE:VER), a peer of National Retail Properties, was revealed to have intentionally concealed accounting errors in 2014, and subsequently suspended the dividend on common shares for roughly a year. However, during this entire time, the dividend on the series F preferred shares was never suspended, thus these investors were not at all impaired, and in fact, as of November 23, 2016, the VEREIT series F preferred shares last traded at a $25.29, or a premium to par value. Going into this event, VEREIT preferred was rated Ba1 from Moody's, which is 2 notches below the current rating of NNN-E preferred shares.
Finally, based on the latest November 2016 Institutional Investor Presentation, National Retail Properties has a fixed charge coverage ratio of 3.5. Therefore, the REIT has its fixed charge obligations, primarily interest on debt, and dividends on preferred stock, covered by more than 3 times over. Therefore, the cash flow to this REIT would roughly have to decline by well over 50% in order for there to be issues meeting its fixed charge obligations. This appears remote due to the fact that leases are well-laddered with average remaining lease term being 11.5 years, with only 5.3% of leases expiring through 2018, per the aforementioned investor presentation. Therefore, most of the cash flows to the REIT in the form of rent are guaranteed by tenants, short of a tenant bankruptcy. However, the tenant base itself is well-diversified.
The REIT also has Series D preferred shares sporting a 6.625% dividend based off the $25 par value, but these shares have usually traded firmly above the par value, so therefore, they present substantial call-risk to the investor, given that the call date nears in February 2017.
It is important to note the National Retail Properties series E preferred shares may not be as tax efficient as other equity investments, since over 98% of the dividend can be taxed at as an ordinary dividend for the recent years. This compares with just 80% of the common stock dividend being taxed as an ordinary dividend. Investors may benefit more from holding preferred shares in a tax-deferred account, due to the less favorable tax treatment of the dividends.
Overall, there are certainly risks that NNN-E preferred shareholders bear, but they are being well-compensated with a 2.94% spread over the comparable 30-Year Treasury bond, and therefore offer tremendous value for conservative investors.
Additional Disclosure: The information contained in this article is an opinion and does not constitute actionable investment advice nor is it a recommendation to trade any security.
Disclosure: I am/we are long NNN, NNN SERIES E PREFERRED, VER.
I wrote this article myself, and it expresses my own opinions. I am not receiving compensation for it (other than from Seeking Alpha). I have no business relationship with any company whose stock is mentioned in this article.