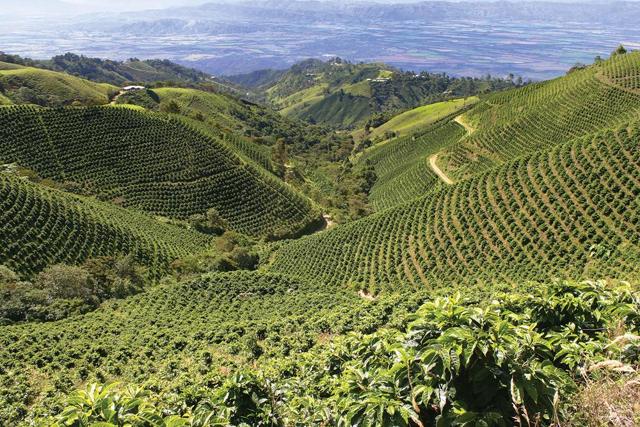 Click to enlarge
Clearly we haven't been drinking enough coffee in our office because traders are now predicting that coffee will end up in surplus this year and not in deficit as had been expected previously. This news, together with a stronger-than-expected U.S. dollar (NYSEARCA:UUP), has sent the price of coffee (NYSEARCA:JO) crashing lower in November much to the delight of companies such as Starbucks (NASDAQ:SBUX) and Dunkin Brands (NASDAQ:DNKN). Not only will these coffee-centric businesses receive an immediate boost to margins from the fall in price, but they will also avoid increasing margin pressures next year. Last time the coffee deficit hit the levels we were predicting, prices went on to rise to almost double what they are now.
What happened to the coffee price?
After a great run this year, the iPath Dow Jones-UBS Coffee ETN has given back a good portion of its gains as you will see below. This ETN closely mirrors the spot coffee prices which has come under pressure mainly due to the stronger dollar, but also due to concerns that coffee inventories aren't as bad as once thought.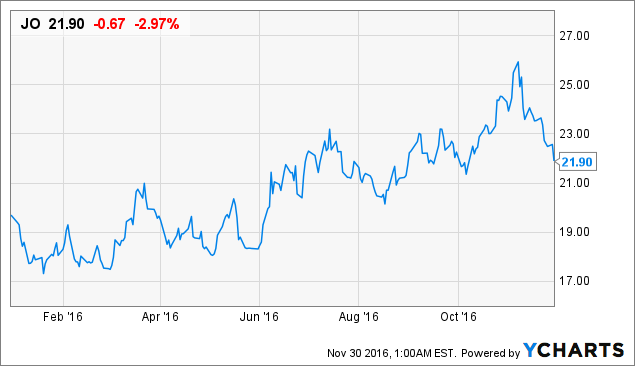 The reason the strong dollar has caused coffee prices to decline is down to the relative weakening of the currencies of key coffee export countries. As the table below shows, Brazil, Vietnam, and Colombia are the largest exporters of coffee in the world by some distance. This means that coffee prices are directly influenced by these leading exporters.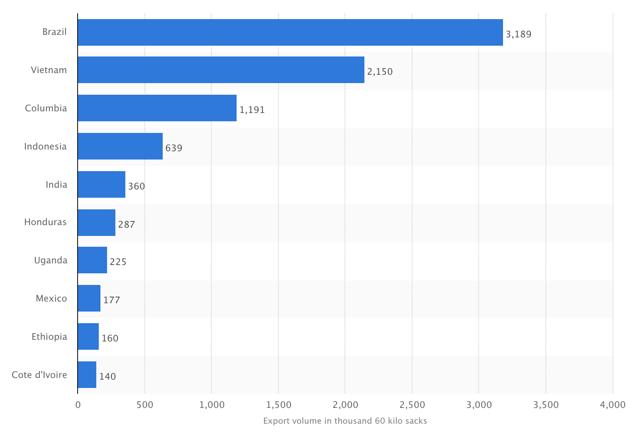 Click to enlarge
Sourced from Statista
The Brazilian real (NYSEARCA:BZF), Colombia peso, and the Vietnamese dong have all weakened against the U.S. dollar since the U.S. election as you can see below. Were the dong not pegged to the dollar, we'd expect to see a much greater decline.

Click to enlarge
Sourced from Yahoo Finance
The decline of the real and peso against the U.S. dollar is largely reflective of decline in the coffee price over the same period as demonstrated below. Essentially this means that although Brazilian and Colombia exporters are receiving less U.S. dollars for each pound of coffee they export, in local currency terms there is little difference.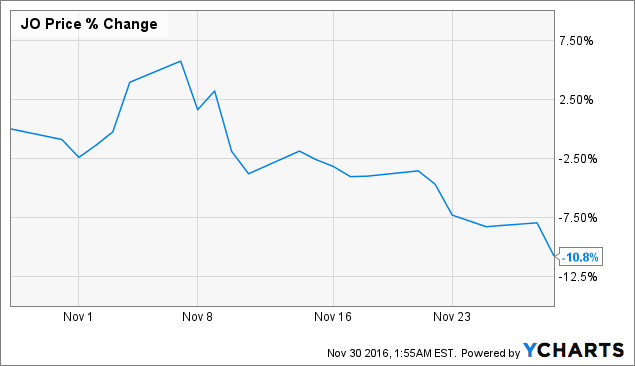 Unfortunately for coffee prices we don't believe these currencies will rebound in 2017 due to interest rate rises in the United States asserting the dollar's strength. So with a deficit that would send prices rocketing higher no longer looking like a possibility, we think that now might be the time to lock in coffee gains and look elsewhere in the market.
Why will there be no deficit?
Despite the continued rise in consumption, recent favorable weather conditions in Brazil are pointing to a stronger-than-expected harvest next year. Previously poor weather in Brazil and Vietnam was expected to hinder production, but this doesn't look to be the case now. Recent rains in Brazil and increased supply from Vietnam all allude to stronger output moving forward which will put pressure on prices. Whilst we don't expect coffee prices to crash, far from it, we just don't see there being notable gains that make this a trade worth sticking with.
What next?
Things change very quickly in the world of coffee. We believe it is prudent to keep a close eye the situation. After all, inventories are at precarious levels. Any sign of Brazil's harvest not living up to new expectations next year could result in a rebound in prices whether the U.S. dollar remains strong or not.
In the mean-time our focus has shifted to cocoa. We have yet to open a position but expect to look closer at going long with iPath Dow Jones-UBS Cocoa Total Return Sub-Index ETN (NYSEARCA:NIB) or iPath Pure Beta Cocoa ETN (NYSEARCA:CHOC) in the near future.
Cocoa has had a reasonably poor year, but recent research by Rabobank has shown that chocolate sales are now stabilising in Europe and the United States, and growing at a rapid clip in the Asia market. If this continues to be the case then we expect the cocoa surplus to be eaten into next year, no pun intended.
Thanks for reading, as always we'll keep you up to date with our trades as and when we make them. Until then, best of luck with yours!
Disclosure: I/we have no positions in any stocks mentioned, and no plans to initiate any positions within the next 72 hours.
I wrote this article myself, and it expresses my own opinions. I am not receiving compensation for it (other than from Seeking Alpha). I have no business relationship with any company whose stock is mentioned in this article.