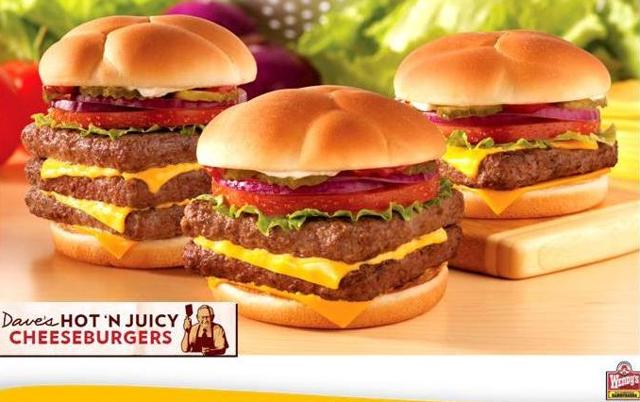 Click to enlarge
Wendy's (NYSE:WEN) is a name I've been bearish on for some time. The market reacted in a giddy, euphoric fashion to the company's original announcement that it would shift its mix of franchise stores and use the proceeds from restaurant sales to buy back stock. But despite this effort, I've maintained that WEN couldn't possibly buy back enough stock to sustain the price the market had already assigned. Of course, if you look at the chart, the Trump Bump has Wendy's soaring and making new highs. Q3 earnings seem to be helping as well but at nearly $13, has the rally run its course?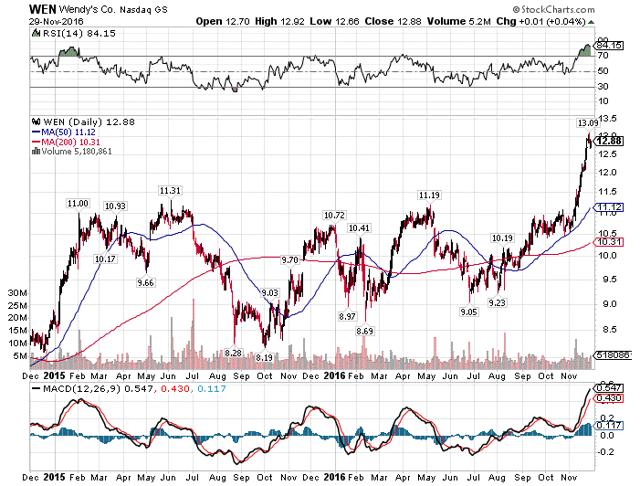 Click to enlarge
Revenue continues to get crushed because Wendy's hasn't yet anniversaried the bulk of its restaurant sales. It owns more than 400 fewer stores now than it did at this time last year so total revenue is going to be very ugly until those sales anniversary. The 22% loss in revenue is huge but according to Wendy's plan, higher operating margins and share buybacks should offset that weakness.
Franchise revenue was up 28% in Q3 as the drastically higher number of franchised stores as well as the company's 15th consecutive quarter of comp sales increases contributed. The well-publicized Image Activation project is also working very well as the remodeled stores continue to outperform those that haven't been updated. That will help drive franchise revenue higher into next year as well as the bulk of reimaged stores won't anniversary until sometime in 2017 or later.
Company-owned store metrics aren't of great importance any longer because Wendy's is heavily in the franchise business now but they do give us some useful clues about how the system is performing. In Q3 we saw operating margins fall 40bps to 18.4% due to higher labor and operating costs despite the success of the Image Activation initiative as well as higher comp sales. This is a time when margins should be rising, not falling, and it speaks to the power of the move higher in labor costs. This would certainly translate to franchisees as well.
G&A costs were down 8% and while that certainly wasn't enough to keep pace with the decline in revenue, it did help. And the combination of lower expenses and higher margins from franchise revenue sent operating profit soaring by almost 90% in Q3. This isn't indicative of the kinds of gains we can expect going forward due to all of the one-time moving pieces in this year's results. But if we look at EBITDA margin, we can get a better look at what Wendy's future may hold.
EBITDA margin rose 600bps in Q3 due to the refranchising and cost saving efforts but more importantly, EBITDA actually rose on a dollar basis as well. The increase was very slight but the fact that Wendy's ceded more than a fifth of its revenue and still produced higher EBITDA is a testament to how well the strategy is working. Obviously, franchise revenue carries exponentially higher margins for the company than store revenue but my argument has been that it isn't enough to offset the losses from refranchising; is that still the case?
The fact that EBITDA was up very slightly in Q3 is great considering the amount of revenue Wendy's gave up but that doesn't make the stock a buy. After all, flat EBITDA isn't something that would be tolerated if Wendy's didn't refranchise, so why is it so bullish now? It shouldn't be any different as you're buying the amount of earnings a company produces, not its margins, and I think investors are forgetting that. There is no doubt that Wendy's will produce higher margins going forward but if it doesn't replace the earnings it lost on a dollar basis, why is anyone buying the stock?
Wendy's has reduced the share count by about 11% Y/Y and that's terrific; I won't try to take anything away here. But even so we're talking about estimates of 41 cents in earnings this year and 45 cents next year. That's hardly torrid growth so while I understand the intent of the franchising effort, my viewpoint remains that Wendy's cannot grow enough to earn its current valuation. There is just no way it can lose more than 20% of its revenue this year and do the same thing next year and still grow earnings in a meaningful way. And while 4 cents of improvement next year on 2016's results would represent almost 10% in EPS growth, the valuation is still way too high. And given that the buyback effort is central to the refranchising plan, 11% Y/Y simply isn't enough to offset all the weakness. And also keep in mind that as long as the stock price remains elevated, the effectiveness of the buyback will be diluted.
We are trading at 29 times next year's earnings and while the franchise model will boost Wendy's operating margins, in dollar terms, the company cannot replace its earnings quickly enough to earn that valuation. After all, if you remove the hype surrounding the franchising and remodeling efforts, you have a stock with rapidly declining revenue and perhaps high single-digit EPS growth despite an enormous buyback effort. I don't see that as overly attractive and yet, investors continue to buy this stock at nearly thirty times forward earnings.
Goldman Sachs seems to agree and as hard as I try, I cannot create a bull case rosy enough to justify the current price after the huge run we've seen in shares of Wendy's. Keep in mind that the buyback bonanza we're seeing will stop once the refranchising effort is done so it isn't like Wendy's is going to see 10% float reductions into perpetuity. The buyback is a 2016/2017 story and even with the tailwind of the buyback, earnings aren't growing at overly impressive rates. Then what? We are right back to where Wendy's was before the plan was originally announced. This is still a chain with 1% or so comp sales growth and regardless of how well the remodeling effort is going, remember that these gains aren't going to accrue over and over again.
Given the overbought nature of the stock, the huge rally we've seen of late and the fact that it is trading for 29 times forward earnings, I'm very bearish on Wendy's here. No matter how I try to justify the current multiple, I can't and given all of the evidence that flies in the face of a continued rally, I'm getting short here. The meteoric rise we've seen isn't deserved and at some point, investors will realize Wendy's cannot possibly earn its way into this valuation.
Disclosure: I am/we are short WEN.
I wrote this article myself, and it expresses my own opinions. I am not receiving compensation for it (other than from Seeking Alpha). I have no business relationship with any company whose stock is mentioned in this article.