Company Background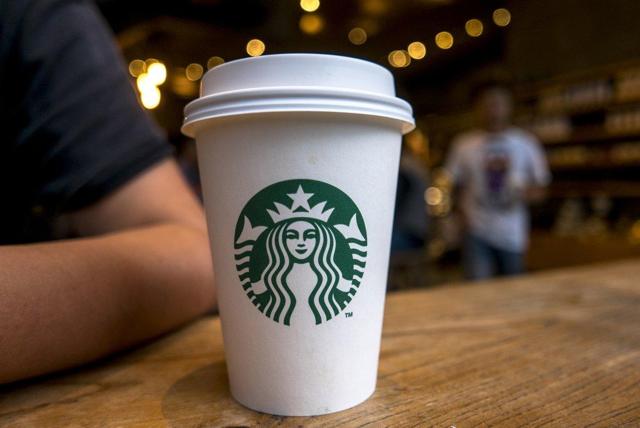 Click to enlarge
Starbucks Corporation (NASDAQ:SBUX) is arguably the most well-known brand in coffee. Established in Seattle, Washington, the global coffee giant has just over 25,000 operating stores worldwide. The equity trades at 30.23x earnings, which is a little expensive relative to the overall equity market in the U.S. P/E of 25.46x. Current ratio is at 1 as well.
Consolidated Financials
In 4Q2016, EPS was at $0.56, which exceeded consensus estimates by $0.01. Revenue figures were also attractive at $5.71B, beating estimates by $300M. Comparable store sales within U.S. borders grew 4%, while Mobile Order and Pay made up 6% of total sales.
For the fiscal year of 2017, the company expects to add 2,100 new stores to its global chain. Continued growth in North America, partially due to the new online ordering feature, results in the shortening of lines in brick-and-mortar stores. On top of that, cost efficiency continues to improve due to a decrease in foot traffic.
As new minimum wage laws are established, we will see service companies choose cost efficiency to defend their margins from decreasing.
Revenues From Mobile App
As previously mentioned, the mobile app has been crucial in continuing to improve sales and revenue figures. Monthly mobile app users of the Starbucks app went up to 19 million, up 7 million from July 2014.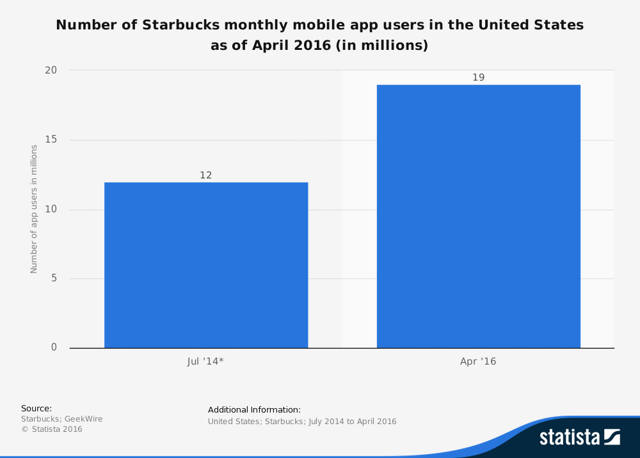 Click to enlarge
Source: Statista
The Coffee Market Space
Although U.S. sales growth contributes greatly to overall growth, the company will have to rely on operations in China to heat up in the next few years. Due to a strong dollar, the growth in China can be offset accompanied by an uptrend of overall coffee consumption since 2010. For the fiscal year of 2016, global consumption was over 150 million bags, with each bag being around 60 kgs.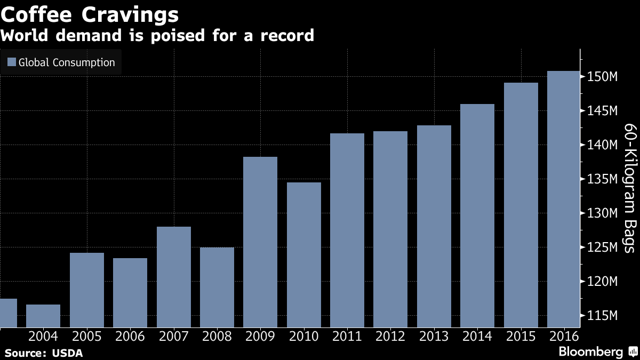 Click to enlarge
Coffee Demand Data via Bloomberg
With confidence in the demand for coffee, long-term upside is likely for Starbucks. The largest coffee brand in the world is in the spotlight, with increasing operations in the massive consumer market which has had increasing disposable income since the sub-prime mortgage crisis back in 2008.
Technical Analysis
By using the 20-Day SMA and 50-Day SMA we are confident that the security has been in an uptrend since the election ended.
The 14-Day Relative Strength Index 'RSI' is over the 70 levels, pointing towards an overbought situation. The equity has not hit the 70 levels in the RSI YTD, hence short-term SMAs indicate that downside is a scenario to consider.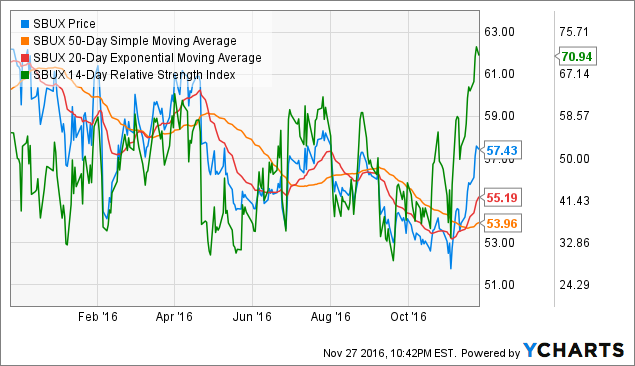 The security has a 20-Day Chaikin Money Flow 'CMF' value of 0.269, meaning that buying pressure is greater than the selling pressure. We can see the spike of the CMF to the buying pressure zone; soaring above 0, following the completion of the election. The CMF illustrates a more conservative buying pressure relative to the RSI findings.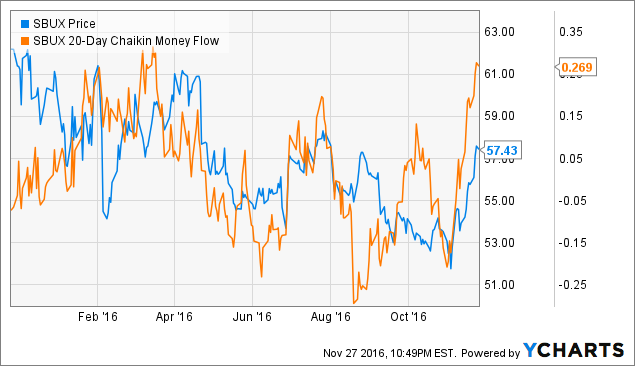 SBUX data by YCharts
Fundamental Analysis
I believe certain valuation metrics are more suitable for evaluating restaurant equities.
Debt/Equity: 0.61 - As of September 2016
Most of my peers overlook the Debt-to-Equity ratio by looking at the book value instead. However, by looking at the Debt/Equity value of Starbucks, we get a more clear picture of the degree of risk and leverage that the company has. It is a quality indicator for financial solvency; SBUX is in safe territory in that regard.
Operating Margin Ratio: 0.25 - As of September 2016
Operating margin indicates efficiency of the company from the standpoint of equity holders and creditors. Hence, the 0.25 metric indicates that SBUX is more efficient than the restaurant industry in the U.S. which has an operating margin ratio of 0.18, as of the third quarter of 2016.
U.S. Restaurants Operating Margin Data via CSIMarket
Return On Equity - 55.21%
ROE indicates how much of net income was returned as a percentage of shareholders' equity. The return on equity for SBUX is higher than the restaurant industry average of 41.4. Which puts SBUX at a more profitable stance for shareholders relative to the restaurant industry.
U.S. Restaurants Return On Equity Data via CSIMarket
Risks
With the strengthening dollar as a long-lasting figure among global currencies, further established by Brexit, Starbucks could see damage in global segments outside of the U.S. market. The coffee brand could possibly not gain its fair share from the increasing demand in coffee. Losing market share to global competitors such as McDonald's (NYSE:MCD) is probable for a downside case.
In terms of possible flaws for these predictions, the overbought signal from the RSI could be misleading. Also, fundamental valuation displayed could be misrepresented for the particular security.
Conclusion
SBUX has been increasing its operations globally while the dollar is strengthening against global currencies. However, coffee demand in the world is increasing and is in a uptrend.
Technical signals indicate buying pressure alongside an overbought signal, while my fundamental valuation indicates SBUX is more profitable and more efficient relative to the industry. The mobile app has been gaining more traction and attention in the last three years.
From where I stand, SBUX is a buy that still has considerable upside in the short and medium term.
Disclosure: I/we have no positions in any stocks mentioned, and no plans to initiate any positions within the next 72 hours.
I wrote this article myself, and it expresses my own opinions. I am not receiving compensation for it (other than from Seeking Alpha). I have no business relationship with any company whose stock is mentioned in this article.