With the Italian referendum coming up on Sunday, a "No" vote would widely be perceived as a Brexit/Trump moment, which has the potential to bring an alternative government into power which has stated an intention to hold a referendum on eurozone membership.
Depending on how this event could be perceived, what might happen to the Swiss Franc? The issue with events today is that "risk-off" events, are not actually risk-off at all. This has been exemplified by stock markets rallying after a Trump win, and even after Brexit on June 23 we saw the franc continue to depreciate against the USD: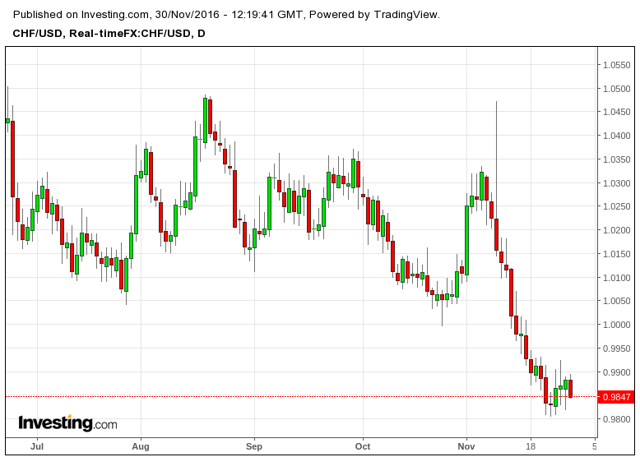 Click to enlarge
My prior analysis of the Swiss franc had argued that the currency would continue to depreciate as the franc had been losing its safe haven status - the Swiss National Bank has taken a policy of devaluation after depegging the currency from the euro, and the franc had not seen substantial rises in the face of "risk-off" events.
However, the Italian referendum does bring one elephant in the room into question - euro membership. While Brexit was seen as a setback for the European Union, it was not consequential for the euro as Britain is not a member of the eurozone. However, with the Italian banking system in crisis and the Five Star Movement potentially gaining power as a result of early elections in the event of a No vote, this crisis puts the future of the eurozone back into question - a problem swept under the rug since the issues with Greece last year.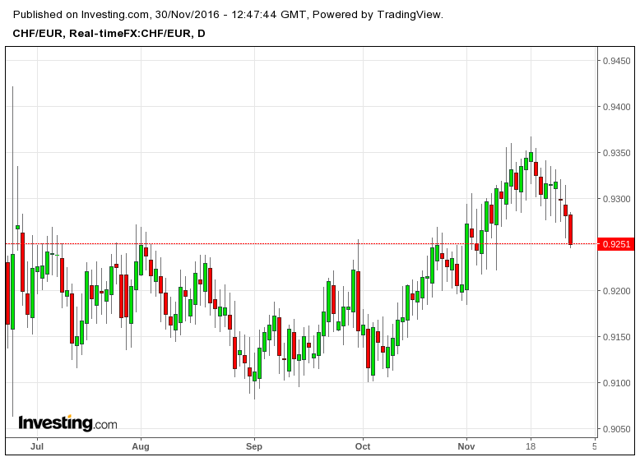 Click to enlarge
In this regard, the Swiss franc may see a surge in demand in the event of a No vote. Such a vote would almost certainly send the euro downwards - I had previously argued that the currency is approaching parity with the U.S. dollar in another article. Should this be the case, then traders could see the Swiss franc as a low-risk, high-reward trade under these circumstances, and the currency could continue to appreciate - with a reversion upwards back to above the 0.94 level to the euro.
Disclosure: I/we have no positions in any stocks mentioned, and no plans to initiate any positions within the next 72 hours.
I wrote this article myself, and it expresses my own opinions. I am not receiving compensation for it (other than from Seeking Alpha). I have no business relationship with any company whose stock is mentioned in this article.