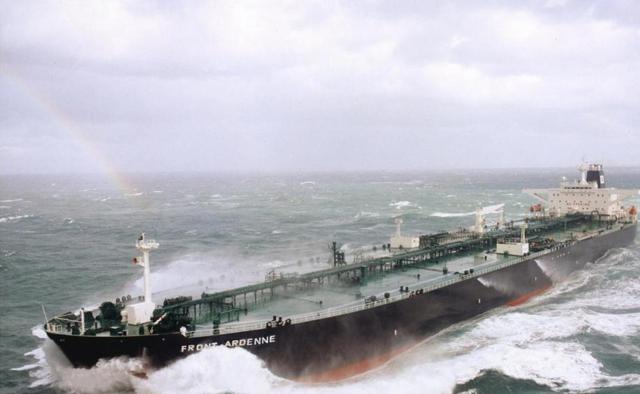 Click to enlarge
Source: worldmaritimenews.com
Ship Finance International (NYSE:SFL)
This article is an update of my preceding article on SFL published on September 2, 2016 about the 2Q'16 results.
Complete and most recent fleet analysis as of November 2016:
1 - Crude oil tankers (VLCC and Suezmax)
#
Vessel: Oil Tankers
Nature of contract

Year

built

Flag
a) Oil tankers: Suezmax
1
Front Ardenne
Frontline (T/C)
1997
MI
2
Front Brabant
1998
MI
3
Glorycrown
Short-term
2009
MI
4
Everbright
2010
b) Oil tankers: VLCC (Very Large Crude Carriers)
1
Front Century (Sold 1Q'17)
Frontline (T/C)
1998
MI
2
Front Circassia
1999
3
Front Scilla
2000
4
Front Ariake
2001
BS
5
Front Falcon
2002
6
Front Page
2002
LIB
7
Front Serenade
2002
8
Front Stratus
2002
9
Front Hakata
2002
LoM
10
Front Force
2004
Cyprus
11
Front Energy
2004
T/C : Time charter
Note: The company's VLCC and Suezmax tankers are chartered to Frontline Ltd. (NYSE:FRO) on a long-term contract with a fixed rate from 4 to 13 years. Comment in the conference call:
After the sale of Front Century, we will have 10 VLCCs and two Suezmaxes remaining on charter to a subsidiary frontline down from nearly 50 vessels at the peak in 2004. The profit share arrangement on these vessels gives us an interesting leverage through the tanker market and kicks in the ready from $20,000 per day for the VLCCs.
2 - Dry Bulks
#
Vessel: Dry Bulks

Nature of contract

(Chartered to)

Year

built

Flag
1
SFL Tyne
Western bulk
2012
HK
2
SFL Clyde
2012
3
SFL Dee
2013
4
SFL Spey
Short-term (T/C)
2011
5
SFL Medway
2012
6
SFL Kent
2012
7
SFL Trent
2012
8
SFL Hudson
Glovis (T/C)
2009
9
SFL Yukon
2010
10
SFL Sara
2011
11
SFL Kate
2011
12
SFL Humber
2012
13
Sinochart Beijing
Sinochart
2012
14
Min Sheng 1
2012
15
Golden Magnum
Golden Ocean (T/C)
2009
16
Battersea
2009
17
Belgravia
2009
18
Golden Zheijang
2010
19
Golden Future
2010
20
Golden Beijing
2010
21
Golden Zhoushan
2011
22
KSL China
2013
3 - Containers
#
Vessel: Containers

Nature of contract

(Chartered to)

Year

built

Flag
1
Green Ace
Heung-A (B/B)
2005
Malta
2
Heung-A Green
2005
3
SFL Europa
Short term (T/C)
2003
MI
4
SFL Avon
2010
5
SFL Tagus
2016
6
SFL Tiber
2017
7
MSC Vaishnavi R.
MSC (B/B)
2002
LIB
8
MSC Julia R.
2002
9
MSC Arushi R.
2002
10
MSC Anisha
2002
11
MSC Katya
2002
12
MSC Zlata
2002
13
MSC Vidhi
2002
14
MSC Margarita
2001
15
MSC Vidisha
2002
16
San Felipe
(T/C) Hamburg Süd
2014
MI
17
San Felix
2014
18
San Fernando
2015
19
San Francisca
2015
20
Maersk Sarat
2015
21
Maersk Shivling
2016
22
Maersk Skarstind
2016
4 - Offshore drilling and supply
#
Vessel: Offshore drilling and supply
Nature of contract

Year

built

Flag
1
Semi-submersible: West Taurus
Seadrill (B/B)
2008
Panama
2
Semi-sub: West Hercules
2008
3
Jackup: West Linus
NADL (B/B)
2014
Norway
4
Jackup: Soehanah
Apexindo (B/B)
2007
Panama
5
PSV Sea Pike - PSV
Deep sea supply (B/B)
2007
Cyprus
6
PSV Sea Halibut - PSV
2007
7
AHTS Sea Leopard - AHTS
1998
8
AHTS Sea Cheetah - AHTS
2007
9
AHTS Sea Jaguar - AHTS
2007
5 - Chemical and Car Carriers
#
Vessel: Containers

Nature of contract

(Chartered to)

Year

built

Flag
a) Chemical Carriers
1
Maria Victoria V
Sinochem (B/B)
2008
Panama
2
SC Guangzhou
b) Car Carriers
1
Glovis Conductor
Glovis (T/C)
2006
Panama
2
Glovis Composer
2005
HK
c) Product Tanker
1
SFL Sabine
Phillips66
2017
UK?
2
SFL Trinity
2017
UK?
Backlog:
SFL increased to
$3.9 billion
in 3Q'16.
M. Ole Hjertaker, CEO, said in the conference call:
We have $3.9 billion fixed rate order backlog after our recent acquisitions and sales and with a rebalancing of the portfolio, the container segment now stands at more than 1 billion. The estimated EBITDA equivalent backlog is more than $3.2 billion or around $34 per share.
Third-quarter 2016 results snapshot
Presentation 3Q'16 [click here].
Conference call transcript from Seeking Alpha, [click here].
Q3'16
Q2'16
Q1'16
Q4'15
Q3'15
Q2'15
Q1'15
Q4'14
Q2 2014

Charter Operating revenues

in $ million

93.53
103.99
117.58
113.91
110.71
92.03
90.09
88.66
83.17
72.99

Adjusted EBITDA

in $ million

114.62
128.05
139.47
141.97
135.51
125.0
127.14
148.8
146.0
128.9

Net income

in $ million

32.27
38.81
46.80
54.29
45.49
67.94
33.11
45.486
34.59
22.36

EPS

in $

0.35
0.42
0.50
0.58
0.49
0.73
0.35
0.27
0.37
0.24

Long-term debt (interest-bearing)

Total debt

in $ billion

1.480

1.559

1.547

1.617

1.506

-

1.458

-

1.562

-

1.259

-

1.331

-

1.550

-

1.46

-

1.33

-

Dividend per share

$

0.45
0.45
0.45
0.45
0.45
0.44
0.43
0.42
0.41
0.41

Vessel impairment charge

$ million

0
0
0
13.25
0
29.16
0
11.8
-
-

Cash on hand

$ million

63.42
82.02
84.43
70.18
60.28
61.57
49.73
50.82
32.62
49.48

Shares outstanding

in million

93.51
93.51
93.51
93.47
93.47
93.47
93.41
93.40
93.39
93.36
Liquidity 3Q'16 in the conference call m. Harald Gurvin said:
looking at our liquidity and capital expenditure, the Company had total available liquidity of approximately $238 million at the end of the quarter which includes approximately $175 million freely available under revolving credit facilities. Available for sale securities includes our $11 million share in Frontline with a market value of approximately $82 million based on the closing share price yesterday.
Commentary:
Ship Finance International released its 3Q'16 results on August 31, 2016. Another solid quarter as usual, with operating revenues of $93.53 million down 10% quarter over quarter. Net income was $32.3 million or 0.35 per share. Dividend is kept at 0.45 this quarter. M. Ole Hjertaker said in the conference call:
The Board has declared a quarterly dividend of $0.45 per share. This dividend represents $1.80 per share on an annualized basis or nearly 13% dividend yield based on closing price of $13.90 yesterday. This is the 51st consecutive dividend and we have now paid nearly 22 dividends per share overtime or $1.8 billion in aggregate since 2004.

Click to enlarge
On September 29, 2016, the company announced $225 million senior unsecured notes convertible due to 2021. The proceeds were used to repurchase a large part of the 2018 convertible note with an incremental cash proceeds of $40 million added to the company investment capacity. Ole Hjertaker said in the conference call:
We are of course happy to see that the capital markets are open to us and the transaction builds under a long-term strategy of diversifying not only assets and customers but also our funding sources.
To access my preceding article about the $225 million note subject. [Click here]
The company is continually shifting its charter revenues, with a clear strategy now to lower offshore exposure by rebalancing to container and dry bulk vessels, in order to adjust to the new market paradigm. In the conference call M. Ole Hjertaker said:
In the third quarter 34% of revenues was from the offshore segment down from 37% one year ago and more than 50% a year before that. The container segment on the other hand now represents 25% of charter revenues up from only 8% two years ago. And with the delivery of the two very large container vessels soon, we expect the relative share from this segment to continue increasing going forward.
This shifting strategy to renew and diversify the fleet is implemented while divesting of older vessels. SFL sold the VLCC Front Century with delivery in the 1Q'17. The net proceeds was $24 million including compensation due from Frontline.
One important financial event that should be evaluated is the possible impact of the debt restructuring that Seadrill (NYSE:SDRL) and North Atlantic Drilling (NYSE:NADL) will announce in April 2017 (which has been delayed a few months recently).
Offshore revenues represent 34% of the total revenues. Seadrill owes approximately $415 million in payment obligations to SFL.
M. Ole Hjertaker gave us an update in the conference call regarding the negotiation with Seadrill (NYSE:SDRL).
As Seadrill stated during their most recent earnings release, they are in advance stages with their banks to extend their secured credit facility out to the 2020 and 2023 timeframe, reduce fixed amortization and cash debt service costs and amended financial covenants. They have also initiated dialogues with several of their large bondholders and also with potential providers and new capital. We have likewise commenced discussions regarding our charter arrangements with Seadrill. While these discussions are preliminary and subject to confidentiality, we are hopeful that the solution will be reached at both supports the value over charter arrangements, as well as helps to ensure that Seadrill remains a stable counterparty. We cannot comment on anything relating to this process [...]
SFL owns also the Jack-up soehanah which is idle in Singapore.
Apexindo who has chartered the rig since 2011 is covering all expenses relating to the rig for the time being including a full special survey of the rig which is estimated to be finalized by the end of the year. This rig is debt free.
The strategy going forward is to acquire new assets in the drybulk and tanker market at the moment. SFL has a solid balance sheet which is a clear advantage right now.
Conclusion:
SFL is a solid company well diversified with a long-term strategy and a strong balance sheet, period.
This is the basic explanation for this constant financial success that allowed the company to constantly pay a high dividend to its stockholders. I do not say the business model is perfect, of course not. Risks of hiccup are always present and the company is well aware of this fact.
Deals will be amended or canceled and will have an impact on the balance sheet, such as Seadrill restructuring next year or Golden Ocean.
However, this is part of a normal business cycle with ups and downs. The most important part is that the company is mastering the game and is not being a victim. I continue to be a long-term shareholder and believe dividend are quite secure although I never take it for granted.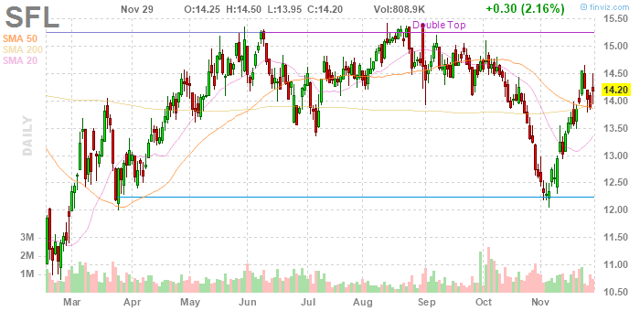 Click to enlarge
Technically, the stock is trading within the range $12.25-$15.25 and has done it for most of the year. I do not see why this situation will shift in the next few quarters and I do not believe SDRL restructuring will have a material impact on SFL beside a new agreement and potentially some compensation in SDRL stock.
As a long shareholder, I recommend to trade the stock only if the support is tested ($12.25), and take some profit off the table above $15. SFL is a long term investment that does not require an active trading.
If oil prices can rally and trade above $55 a barrel next year, SFL may well trade above $16 but it is not clear right now.
Important note: Do not forget to follow me on SFL. Thank you for your support.
Disclosure: I am/we are long SFL.
I wrote this article myself, and it expresses my own opinions. I am not receiving compensation for it (other than from Seeking Alpha). I have no business relationship with any company whose stock is mentioned in this article.