For some time now, I've been writing articles about Chesapeake Energy Corp. (NYSE:CHK), but I have yet to write a full-fledged cash flow analysis of the firm. This is due to the fact that, not only did the business have a lot going on that was article-worthy outside of a cash flow analysis but, also, I felt that the picture was changing too quickly and was too complex in order to write a detailed analysis of the firm from a cash flow perspective. That picture has changed somewhat. In what follows, I will show the results of my analysis and give my thoughts on what it means for the firm moving forward.
Some thoughts
Chesapeake is probably, due to simply to how quickly its financial condition has changed, the most complex oil and natural gas company I've ever provided a detailed cash flow analysis for. It's not that the firm is hard to understand but, rather, there are a lot of ways that the picture can change and do so quickly. Take, for instance, its recent issuance of $1.25 billion in unsecured convertible notes. These are not broken down in the firm's recent quarterly report because it happened after the end of the quarter, but management said that they had "around" $1 billion worth of cash from it on a pro forma basis and that the $240 million on their credit facility had been paid off.
This entire picture already provides some level of vagueness but what makes it worse is that management has said that they will be using their excess cash toward not only general corporate purposes but also toward repaying near-term debt. However, the interest expense the business has to pay varies significantly based on where that cash is allocated and when it is allocated. Add to this the fact that they repurchased $105 million worth of low-interest notes that may be able to be called (but not necessarily will be called) in 2017 and 2018 (they're staggered) but did not disclose the composition of that buyback, plus the fact that they sold some assets for $218 million recently only to pay $334 million toward changing the terms of their relationship with one party (and may need to pay a further $70 million associated with it) and you can see how complicated the picture becomes.
That said, after spending about 6 hours looking over all the details and making various assumptions (not to mention all the time I've spent on the business for the other articles I've written about it), I feel that I have a reasonable basis for a good cash flow projection for the firm. In addition to using management's recent assumptions regarding Chesapeake's projected cost structure for next year, I've relied on data regarding other pieces of its past cost structure, incorporated existing hedging into the picture, and made the assumption that oil prices remain at around $46.71 per barrel and that natural gas prices remain around $3.349 per Mcf in perpetuity. I also assumed that the firm has elected to pay off all of the debt that it can when it is due using its current cash but holding enough for the potential $70 million contingent payment it may owe.
What's the cash flow picture look like for Chesapeake?
In the table below, you can see the results of my analysis. Based on the data provided and relying on the aforementioned assumptions, I calculated that the firm should generate negative free cash flow of $437.58 million in 2017 and negative free cash flow in 2018 and 2019 of $586.65 million and $548.64 million, respectively, as the firm is now. For those of you who follow the business closely, you'll notice that I omitted the company's Marketing, Gathering, and Compression sales figures from my analysis. While this may seem odd, management was kind enough to provide an estimate of their net margin next year (revenue minus costs) so, instead, I just included that bottom line in my analysis instead of forecasting sales and follow-up costs to get me that margin.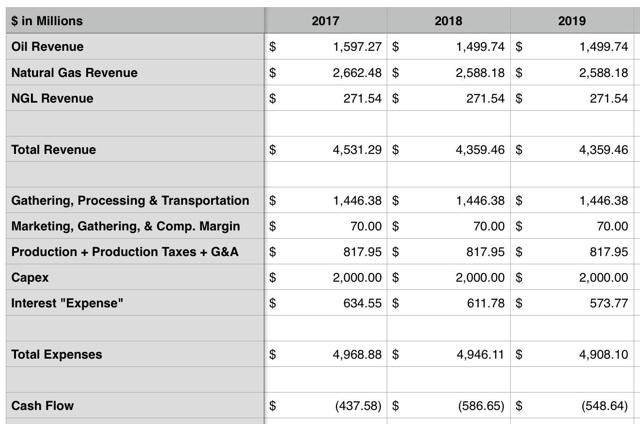 Click to enlarge
*Created by Author
This data is after taking into consideration its mean of capital expenditures of $2 billion next year and assumes an interest expense of $634.55 million. While the capex number is reasonable based on guidance, you may point out that its interest expense is far larger than the $220 million in capitalized interest on its projections for next year, but this is due to the fact that capitalized interest is merely interest that was tied to operating activities that is essentially being written off as the assets are used up. In essence, it's a non-cash item. The number I provide should be approximately right for the cash flow that leaves the company for paying off lenders.
The last thing that should be mentioned here is that my analysis leaves out other non-cash items because I don't see them as significant. Take, for instance, impairment charges or depreciation, depletion, and amortization. These (at least the DD&A) would be large enough for Chesapeake to generate a net loss for the year, earning it a zero federal taxes to be paid (without factoring in the effects associated with deferred tax assets or liabilities), so I'm skipping an unnecessary step since these numbers would be added back for cash flow purposes anyways.
All-in-all, the cash flow picture here looks pretty bad for Chesapeake but there are some items that investors should keep in mind. For starters, through its third quarter, Chesapeake had engaged in gross asset sales of $1.3 billion for the year ($1 billion net) and it is looking to sell additional assets (it's selling its Devonian assets and is hoping to sell 126,000 acres in Haynesville). Collectively, and through the first quarter of next year, Chesapeake believes that its divestitures will bring it gross proceeds of over $2 billion so this excess should be enough to buoy it for a while (or it can use the proceeds to pay off debt and reduce annual interest expenses).
The other factor to keep in mind here is that management has a plan to get the company back to cash flow neutrality. Presumably through any asset sales it deems appropriate, combined with a continued emphasis on cost reductions, Chesapeake believes that it will be cash flow neutral in 2018. Of course, whether or not this will happen is something that remains to be seen but Chesapeake has time and resources to play with. In addition to the possibility of cutting capital expenditures (letting production fall), issuing more debt and/or equity, and selling additional assets, the firm also has $3.8 billion in untapped borrowings under its credit facility. Admittedly, the company must maintain liquidity of at least $500 million and stay in compliance with other covenants in order to tap it, but it's something the firm can use if it feels the need.
Takeaway
Based on the data provided, it appears as though Chesapeake's financial condition doesn't look good at all from a pure cash flow perspective. If it were most any other company, without significant assets to sell and without other areas to get cash from, I would be worried for its safety but the data seems to indicate that management can hold on for a while before the picture gets bad enough that it presents investors with a material chance of bankruptcy. Of course, if the energy environment were to deteriorate moving forward or if the firm starts to see trouble arise regarding its asset sales or other monetization opportunities, this could get bad and do so quite fast but, for now, I'm not too concerned about it.
Disclosure: I/we have no positions in any stocks mentioned, but may initiate a long position in CHK over the next 72 hours.
I wrote this article myself, and it expresses my own opinions. I am not receiving compensation for it (other than from Seeking Alpha). I have no business relationship with any company whose stock is mentioned in this article.